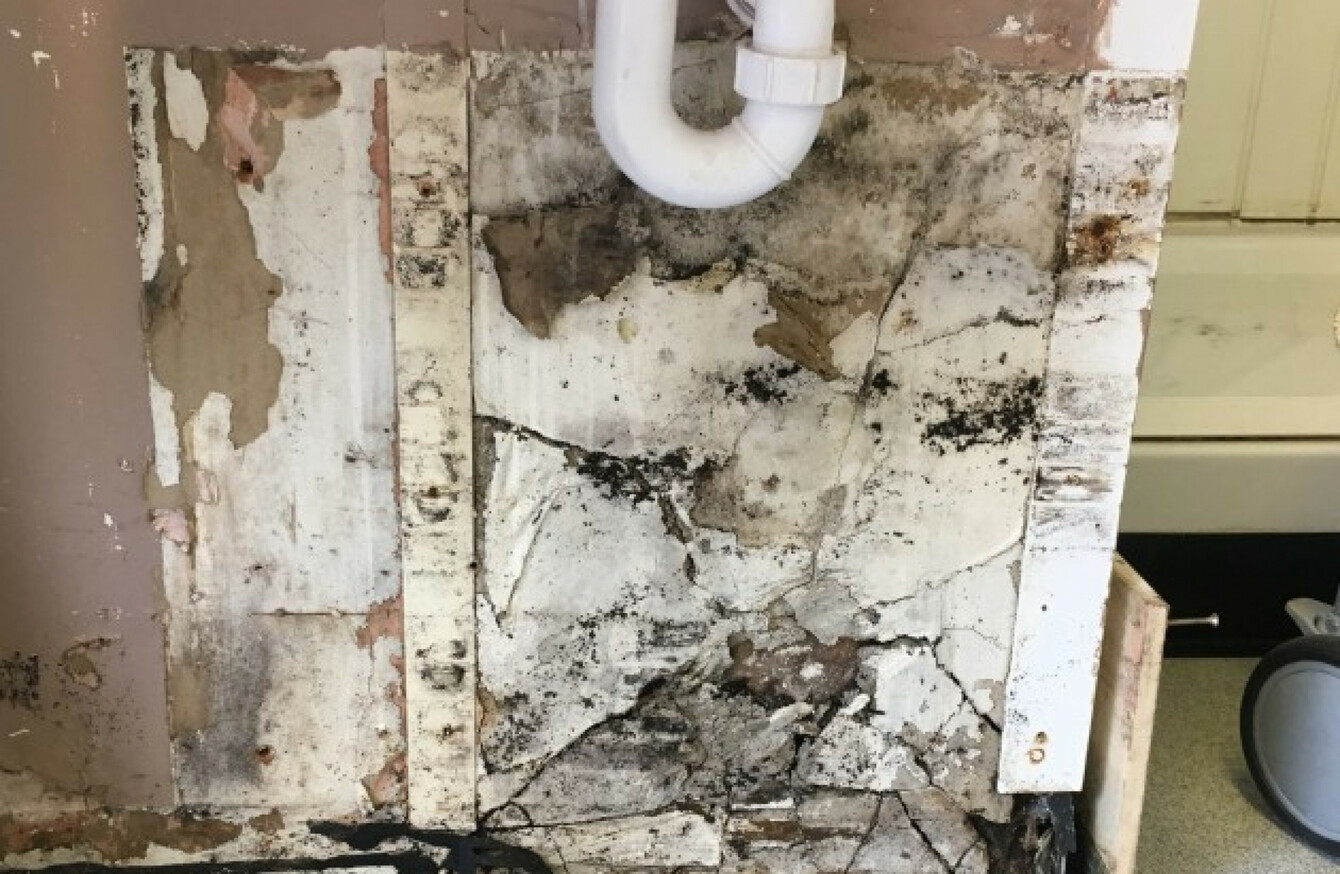 Carrowbrowne. A close-up of a wall from one of the sheds with damp.
Carrowbrowne. A close-up of a wall from one of the sheds with damp.
WALLS CRACKING AND falling due to damp, appliances rusting, the smell of sewage, fridges and cookers breaking due to cold.
These are just some of the conditions that Traveller woman Angela Delaney described living in at a meeting of the Housing Committee yesterday morning.
Delaney is living at the Carrowbrowne temporary halting site in Galway with 13 families.
"The walls are that damp that they are actually breaking and falling," said Delaney.
"The dampness, the mildew coming out from the walls which is very, very not safe for the children.
We're forced to patch up the shed any way we can.
Delaney said that there were issues with rat infestation in the area also.
"The smell is that bad at times that we can't even come home," she said.
It was no place from day one to even build a site.
Delaney was giving a video submission to the committee, which was discussing issues with the delivery of Traveller-specific accommodation by local councils in Ireland.
Last year, a total of €9 million was committed by the Housing Department to go towards Traveller-specific accommodation.
This would include group housing and halting sites for Traveller families and was a €5.5 million increase on 2016 funding.
Despite this increase in central government funding, local authorities last year had an underspend of 45% when it came to Traveller-specific accommodation.
Local authorities across Ireland drew down just €4.8 million of the funding allocated to them, leaving behind €4.1 million.
Certain areas (like South Dublin County Council) spent none of the money allocated to them, while others spent fractions of the cash that was there.
The budget for this year is €12 million.
"Not good enough"
Junior Housing Minister Damien English appeared yesterday morning with officials from the Housing Agency before the Housing Committee to discuss issues with local authorities failing to supply Traveller-specific accommodation.
English said that the record of delivery was "not good enough" and that more needed to be done.
"My department is particularly concerned with the underspend in this area given the demand of Traveller-specific accommodation from the Traveller community," English said.
A review on the issues around the delivery of this type of accommodation was carried out by the Housing Agency, which was presented in June last year to the Department.
On the back of this, a special group will be set up to examine and make recommendations around the issues with Traveller accommodation in order to speed up supply.
"It is my view to establish this group as soon as possible," said English, who said he believed it should be completed in a three or four month time frame.
A number of representatives of the Traveller community also appeared before the committee today and expressed frustration with the delays in providing suitable accommodation for Travellers.
"There has been a gross failure in the delivery of Traveller accommodation with no sanctions for local authorities for failing to deliver their own targets," said Bridget Kelly of the National Traveller Women's Forum.
There was collective support among the members of the committee that more needed to be done to improve the delivery of accommodation.