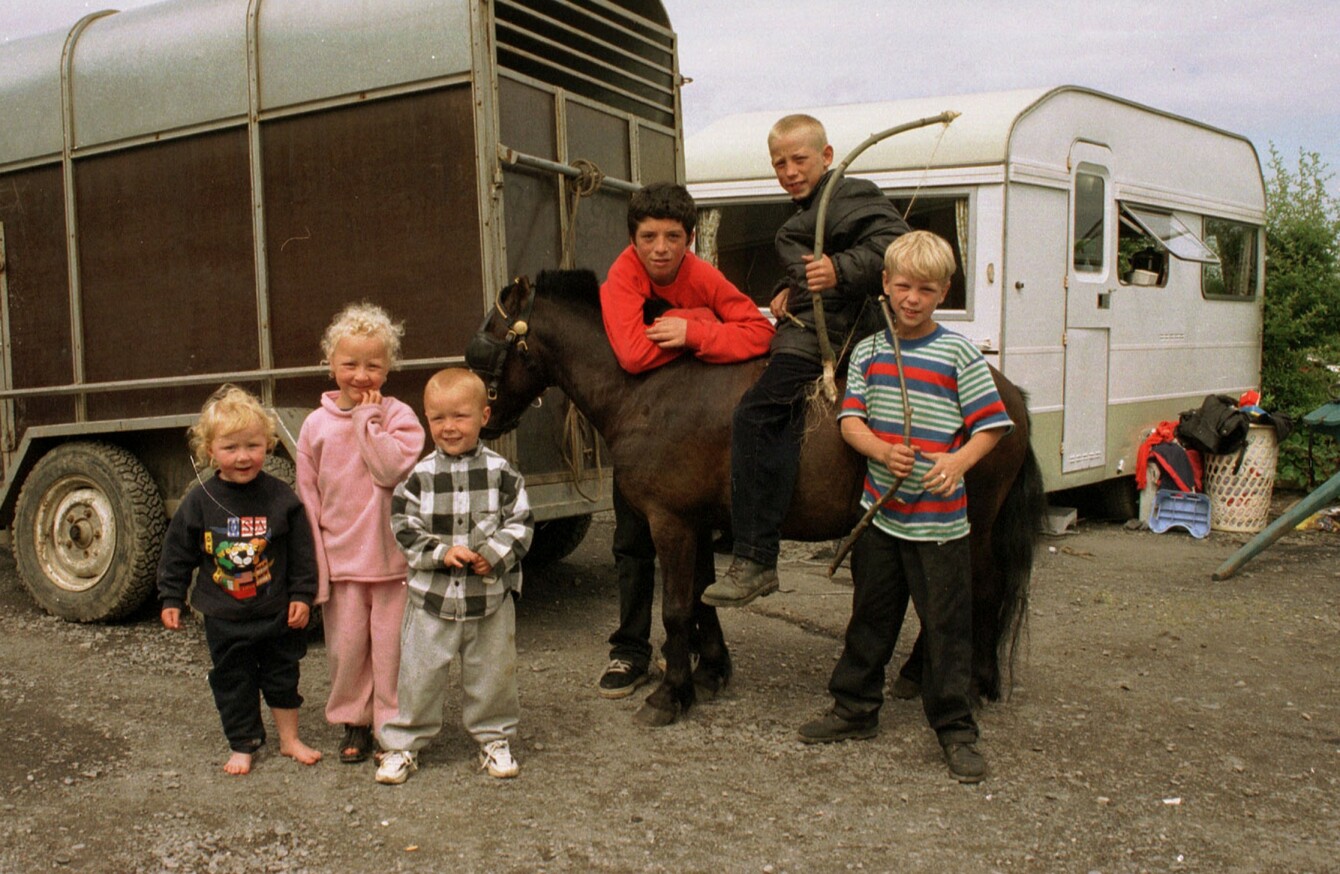 Traveller children pictured at a site in Cabinteely in Dublin in 1997.
Image: RollingNews.ie/Eamonn Farrell
Traveller children pictured at a site in Cabinteely in Dublin in 1997.
Image: RollingNews.ie/Eamonn Farrell
OFFICIAL RECOGNITION OF their ethnicity 'won't make Travellers less Irish', an Oireachtas committee was told today.
Speaking at the Joint Oireachtas Committee on Justice and Equality, Bernard Joyce of Irish Traveller Movement said that being a Traveller is "in my DNA".
"I was born a Traveller, this is my identity, it belongs to me," Joyce said.
"I cannot become a non-traveller. I belong to a community that shares a history, that has a culture that is owned by us."
Joyce argued that the recognition of Traveller ethnicity by the Irish State is "fundamentally about respect and inclusion" and would not separate the community from the rest of the citizenry.
"Ethnicity is not the same as race, nationality or place of birth," he said.
And by recognising Traveller ethnicity, it won't make us less Irish. It will, however, acknowledge our dual-identity of being both Irish and Traveller, similar to both Irish-Americans or African-Americans.
Speaking earlier during the debate, Maria Joyce of the National Traveller Women's Forum pointed out that Travellers are recognised as an ethnic group separate to settled Irish people in the UK.
She also stated the legal definition of ethnicity which she says the Traveller community "clearly" fulfills.
"There are two essential elements which constitute an ethnic group," Joyce explains.
A long shared history which is conscious and distinguishes it from other groups and the memories of which keep it alive. A cultural tradition of its own including family and customs.
Joyce also stated that Travellers themselves self-identify as an ethnic group.
She pointed out that, among the many reasons for being classified as an ethnic group, it would mean that Travellers would gain protection from equality and anti-racism legislation.
Bernard Joyce said that the recognition of Traveller ethnicity would not be a "silver bullet" to end discrimination but would be "part of the process".
Acknowledging the delay in successive governments in addressing the issue, chair of the committee Caoimhghín Ó Caoláin TD said members had felt "a repeat sense of shame" when hearing about the treatment of Travellers.
Shame on the tragedy of Carrickmines and the fact, as has just been recorded, that it could happen again. Shame at the evictions in Dundalk, not once but repeated, shame at the closure of school doors and shame at the media who continue to label.
Comments have been disabled due to a high volume of flagged comments.