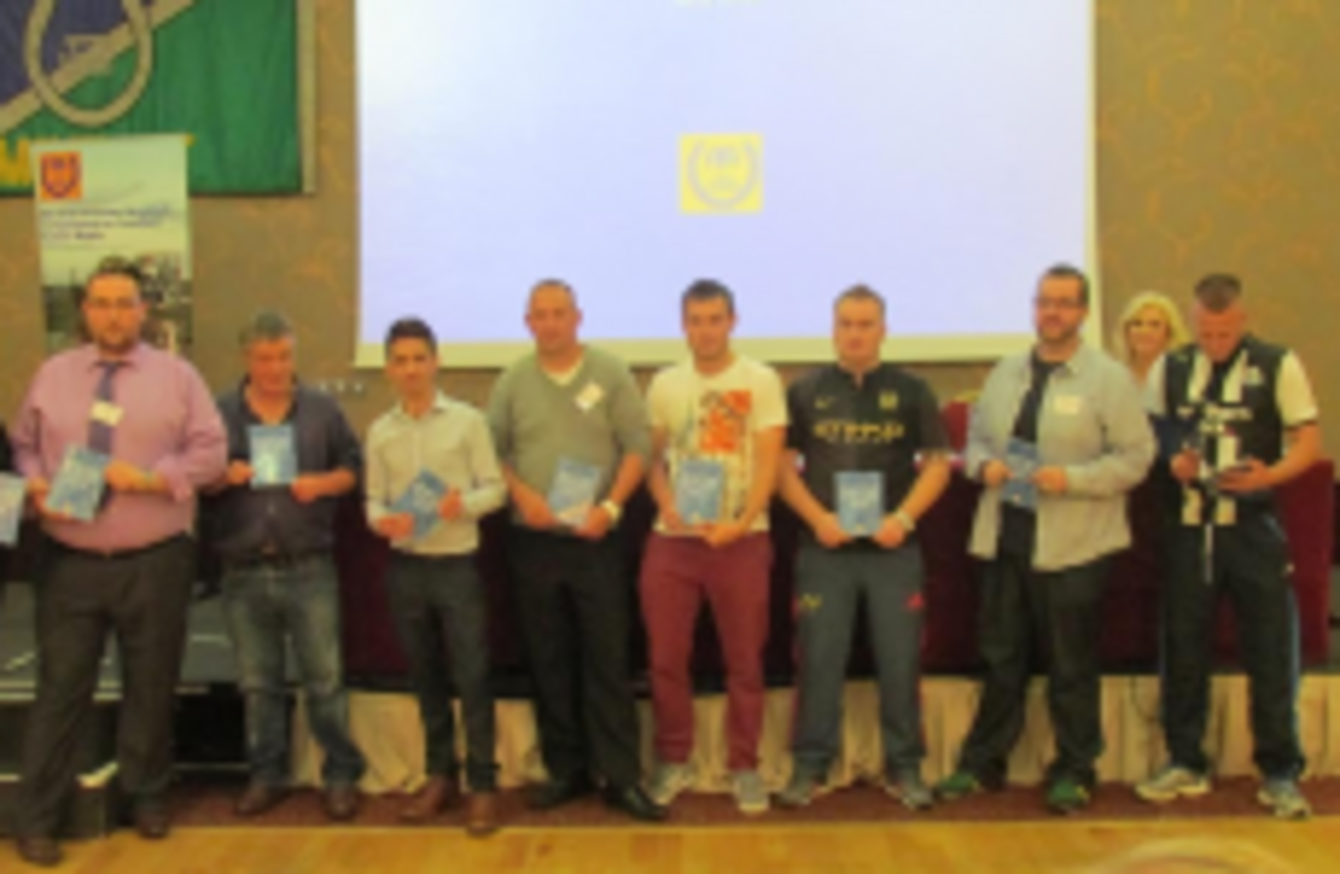 Bernard Kenna, John McCarthy, Michael Power, Hugh Friel, David McCarthy, John O'Sullivan, Oein De Bharduin and Johnny Mc Donnell
Bernard Kenna, John McCarthy, Michael Power, Hugh Friel, David McCarthy, John O'Sullivan, Oein De Bharduin and Johnny Mc Donnell
COMMUNITY WORKERS, CARERS, ACTORS, comedians, writers and sports stars.
They are the day jobs of a number of Irish Traveller men who have contributed to a new document, compiled to show people another side of the community.
Inspiring Traveller Men, launched earlier this week, was created with an aim to challenge the racist stereotypes that currently exist.
Brigid Quilligan, director of the Irish Traveller Movement, said the booklet details the lives of 30 men who participate in a wide range of work and activism.
It also outlines the challenges the actors, playwrights, comedians, community volunteers, fundraisers, adult learners, journalists, sports stars, community workers, carers, herbalists, gardeners, organisers of boxing clubs, tinsmiths and wagon makers face.
"We know the wonderful things that many Traveller men do but unfortunately those positive examples are so rarely heard in the media," added Quilligan.
"We hope that this booklet will inspire young Traveller men to achieve to their highest potential and we want to thank the men in this booklet for sharing what they've done."
Hugh Friel of the Donegal Travellers Project also said:
I hope that non-Travellers who read these stories will get a chance to see a side of Traveller men they rarely get to see. As a resource this booklet gives everyone a fresh insight into Traveller culture and identity in the 21st century and a small snapshot of things that Traveller Men do.
"I hope that the stories shared will challenge any myths and stereotypes that have negatively portrayed all Traveller men without looking to the positives that exist within our community."
Here are just a sample of stories from the campaign:
Michael Power 
I'm Michael Power, I am a subeditor and reporter for the Voice of the Traveller Magazine. The biggest moment for me in my life was being able to break away from the
repetitive rut that I had gotten tangled up in, getting up every morning and going to do a job that I didn't want to do but felt I needed to so as not to be idle.
I left my previous job, I was working in a busy household and fancy goods store and after an argument with the owners I decided I'd had enough and packed it in. It was a decision I hadn't fully thought through, I found myself unemployed and sitting at home doing
nothing.
About two months later a voluntary position in sales had become available with Voice of the Traveller. At the time I had been on social welfare for two months, this role offered no extra payment but I thought it might have had prospects of a future paid job but more importantly to me it meant that I had something to do again.
I started with the magazine in October 2008, it was really uncharted lands for me, a job in an office selling a magazine I didn't really know or believe in, how could I expect other
people to be subscribing to or advertise in it? I knew sales, I'd spent most my younger years selling on a market stall on Sundays and a number of years in my late teens and twenties at a call centre convincing people to take out credit cards and every manner of insurance but this was different; why would people want to subscribe to read about Travellers?
I knew what Travellers were like, I was one of them and at the time I felt we just weren't that interesting.
I ended up doing more writing in the magazine than sales, I always liked to write when I was younger despite my limited time in the formal educational system. I filled in for regular features and developed my writing style and ability, gradually learning to take a step back and try look at the community from a mutual and outside prospective; this helped me focus on the issues that faced Travellers without getting involved and as a Traveller I found a way to be impartial, on paper anyway.
In late 2009 a paid full-time position as a regional reporter became available; I applied for it and officially became a reporter by December of that year. At the time I remember it being a lot of pressure, I was being paid to write so I could no longer only write what I felt like, I had to get out and meet people, write about what they wanted to read, be interesting.
I learned a lot in the first couple of years as a reporter; how to use words correctly and the importance of being impartial but what I learned most of all is that we are as interesting a community as we are diverse. As a reporter I had grown in my ability to write but as a person I realised my community had a story to tell, one from their own prospective and not of someone being paid for sensationalism in a national tabloid.
In my time so far as a reporter I've formed an understanding of my community that's not written about in mainstream media, especially of the men within the community. Where
possible I try to change society's perception of Traveller men by writing what we are really like, how in the overwhelming majority of cases we are upstanding members of society working hard with the resources we have to create a life for ourselves and
families.
#Open journalism No news is bad news Support The Journal

Your contributions will help us continue to deliver the stories that are important to you

Support us now
The latest project I worked on was a calendar featuring 11 such men who don't fit the preconceived notion of what they are supposed to be, doesn't conform to the low expectations put on them.
John O'Brien
My name is John O'Brien and I am a Traveller Man from West Cork. In 2012 I completed Module 1 in the Foroige Leadership Programme (Albert Schweitzer's Leadership for life). I finished my leaving certificate in 2013 and am currently studying Business Studies at Cork Institute of Technology (CIT).I've applied to join An Garda Síochána and have passed the first and second stages. I'm waiting to hear if I have got through the third round to see if I will be offered an interview.I've also applied to join the Garda reserves. Eversince I was a young lad at National school I wanted to go to college and to join the Guards and I am determined to achieve this aim and if I am not successful this time, I'll keep trying.I've had huge support from my mother Elizabeth who has supported and encouraged me and my siblings to stay at school and to go to college. My mother never got the opportunity to go to college and she has always wanted us as her children to finish
school, get into third level education and follow their dreams. It has been great to have a mother like that support me through my education.
John Paul Maughan 
My name is John Paul (JP) and I live in west Cork. Sport is a huge passion for me. I grew up in Northern Ireland and started playing Gaelic Football at age 10 when the principle of my school asked me to play for my local club, Irvinestown GAA in Fermanagh. I played for the club for a year and won a medal for under twelve sporting achievements.
I didn't play for a team for several years as my family were on the road, however as soon as we settled in west Cork, I started playing again for my school, Scoil na mBuachailli in
Clonakilty, and it was there that I was spotted by James O Donovan (Youth Development Officer for Clonakilty GAA) who encouraged me to join the local club.
Since then I've come on in leaps and bounds: I was team captain for the under 16's Clonakilty football team and lead them to a county title and I've won two Munster medals playing for Cork under 15's and 16s. I've played with the Cork Minors for three
months, and have played with the Cork under 17's.
In 2012 I was manager of the girls' soccer and football teams at my local community college but had to give it up because of my studies and personal sporting commitments. I also play hurling, soccer and rugby and have won medals for my sporting achievements in these areas. I love sport so much that I cycle an 8km round trip five days a week to attend training and matches.
My dream is to play for Cork Seniors and to play at Croke Park and I hope to make my family proud of my sporting accomplishments and achievements.
I am working towards my Leaving Cert and would love to go to college to study Sports or Youth and Community Work.
Martin Warde 
My name is Martin Warde, and I am 29 years old.I come from a small town called Tuam in County Galway. It is one of those towns hidden amongst the hustle of Traffic going to either Sligo or Galway City. Tuam, with its massive personalities and incredible

characters is responsible for the person writing this piece today.It is fair to say that while I grew up in Tuam – Listening to the Saw doctors and playing soccer in the Christian Brothers school car park – I was also very much aware of my other history, my Traveller history.While I was young I often faced situations that were negative, purely based on my background. While in secondary school during my Junior Cert year, my Art teacher decided that it would be somewhat appropriate to sit the five Traveller children together at the front of the class. My teacher was obviously thinking that the boys would prefer sitting "amongst their own". My lovely teacher was wrong in so many beautiful ways, because I was never one to overshadow one culture with another.For me, being Irish and being a Traveller were not mutually exclusive. I relished the idea of knowing more about the Cork or Killybegs traditions, I loved to hear the boarders tell tales of their hometown. I was a curious and somewhat odd student, mainly because

I didn't buy into the clannish mentality that school usually produced.I was, in essence, a free soul searching out the opportunity to engage with others. It was that mentality that shaped the adult I became. I owe a lot to my parents, because they forced me to be a good person, with social analysis and care that is oft times lost with the poisons a disadvantaged life can sometimes create.

My life took a grand turn, when I turned 20. I was finished school, and seeking out something out of the ordinary. That is when I was presented with the opportunity to be
part of a TV show for RTE, Titled "Des Bishop, Joy in da hood". It was at this point I really became known by the moniker of Martin BEANZ Warde.

I have performed in Vicar street, the Cork Opera House, nationwide and in the UK. However, even comedy has its pitfalls, and sometimes not being in with the "in" crowd can make obtaining gigs difficult. So, like my Travelling Brethren before me, I moved on- to acting. However, while I await my big break and a called to Hollywood, I will complete my Bachelor of Arts degree and seek out societies answers within between the pages of a sociology book.

If I had one bit of advice I would give to anyone today, it would be this: never live a life that requires you to denounce who you are. Never fill your space with objects immovable by reason, love or understanding, for those objects are merely there to block your path on an otherwise beautiful journey.