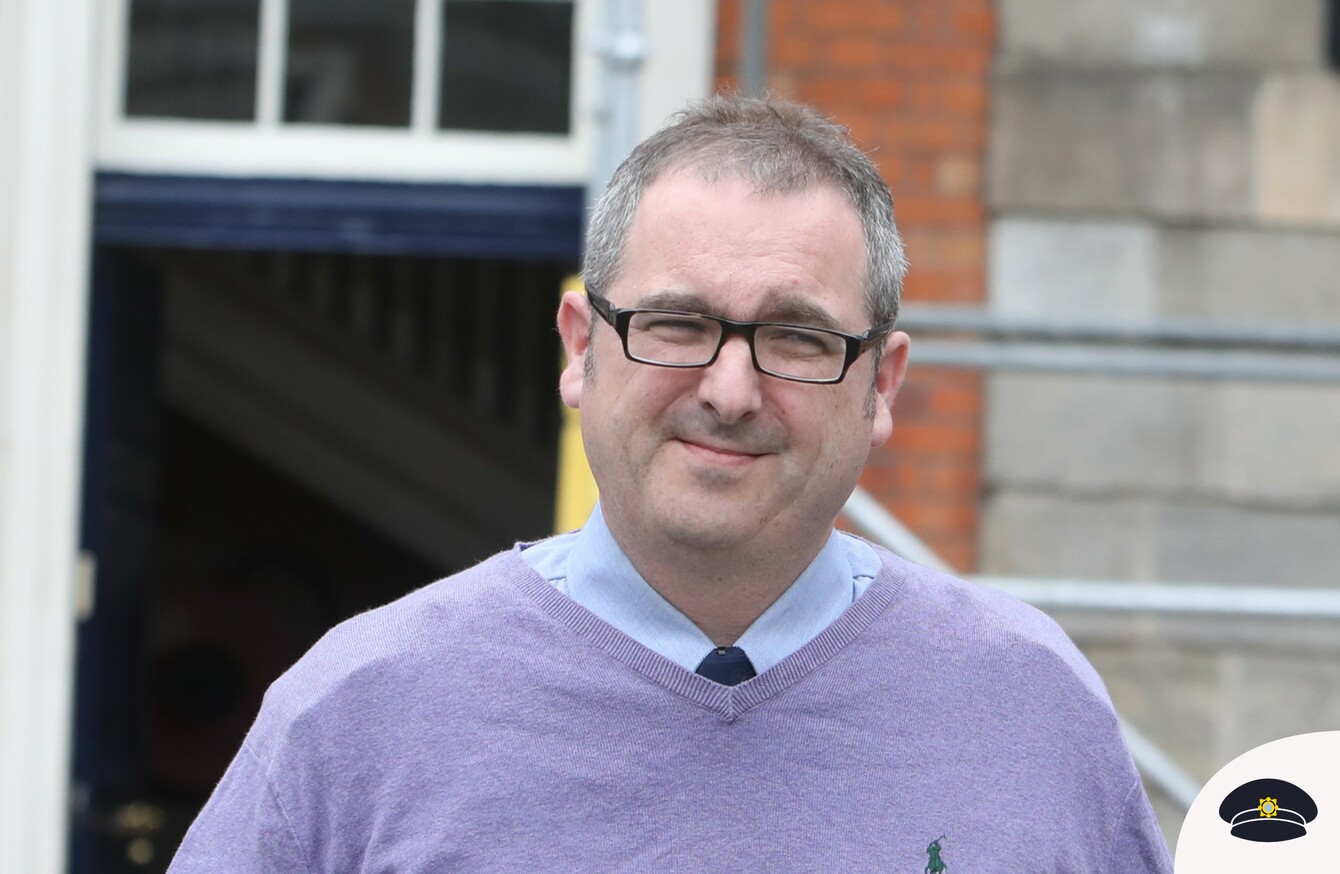 Sergeant Tony Byrne gave evidence to the tribunal today.
Image: Leah Farrell/Rollingnews.ie
Sergeant Tony Byrne gave evidence to the tribunal today.
Image: Leah Farrell/Rollingnews.ie
A GARDA SERGEANT has told the Charleton Tribunal that he never experienced any malevolence or malice towards garda whistle blower Sergeant Maurice McCabe.
The tribunal is inquiring into claims that allegations of sexual abuse were used as part of a campaign to smear and undermine the reputation of Sergeant McCabe.
On day ten of the tribunal Sergeant Tony Byrne said he was one of five or six garda sergeants who arrived together in Bailieboro in 2010 from different divisions.
He said there was a good working atmosphere in the station in the six and a half years he was there.
Asked by the tribunal chairman Mr Justice Peter Charelton if there was any "sense of malice" towards Sergeant McCabe, he said that McCabe had left the area when he transferred in.
He said he had never experienced [any sense of malice] and had never met the sergeant until he saw him at the tribunal.
"I can't say there was any malevolence or malice towards him, I never experienced it," he said.
Sergeant Byrne said he was aware of issues regarding complaints from McCabe "about the standards of policing" in Baileboro and that there were ongoing garda inquiries as a result.
He said there had been discussion about the penalty points allegations and pulse records and he had never heard discussion about the abuse allegation.
Sergeant Byrne said he never saw a 2014 notification containing the false allegation of sexual abuse. He said that the first time he became aware of the garda notification, sent by the child and family agency Tusla in May 2014 to Bailieboro garda station, was when the Charleton tribunal began.
False allegation trail
Earlier, social worker Briege Tinnelly said that in August 2013 she took a telephone call from counsellor Laura Brophy, and recorded details regarding Ms D. She said she was never told there was an error in a subsequent written report from Brophy, and first became aware of the error when it was reported on RTE Prime Time in 2017.
Pamela Armitage, a clerical administrator, said that when she received a telephone call from Brophy alerting her to the error in May 2014, she notified Eileen Argue, the social work team leader.
Dr Gerard O'Neill, director of counselling, HSE Southeast, told the tribunal that copies of the report containing erroneous allegations were received by his offices on 2 May 2014.
He said the office was later told of errors, and received a corrected file at the end of the month, on 28 May 2014. He said that the file containing incorrect information was then shredded.
The tribunal is looking into the creation and distribution of files by Tusla and the HSE containing false allegations against the sergeant, which were created in 2013.
A file was created when Ms D sought counselling in 2013, seven years after she first made allegations in 2006. The tribunal has heard how a "catastrophic error" led to much more serious allegations from a Ms Y being wrongly attributed to Ms D in 2013.
When Ms D learned of the error in May 2014, she contacted her counsellor to correct the error.
#Open journalism No news is bad news Support The Journal

Your contributions will help us continue to deliver the stories that are important to you

Support us now
Public hearing

At the end of the day's hearing tribunal Mr Justice Charleton made a ruling on an earlier application that the evidence of the woman, referred to as Ms D, who made allegations against Sergeant McCabe should be held in public.
The woman and her family are due to give evidence next week and lawyers for them sought reporting restrictions. Lawyers for McCabe argued that her evidence should be held in public.
Mr Justice Charleton ordered that members of the public would be excluded from the tribunal next week when Ms D and her family gave evidence, and that her identity not be revealed. He said that photographers and video operators should "take the day off".
The chairman also said that in the event of evidence which was "irrelevant and an infringement of privacy" being heard he might order that particular pieces of evidence should not be reported.
Charleton said that he would leave it to the tribunal administrator to make a determination of who was a "bona fide" member of the press, noting that "most press people do carry cards".
The judge said that secret courts were "an obnoxious aspect of certain regimes which do not follow Christian and democratic substratums to their proceedings". However, he said there were exceptional circumstances in which the courts could restrict what was reported.
Comments have been closed for legal reasons