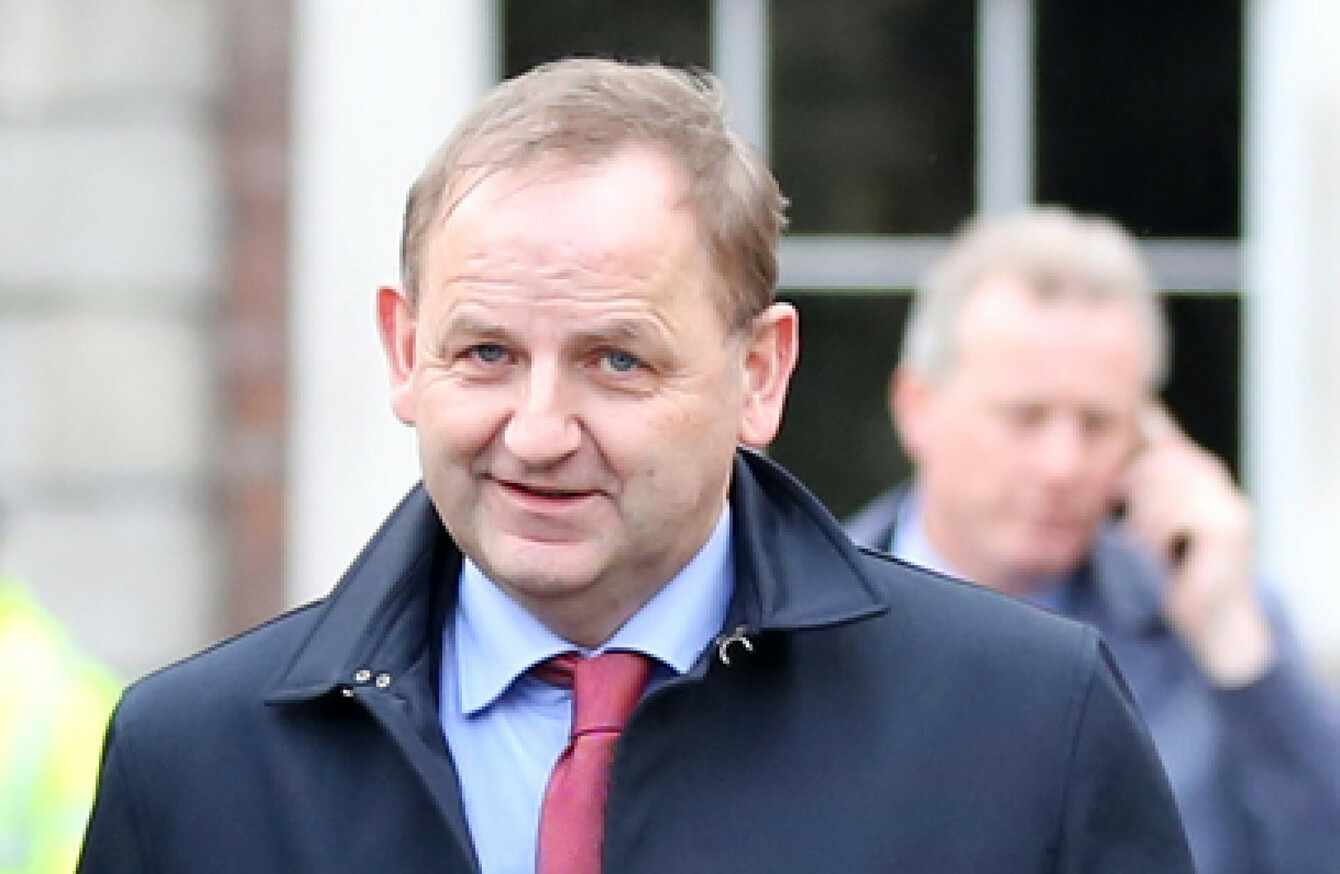 Maurice McCabe
Image: Sam Boal/RollingNews.ie
Maurice McCabe
Image: Sam Boal/RollingNews.ie
Updated 8pm
THE HEAD OF human resources at the gardaí has described being told by a senior colleague that they planned to "go after" Sergeant Maurice McCabe at the 2015 O'Higgins Commission.
John Barrett gave his testimony to the Disclosures Tribunal this afternoon.
Earlier on, former Justice Minister Frances Fitzgerald has told the tribunal that then-garda commissioner Nóirín O'Sullivan assured her she had never accused McCabe of malice or questioned his integrity.
In its current module, the tribunal is examining whether unjustified grounds were inappropriately relied upon by the former garda commissioner to discredit McCabe at the O'Higgins commission.
The commission, which sat in private, investigated complaints made by Sergeant McCabe about certain policing matters and about serious allegations against senior officers including former garda commissioner Martin Callinan.
Fitzgerald said when she received the report of the commission in May 2016, she thought it was a balanced report, and "hoped it would be the basis for resolving the issues that had arisen".
Media leaks about the private hearings shortly after the report was published meant that "suddenly there was a whole other stream of information".
It was difficult to place it in context as Judge O'Higgins had not made any reference to or "direct comment about the behaviour down at the commission" in his report, Fitzgerald said.
"What I had to go on was a report I had got from Judge O'Higgins," Fitzgerald said.
Obviously they were in the public arena so I had to respond as much as I could to the various allegations that were arising.
Fitzgerald and her officials met with the garda commissioner, and O'Sullivan "said at that point she wanted the truth to emerge at the commission and obviously she wanted to cooperate fully with the commission," Fitzgerald said.
"She [O'Sullivan] made it clear she had not questioned Sergeant McCabe's integrity and had never accused him of malice, and she wanted to treat all witnesses equally," Fitzgerald said.
Fitzgerald said she was "getting as clear an explanation as I could because it was a matter of public concern" at the meeting with the commissioner on 19 May 2016.
The former minister said she had clear legal advice from the Attorney General that she should not release the garda commissioner's legal advice, as it would set a bad precedent.
Commissioner O'Sullivan had forwarded to the minister advice she had received from her legal team in 2015 with a note that it could be published in the Dáil if the minister wished.
"I wanted to put as much information as I could on the public record within the legal constraints," Fitzgerald said.
Fitzgerald said there was a "consistent message and approach" that the O'Higgins commission was self contained and the judge would deal with any issue that arose there.
"The O'Higgins commission was separate. It would be inappropriate and perhaps legally questionable as well to have got involved with it," Fitzgerald said.
Fitzgerald said she was not aware her deputy secretary general Ken O'Leary had spoken to the garda commissioner on the day a legal row broke out at the commission over instructions to the garda team, until she learned about it from the tribunal.
O'Leary told the tribunal that he informed the garda commissioner that her legal approach at the O'Higgins commission was not something the department or minister could have any involvement in.
Fitzgerald said this was consistent with what she was saying about non-interference.
Fitzgerald said she received a briefing about possible questions about the O'Higgins commission that she might be asked in a planned RTÉ This Week interview in July 2015, but the issue was not raised when the interview took place.
Fitzgerald said she did not realise that emails she sent to her secretary general Noel Waters had a typo in his email address until he gave evidence at the tribunal, and when she asked her staff to search for bounced error messages in the Oireachtas email system, they could not find any.
This is despite departmental official Martin Power telling the Tribunal yesterday that a message such as this would have bounced back.
She said that normally if an email bounced back undelivered it would be re-sent.
'Going after'
Giving evidence later in the day, the head of garda human resources said he was told by a senior civil servant with the force that they were "going after" McCabe at the Commission.
John Barrett, the executive director of human resources with An Garda Síochána, told the tribunal he was shocked when he was told the news, as it jarred with the work he had been doing with Sgt McCabe.
#Open journalism No news is bad news Support The Journal

Your contributions will help us continue to deliver the stories that are important to you

Support us now
Barrett said he had been working with Sgt McCabe since February 2015 on workplace issues, and a "cottage industry" had sprung up to deal with related issues.
Barrett said that after a meeting which he believed took place on 13 May 2015, he was asked to stay behind by Cyril Dunne, a senior civil servant in an Garda Siochana.
Speaking about Sgt McCabe, Dunne said "we are going after him in the Commission."
Barrett said he turned to Dunne and said to him "you must be joking." He said he found the remark shocking.
Tribunal barrister Diarmaid McGuinness said that, in a statement to the tribunal, Dunne denied making the comment.
Barrett said that with hindsight he would have taken a detailed note of the conversation or protested strongly, but at the time he didn't understand what it meant.
Barrett said: "If I had it all over again I would make a very detailed and contemporaneous note of what at the time just seemed odd in relation to the work we had put in since February.
"At the time it didn't have the significance it had a week or ten days later," He said that it would be the executive of the organisation that would make "a decision of that order, something as serious as that".
Tribunal chairman, Justice Charleton asked Mr Barrett how he was able to say that he believed the meeting he described took place on 13 May 2015. Barrett replied that he had gone back over his email archives and electronic diary entries, and this was the date that fitted what he recalled.
He agreed to produce his emails and electronic diaries to the tribunal. He said he was "genuinely disappointed" that he had not made a more complete note at the time.
The tribunal chairman said that the garda commissioner's legal counsel were consulting on matters relating to the O'Higgins commission at the time Mr Barrett said the comment was made by Mr Dunne.
Barrett said that in the last number of days he had spoken with Chief Supt Tony McLoughlin, who had confirmed that Mr Barrett had mentioned the issue with him.