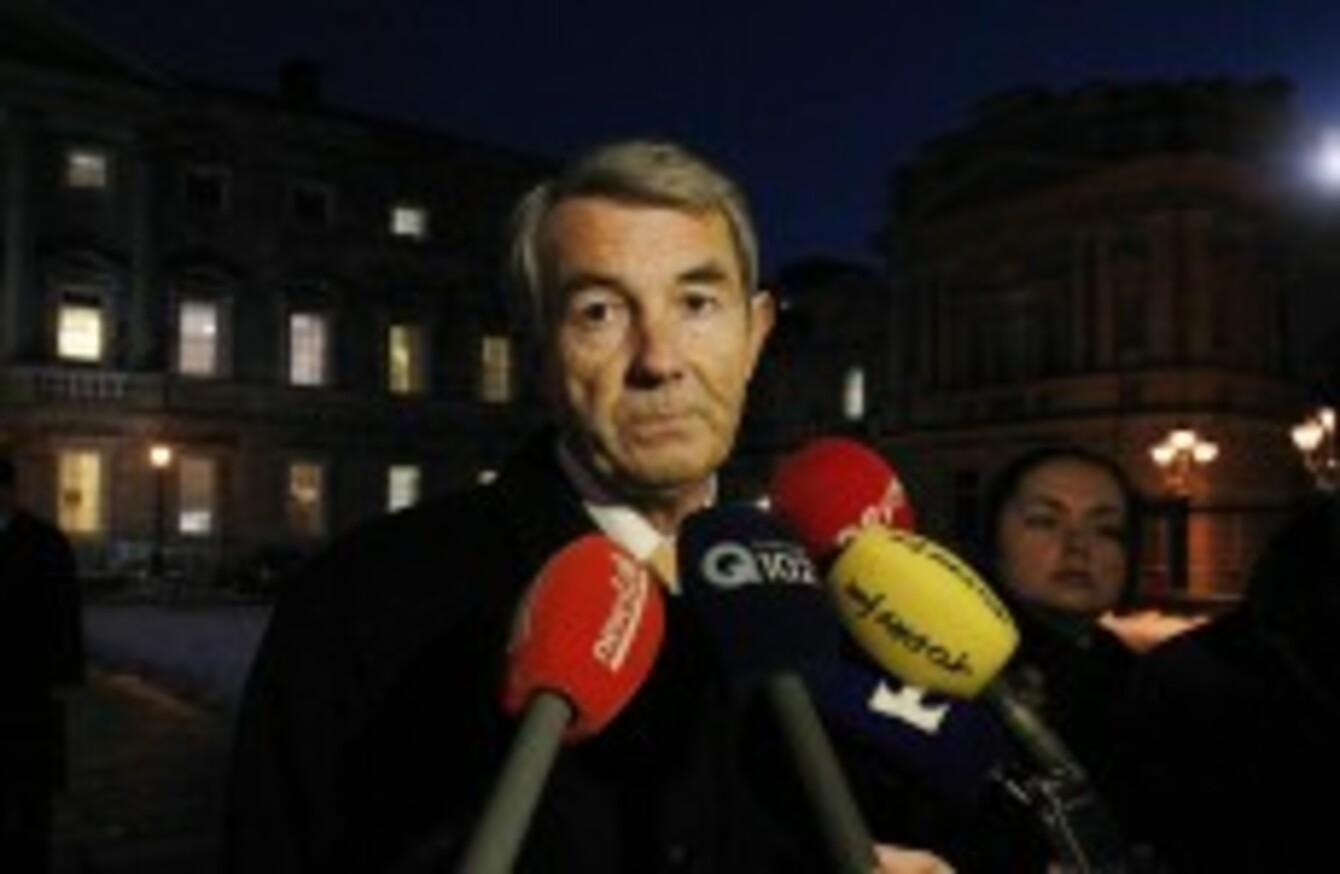 Michael Lowry, who was Minister for Communications when Esat Digifone won the contract to operate Ireland's second mobile phone licence, was an "insidious and pervasive influence" on the bidding process, the Moriarty Tribunal has found.
Image: Julien Behal/PA Wire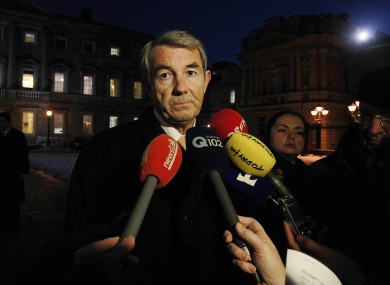 Michael Lowry, who was Minister for Communications when Esat Digifone won the contract to operate Ireland's second mobile phone licence, was an "insidious and pervasive influence" on the bidding process, the Moriarty Tribunal has found.
Image: Julien Behal/PA Wire
Updated, 15.59
THE MORIARTY TRIBUNAL has released its report on alleged payments to politicians including the former communications minister Michael Lowry – in findings that offer a stinging criticism of Lowry's role in the awarding of the mobile phone licence to Esat Digifone in 1996.
In two mammoth documents – with a combined total of around 2,400 pages – Justice Michael Moriarty found that Lowry had "conferred a benefit on Mr Denis O'Brien, a person who made payments to Mr Lowry, within the meaning of [the tribunal's] terms of reference."
The tribunal also found that "substantive information was also made available to Mr Lowry who, contrary to his testimony to the Tribunal, was far from being a disinterested Minister whose sole anxiety was to secure a competitor for Eircell", which at the time was the sole mobile phone operator in Ireland.
Lowry had, rather, "exhibited an appreciable curiosity about the substantive process, as it was proceeding, and on a number of occasions sought, and was provided with, information by members of the Project Group" that had been tasked with identifying the successful bidder for the contract.
It added that "in the last three days before the issue" of the second GSM mobile phone licence to Denis O'Brien's Esat Digifone consortium in May 1996, "there were many meetings between Esat Digifone and the Department of which were was no documentary record or reference on Departmental files, including a meeting between Mr Denis O'Brien and Mr Lowry on Tuesday, 14th May 1996″ – just two days before the report was issued in full.
That announcement of the awarding to Esat had come as a result of a "guillotine" forcibly applied on the process by Lowry – who had exerted what the Tribunal condemned as an "insidious and pervasive influence on the process" of Esat being awarded the licence.
Exerting such a guillotine had "thereby not only influenced, but delivered, the result" of the bidding process.
On another occasion, the Tribunal found that when Lowry met Anthony O'Reilly – who had led one of the defeated bidding consortia – he had told him, "Your fellas didn't do too well yesterday" – implying a knowledge of how his bid had been assessed, in breach of an "intended seal of confidence".
'Far below what could be expected'
The general management of Lowry's personal finances, meanwhile – with the former minister having had up to 19 separate accounts in his name, some of them offshore – "disclosed palpably inadequate book-keeping, a want of transparency in his dealings, and a disposition to declare and discharge his tax liabilities far below what could be reasonably expected from a holder of public office."
The Tribunal also discusses remarks made by O'Brien to Barry Moloney about two £100,000 payments – "one of which was referable… to Mr Michael Lowry."
A further payment made by businessman Ben Dunne to Lowry, amounting to £15,000, "further demonstrated the covert arrangements devised by Mr Dunne and Mr Lowry, to remunerate Mr Lowry in a manner that would enable him to evade tax".
The Tribunal also investigated a $50,000 donation made by Esat to Lowry's former party, Fine Gael, which had been made by Esat via its Norwegian bidding partner Telenor.
This donation had been made to a Fine Gael fundraiser, David Austin, ostensibly made towards a Fine Gael fundraising dinner in New York in 1995 that Austin – now long deceased – was organising.
Austin had sent Telenor an invoice for $50,000 for consultancy services, asking that payment be made to a dollar account he held with Bank of Ireland in Jersey. Telenor was reimbursed for this payment by means of three separate invoices to Esat.
'A marked reluctance to engage'
Austin told then-Taoiseach John Bruton that some funding was available to FG from Esat, but Bruton insisted that it not be accepted and told Austin to "leave it where it is".
But in late April 1997, in the run-up to the general election, Austin called FG general secretary Jim Miley and informed him of his desire to make a substantial personal donation to the party.
Austin then told Frank Conroy – a longstanding FG supporter, and a friend of Lowry's – to tell him he was sending him a donation relating to the NY dinner. Austin sent Conroy a cheque for the punt equivalent of $50,000, which Conroy then forwarded to the party.
Telenor became concerned at how this donation was handled and in 1998 sought a direct receipt for the donation from Fine Gael, as well as deliberating whether the payment was to be referred to the tribunal. Fine Gael also considered referring the payment.
Neither referred the payment to the tribunal, however. Neither Esat, Denis O'Brien, or "any of the numerous directors and personnel of those companies, who had a deeper knowledge of the circumstances, brought it to Tribunal attention."
Fine Gael returned the payment to Telenor in March 1998, and Telenor – having been reimbursed – forwarded it to Denis O'Brien of Esat.
"There then commenced a fractious discourse of dealings between the Esat Digifone shareholders, which led to the cheque being returned to Fine Gael… when last mentioned in evidence [the cheque] had come to rest somewhere in Esat Digifone."
Lowry claimed not to have known about the donation until it was revealed in the media in 2001.
The Tribunal has rejected as spurious and untenable the suggestion made, in the course of public sittings, that the payment by Telenor was legitimate, as an expression of interest in Irish affairs, but not by any other entity or shareholder within the Esat Digifone consortium.
The decision not to refer the payment to the tribunal – even though Lowry was the Chairman of the Trustees of Fine Gael at the time the Esat donation was made – "betrayed a marked reluctance to engage with the Tribunal".
More generally, by their conspicuous support of Fine Gael fundraising events from early 1995, Mr O'Brien and Esat succeeded in raising their profile with Fine Gael to an appreciable degree, and, on the evidence, to an extent not remotely matched by members of other bidding criteria.
O'Brien has rejected Justice Moriarty's findings, saying they were "fundamentally flawed" and represented Moriarty's personal opinions.
Lowry, too, has rubbished its findings saying they were "factually wrong and deliberately misleading."
Among the Tribunal's recommendations are reforms to the political donations systems to remove the dependence of political parties on corporae donations, and that future tribunals be allowed to ask the Oireachtas to appoint other forms of inquiry where such moves would better help to achieve its goals.
It also asks that, in future, the state work to harmonise EU rules so that EU citizens can be compelled to appear before tribunals.
#Open journalism No news is bad news Support The Journal

Your contributions will help us continue to deliver the stories that are important to you

Support us now