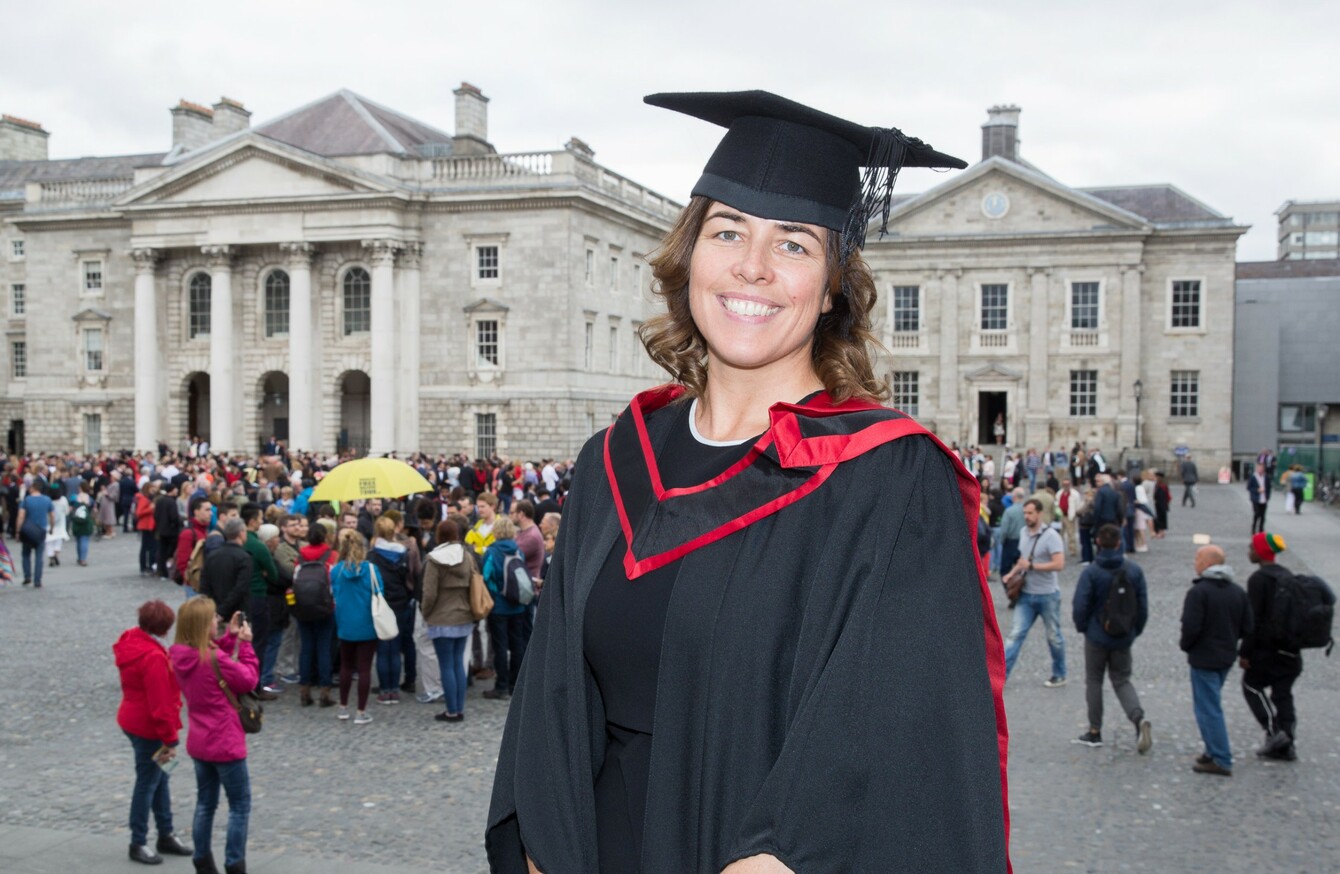 Image: Paul Sharp
Image: Paul Sharp
EMER GLANVILLE DROPPED out of school when she was 16.
She had no interest in education at the time. She didn't enjoy a lot of the subjects and had plans to become a hairdresser.
"A year after I left I got pregnant and education just sort of got away from me," says Emer.
It was over 10 years before she would get back into education.
After a friend completed an access programme, Emer decided to follow in her footsteps.
"I wanted to better myself , so I went for it – but had no idea what I wanted to do," she says.
Emer applied for a place in the The Trinity Access Programmes (TAP) Foundation Course for Higher Education.
The aim of the course is to give people who may have faced educational disadvantage throughout their lives another chance at higher level education.
After trialling a number of different subjects on the course, Emer realised that she had a knack for science subjects and enjoyed them a lot.
"I really enjoyed the work and started getting good grades," she says.
The course tutors helped her along the way – encouraging her and providing support when it was needed.
A year later, she graduated and secured a place in the undergraduate course in Medicine at Trinity College Dublin.
Graduated
Emer will graduate today after five years of Medicine. She has a junior position secured at Beaumont Hospital and hasn't looked back since.
With three children and money being very tight, the course wasn't always easy – but Emer says that the staff on the access programme gave her great support throughout.
The Trinity Access Programme for mature students was established in 1997.
To date, 273 students have progressed on from the foundation course to undergraduate degrees in Trinity.
The course is a year of either science-based or arts-based subjects. It is full-time with small class groups and hands-on teaching from Trinity tutors.
Today, 39 students will graduate from the Foundation course.
Following on from their graduation, the 22 young adults and 17 mature students are all expected to start degree courses across the three faculties in Trinity this September.
Emer is not the only graduate of the foundation course to graduating from Medicine today.
Andre Maseko moved to Ireland moved to Ireland from South Africa in 2007 when he was 16.
He completed his Leaving Cert but was unable to get a place in any science course due to not having the course requirements.
Andre took the Foundation course and scored highly. The following year he was able to enter Medicine in Trinity.
"The only really difficult thing was working and having to pay fees," says Andre.
Andre had to work as a cleaner throughout his course in order to make money to afford his tuition fees.
Many mornings he would have to be in work at 6am. He would work until 9 and then go straight to college for the day.
He will graduate tomorrow.
"I'm very delighted – it will be good not to have to worry anymore about money," he says.
The 22 young adults and 17 mature students graduating from the Foundation course are all expected to start degree courses across the three faculties in Trinity this September.
"Untapped talent"
Commenting on today's graduation, TAP Director Cliona Hannon says that all the students graduating represented the "untapped talent" a many communities nationwide facing poverty.
"It is extraordinary to think that Emer and Andre were in that very situation just a few years ago and now they will bring all their dedication, life experience, compassion and talent into the medical profession," she says.
Emer credits the TAP programme for changing her attitude to life.
"I'd encourage anyone thinking of the doing the same to just give it a go," she says.
It's changed my life, it really has.
This article was originally published on 17 June 2016