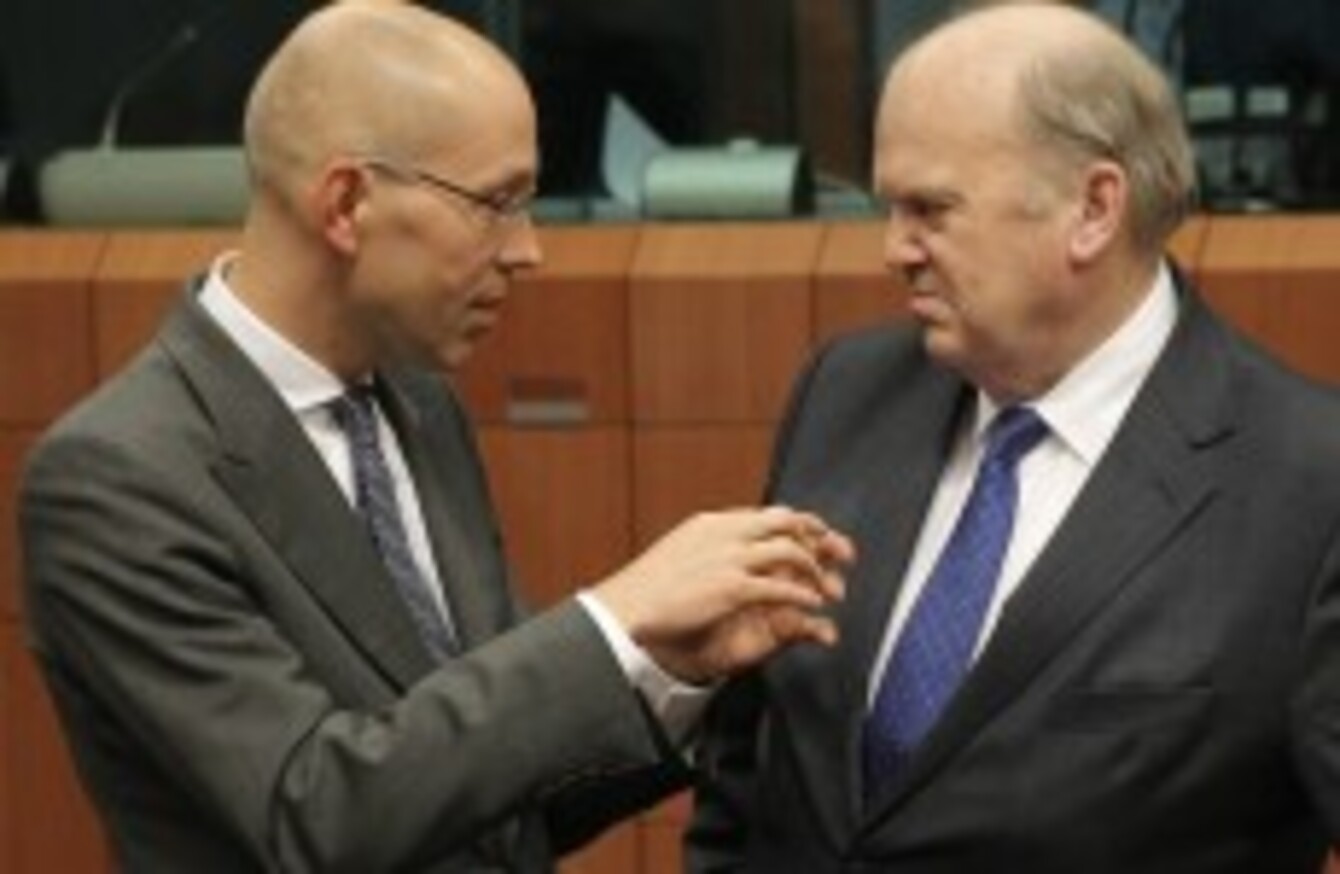 Finance Minister Michael Noonan speaks with Jorg Asmussen of the European Central Bank in Brussels last month
Image: Yves Logghe/AP/Press Association Images
Finance Minister Michael Noonan speaks with Jorg Asmussen of the European Central Bank in Brussels last month
Image: Yves Logghe/AP/Press Association Images
IRELAND FORMALLY EXITS its EU-IMF bailout this weekend, as the three-year finance arrangement comes to an end. The Taoiseach is planning an address to the nation to mark the event, while ministers will also engage in a round of media events and interviews today.
However, the teams from the European Commission, European Central Bank and the IMF won't be going very far; all three bodies will be carrying out twice-yearly check-ups with the Department of Finance.
The IMF team are expected to stay for a "number of years".  Speaking following the twelfth and final review of the country's bailout programme last month, the Irish Mission Chief with the Washington-based fund took the opportunity to remind the media that the IMF would still be undertaking regular 'visits' with the Government to discuss policy.
"The only thing that will be different is that there not be an assessment," Beaumont said.
"We will be here every six months in a completely normal fashion".
He said that in previous cases when a country exited a programme it was normal for the IMF to maintain a presence for several years.
The message was echoed by Eurogroup president Jeroen Dijsselbloem last month. After paying tribute to Ireland's efforts within the programme, he stressed that any country leaving a bailout "would have extra surveillance for some time".
In a similar approach to that of the IMF, there will be six-monthly check-ins by the European Commission and the European Central Bank, both of which have permanent bases in Dublin.
Dijsselbloem said that there would be, "no measures just surveillance".