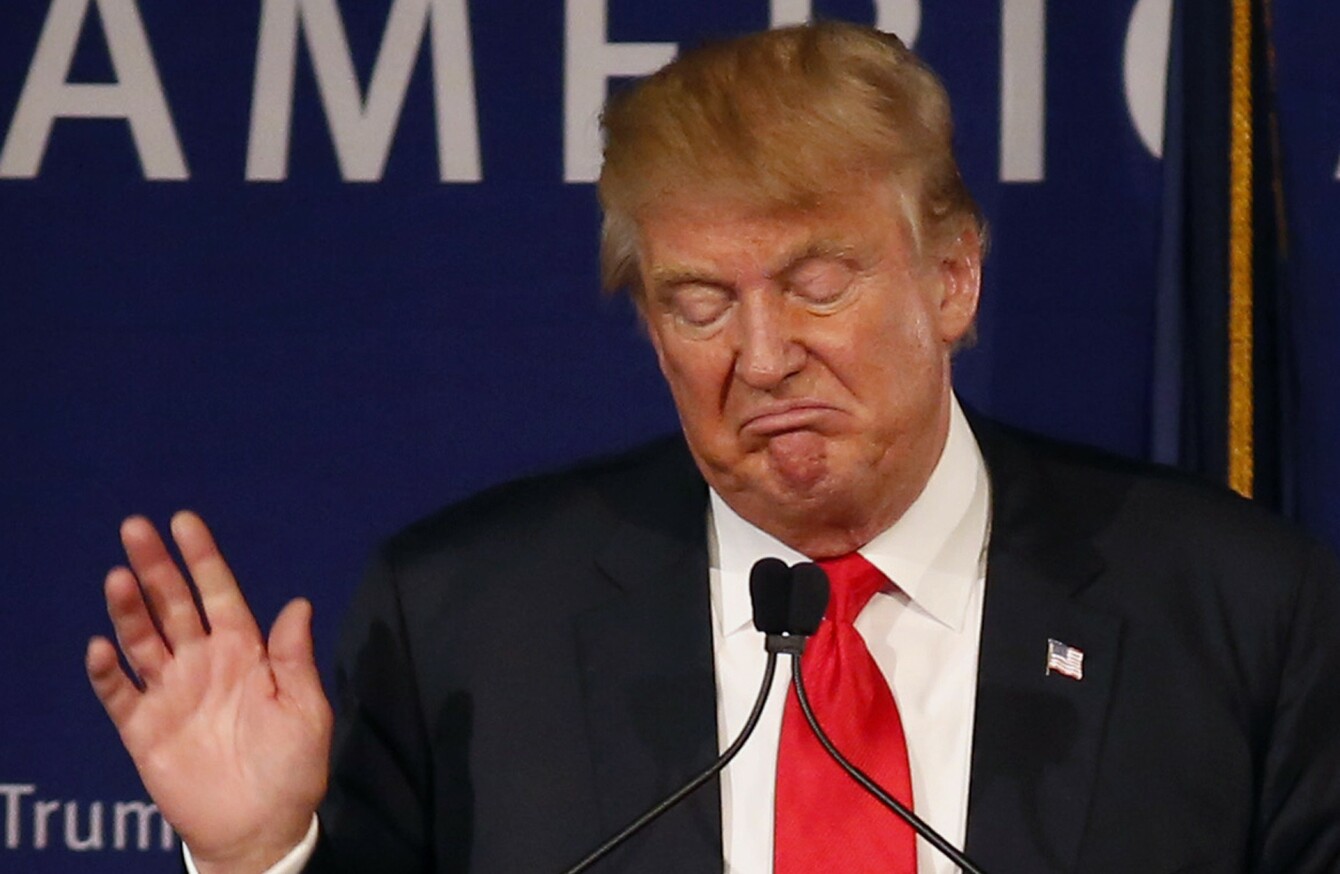 Image: Associated Press
Image: Associated Press
Updated 8.16am
REPUBLICAN PRESIDENTIAL FRONTRUNNER Donald Trump has been criticised by the White House after he called for a "total and complete" block on Muslims entering the United States, in the wake of last week's mass shooting in California by a Muslim couple believed to have been radicalised.
A statement from Trump's campaign team said the halt on Muslims entering the country should remain in place "until our country's representatives can figure out what is going on".
The statement does not specify if the proposal would affect both tourists and immigrants, and also does not say if it would target American Muslims currently abroad.
White House spokesperson John Earnest said it was contrary to US values and interests.
"You're being generous by describing it as a proposal," he said, castigating the fiery Republican presidential frontrunner's latest outburst as "cynical".
I think what Mr Trump is doing is something that he's been doing over the course of his entire campaign, which is… to play on people's fears in order to build support for his campaign.
"I think what he's doing, he's dividing America in a really cynical way," Earnest told MSNBC.
One of President Barack Obama's top foreign policy aides, Ben Rhodes, told CNN that the plan was also "contrary to our security."
"The fact of the matter is (the Islamic State group) wants to frame this as a war between the United States and Islam," he added.
And if we look like we apply religious tests to who comes into to this country, we are sending a message that essentially we are embracing that.
Trump's campaign cites poll data allegedly showing "hatred toward Americans by large segments of the Muslim population".
"Where this hatred comes from and why we will have to determine," the billionaire real estate mogul, who is leading in opinion polls among likely Republican voters, said in the statement.
Until we are able to determine and understand this problem and the dangerous threat it poses, our country cannot be the victims of horrendous attacks by people that believe only in jihad, and have no sense of reason or respect for human life.
Trump has been increasingly virulent in his remarks targeting Muslim Americans since the deadly Paris attacks, and again in the wake of last week's shooting rampage in California, which left 14 dead and 21 wounded.
His announcement quickly unleashed condemnation from his opponents.
Rivals Marco Rubio, John Kasich, Chris Christie and Lindsey Graham were among those who rejected Trump's proposal.
Hillary Clinton, the main Democratic presidential hopeful, described Trump's comments as "reprehensible, prejudiced and divisive."
- © AFP, 2015, originally published 10.36pm