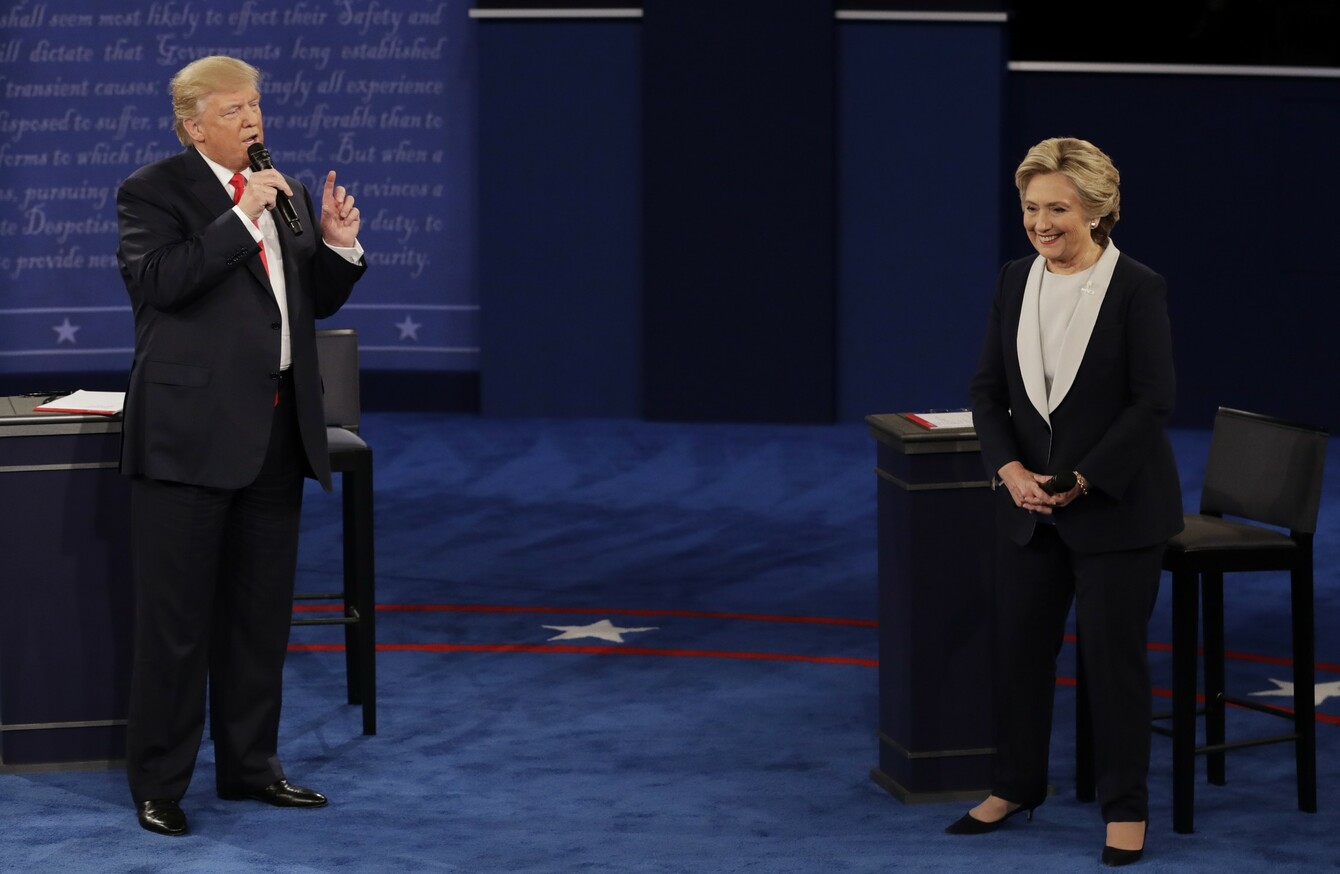 Image: Patrick Semansky/PA
Image: Patrick Semansky/PA
ALL GREAT BATTLES become trilogies – that is a truism mostly seen in boxing.
US Presidential debates have attempted to repeat that formula, with a third debate to sway the minds of undecideds.
Here's everything you need to know about the upcoming battle between Hillary Clinton and Donald Trump.
When: This Wednesday in the US, in the small hours of Thursday morning here. The debate runs from 2am to 3.30am.
Where: Clinton and Trump will face off at the University of Nevada in Las Vegas (UNLV). No third-party candidate has met the 15% polling threshold to be involved in the debate.
Watch: Sky and BBC will both carry the debate and it will be available online on C-Span.
Who's in charge?: Fox News Sunday's Chris Wallace will moderate the debate. A Democrat who presents on Fox, Wallace is known for his aggressive questioning of all parties. In 2006, he had a famously tense exchange with Bill Clinton where he questioned the former President on whether he should have caught Osama bin Laden while in office.
Format: The debate will be split into six 15 minute segments on topics picked by Wallace.
The candidates will have two minutes to answer, then a minute to respond to their opponent's rebuttal.
The topics are: immigration, debt and welfare, the Supreme Court, foreign policy, the economy and fitness to serve as president.
State of play: Two polls out on yesterday – taken after a slew of sexual misconduct allegations against Trump that emerged last week – put Clinton ahead.
But they did so by vastly different numbers: an ABC News/Washington Post survey had Clinton four points ahead while an NBC News/Wall Street Journal poll put her margin at 11 points.
As they prepare for their third and final debate on Wednesday, Clinton is lying low, apparently relying on Trump self-destructing.
While her own campaign is not bulletproof, there is evidence the campaign is shifting in her favour.
The CBS News Battleground Tracker Poll out yesterday found that, because of a surge in support for Clinton among women, she now leads by six points in a dozen crucial swing states.