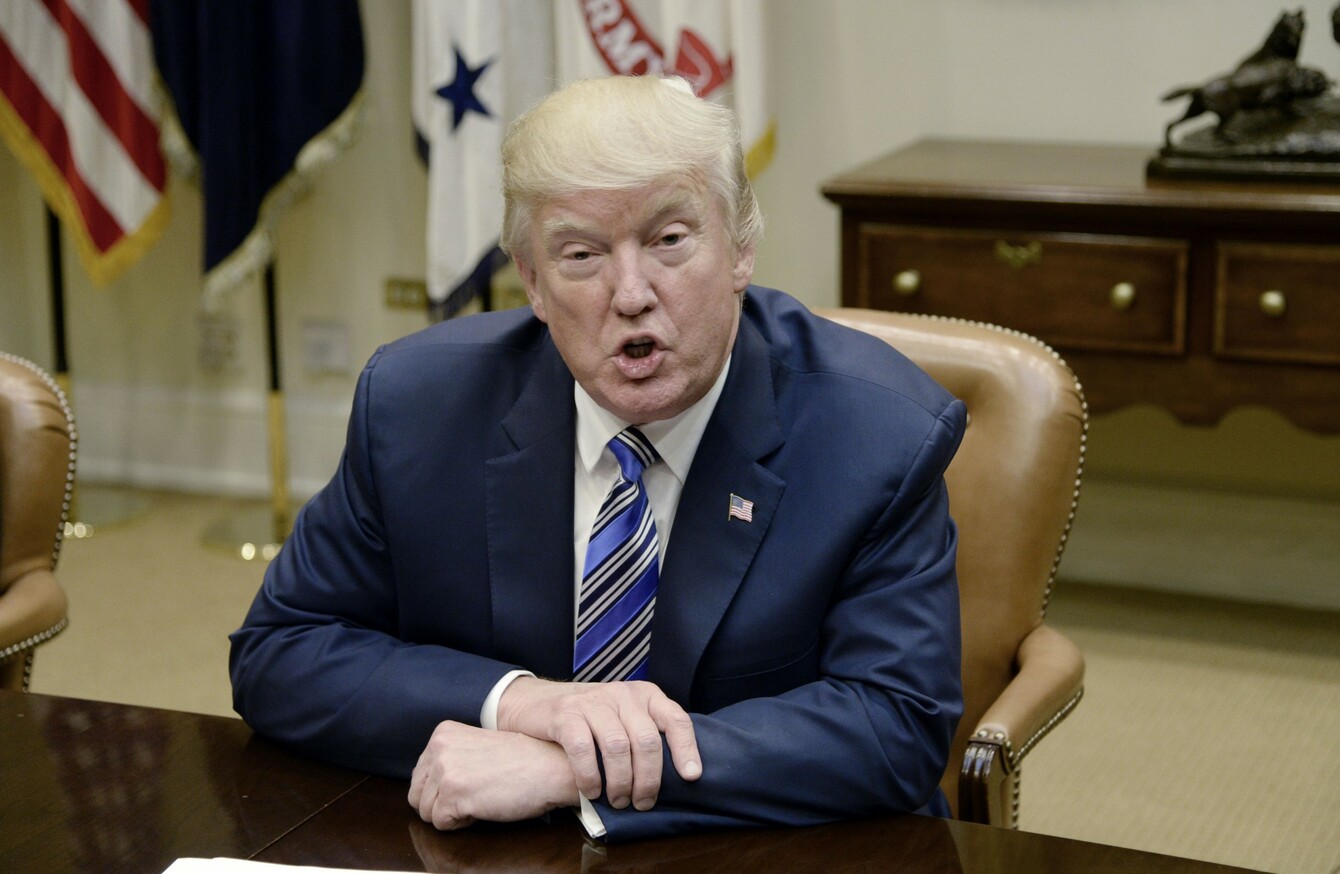 Image: SIPA USA/PA Images
Image: SIPA USA/PA Images
US PRESIDENT DONALD Trump's lawyer has said that Trump never asked former FBI director James Comey to stop investigating anyone, including former national security advisor Michael Flynn.
He also said that the president never asked Comey for "loyalty", directly contradicting Comey's account of events.
Trump's  lawyer Marc Kasowitz was speaking after Comey's explosive testimony in front of a Senate committee this afternoon –  in which the ex-FBI director said he believed that Trump had directed him to stop investigating Flynn.
Comey detailed eight one-on-one meetings he had with Trump on his opening statement given to the Senate last night.
In these meetings, Comey said that Trump had urged him to drop an investigation into his former national security advisor Michael Flynn, then under scrutiny for his Russia contacts.
"I hope you can see your way clear to letting this go, to letting Flynn go. He is a good guy," Comey quoted Trump as telling him on 14 February as they sat alone together in the Oval Office.
Concerning another meeting, Comey said:
"The president said, 'I need loyalty, I expect loyalty.'
I didn't move, speak, or change my facial expression in any way during the awkward silence that followed.
In Trump's lawyer's statement, the president directly contradicts this version of events.
"The President also never told Comey, 'I need loyalty, I expect loyalty' in form or substance," Kasowitz's statement reads.
Of course, the Office of the President is entitled to expect loyalty from those who are serving in an administration, and, from before this President took office to this day, it classified information and privileged communications, Mr Comey has now admitted that he is one of these leakers
In relation to the Flynn investigation, the statement says:
"Consistent with that statement, the President never, in form or substance, directed or suggested that that [sic] Mr. Comey 'let Flynn go." As he publicly stated the next day, he did say to Mr. Comey, 'General Flynn us a good guy, he has been through a lot" and also "asked how is General Flynn doing".
Investigation
The statement also accuses Comey of "unilaterally and surreptitiously" leaking information around one of his and Trump's meeting to the press.
"Today, Mr. Comey admitted that he unilaterally and surreptitiously made unauthorised disclosures to the press of privileged communications with the President.
The leaks of this privileged information began no later than March 2017 when friends of Mr. Comey have stated he disclosed to them the conversations he had with the President during their January 27, 2017 dinner and February 14, 2017 White House meeting.
The statement accuses Comey of leaking memos he had made of the conversations he had with Trump, "one of which he testified was classified", and that Comey had leaked memos after he was fired in order "to prompt the appointment of a special counsel".
Although Mr. Comey testified he only leaked the memos in response to a tweet, the public record reveals that the New York Times was quoting from these memos the day before the referenced tweet, which belies Mr Comey's excuse for this unauthorized disclosure of privileged information and appears to [be] entirely retaliatory.
The tweet the lawyer is referring to is one in which Trump said he may have tapes of his and Comey's conversations.
We will leave it to the appropriate authorities to determine whether this leaks should be investigated along with all those others being investigated.
The statement ends:
In sum, it is now established that there the President was not being investigated for colluding [sic} with the or attempting to obstruct that investigation. As the Committee pointed out today, these important facts for the country to know are virtually the only facts that have not leaked during the long course of these events.