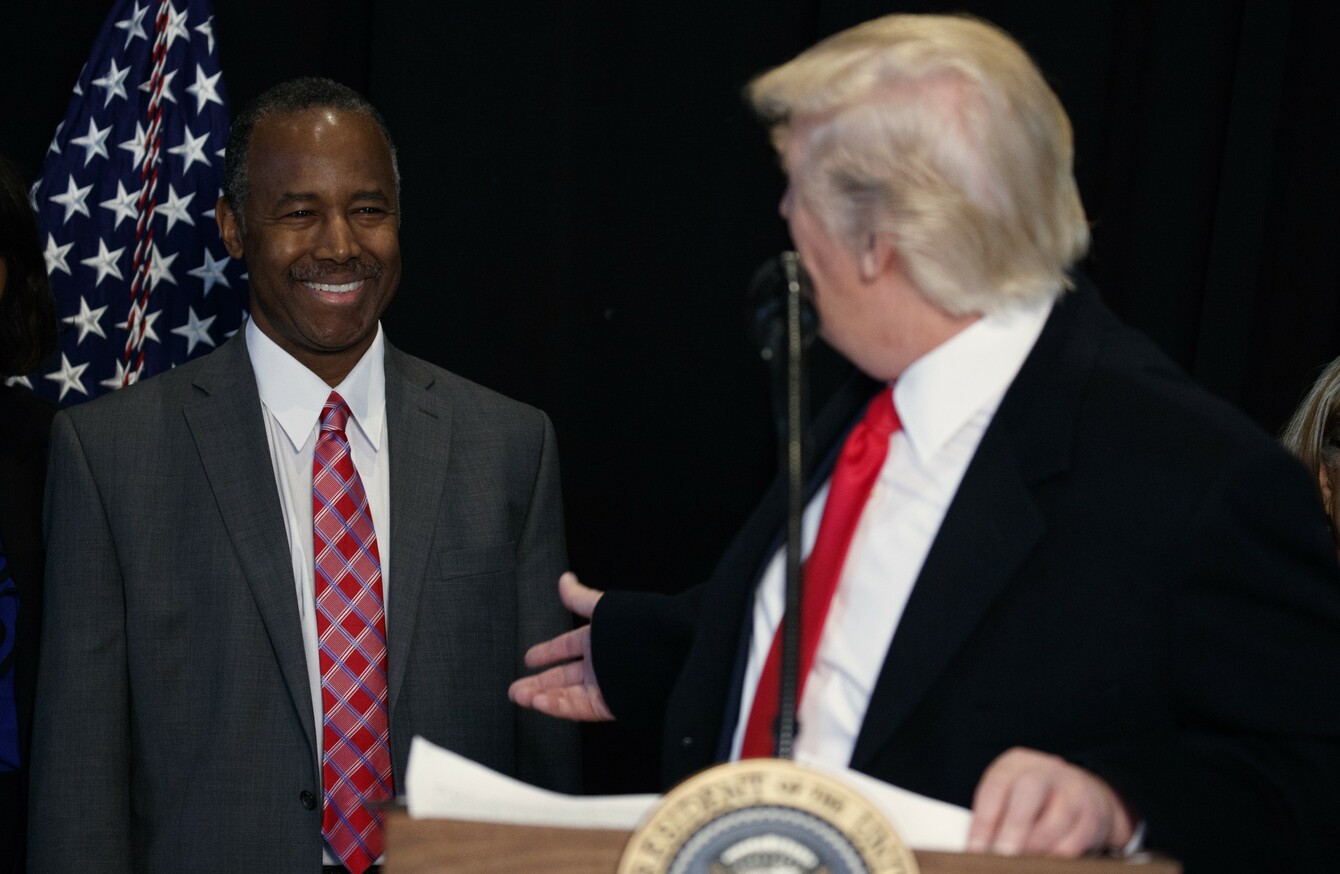 Trump and Ben Carson at the museum today.
Image: Evan Vucci
Trump and Ben Carson at the museum today.
Image: Evan Vucci
US PRESIDENT DONALD Trump has decried anti-Semitic threats against Jewish community centres as "horrible" and "painful," promising to work to bridge divisions in the country.
"This tour was a meaningful reminder of why we have to fight bigotry, intolerance and hatred in all of its very ugly forms," Trump said in remarks after visiting the National Museum of African American History and Culture in Washington.
The anti-Semitic threats targeting our Jewish community and community centres are horrible, and are painful — and a very sad reminder of the work that still must be done to root out hate and prejudice and evil.
At the weekend, more than 100 headstones were damaged at a Jewish cemetery in St Louis, Missouri, the facility's director said.
Nearly a dozen Jewish community centres received bomb threats that prompted evacuations on Monday. All of the threats turned out to be hoaxes.
The FBI and the Justice Department's Civil Rights Division are said to be investigating those incidents, and dozens more reported since the start of the year.
Trump's daughter Ivanka, who converted to Judaism, denounced the threats over the weekend, saying on Twitter that "we must protect our houses of worship & religious centres," the president had not commented.
Following his museum visit, Trump also pledged "to do everything I can to continue that promise of freedom for African-Americans and for every American."
'Alt-right' 
Accompanied by Ben Carson, the African American retired neurosurgeon he tapped to head the department of Housing and Urban Development, Trump praised the museum's work honouring "African American men and women who built our national heritage."
But it also was clearly intended to assuage concerns raised over Trump's embrace by white supremacist groups and an "alt-right" movement given a platform on Breitbart, the online news outlet once headed by Trump's chief White House strategist Steve Bannon.
The White House raised eyebrows on International Holocaust Remembrance Day late last month by issuing a statement that made no mention of the six million Jews killed in the Nazi genocide.
When an Orthodox Jewish reporter asked Trump at a White House news conference about a post-election surge in anti-Semitic incidents in America, Trump reacted defensively, telling his questioner to "sit down".
As he toured the museum, he was asked by an MSNBC reporter whether he would clear up the confusion by denouncing anti-Semitism, Trump said, "I do all the time".
"I think it's terrible or horrible, whether it's anti-Semitism or racism or anything you can think about having to do with the divide," he said, "You don't know where it's coming from but I certainly hope they catch the people."