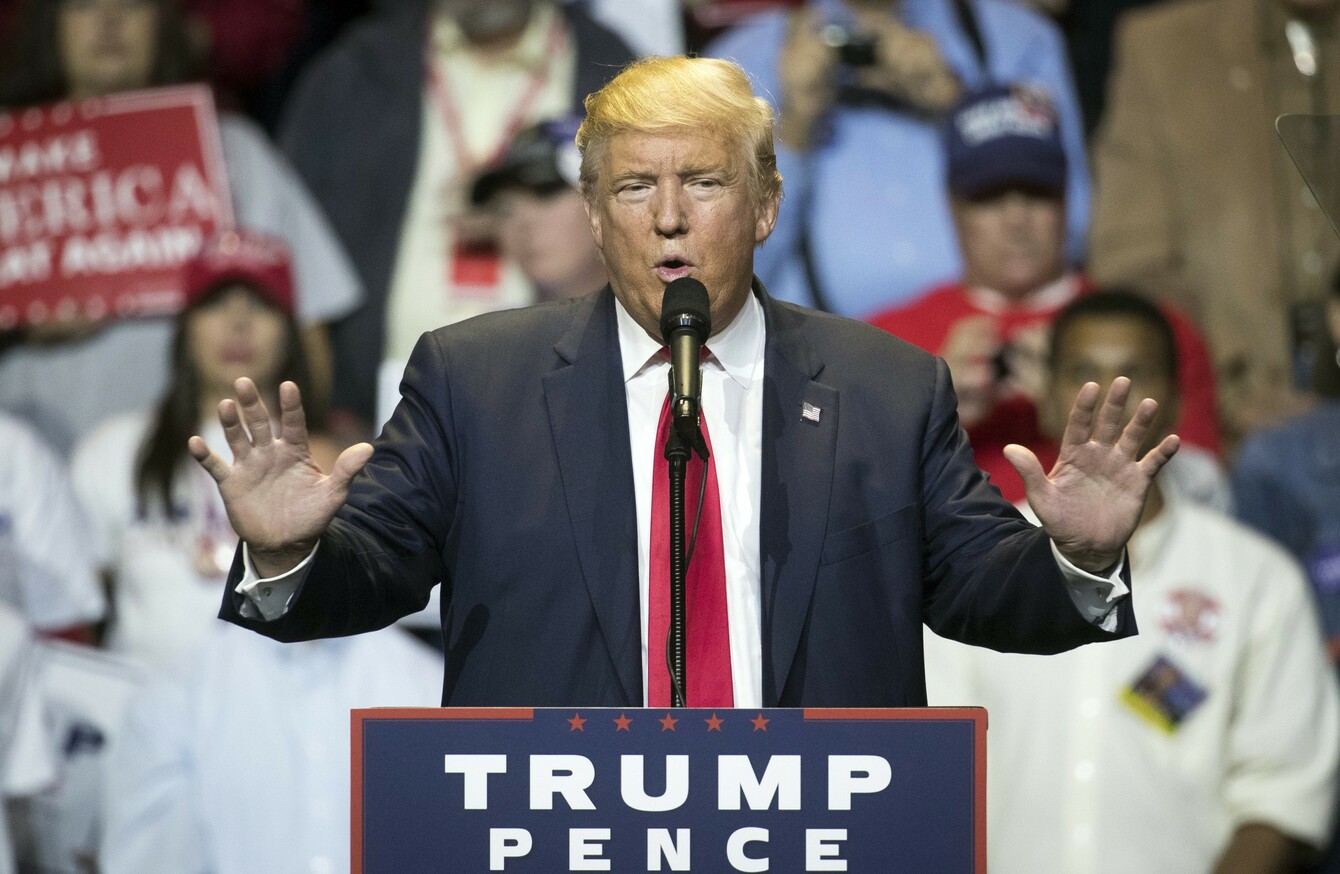 Trump speaks during last night;s campaign rally.
Image: John Minchillo/PA Images
Trump speaks during last night;s campaign rally.
Image: John Minchillo/PA Images
DONALD TRUMP SAVAGED US media last night for reporting "outright lies" that he groped and forcibly kissed women.
The New York mogul came from a "swamp of crazy" that Republicans had cultivated over decades, US President Barack Obama told a Hillary Clinton in New Hampshire.
It's a state where Trump has long held a lead but where a poll on Thursday edged Clinton ahead.
Obama's comments followed on from a fiery speech from his wife Michelle in which the First Lady attacked Trump following multiple allegations of sexual assault.
But the 70-year-old Trump was defiant, castigating his accusers as "horrible liars" and accusing Clinton of conspiring in a coordinated media attempt to sabotage his campaign.
At least six women have accused Trump of making unwanted physical advances in accounts reported by The New York Times, NBC, People Magazine and others, most of them after Trump asserted in Sunday's debate with Clinton that he had never sexually assaulted a woman.
With his campaign in free-fall and sliding in the polls, Trump pounded the battleground states of Florida and Ohio, denying the alleged incidents occurred and turning the guns on his opponent.
"These vicious claims about me of inappropriate conduct with women are totally and absolutely false," Trump told a rally in West Palm Beach.
"They're outright lies." The attacks, he added, "are orchestrated by the Clintons and their media allies."
Trump said his lawyers were preparing a lawsuit against The New York Times — which published the accounts of two women who accused him of groping and kissing them — unless the paper retracts the article.
'Disgraceful, intolerable'
The Times refused to back down following the legal letter.
"We published newsworthy information about a subject of deep public concern," the paper's assistant general counsel David McCraw wrote in a letter to Trump's lawyers.
The women's accusations surfaced after a video emerged of Trump boasting in 2005 of groping women with impunity because he was famous, sending the White House race into unprecedented levels of vulgarity.
He apologised and, trying to stem his bleeding in the national polls to the 68-year-old Clinton, downplayed the comments as "locker room talk"
#Open journalism No news is bad news Support The Journal

Your contributions will help us continue to deliver the stories that are important to you

Support us now
Source: Global News/YouTube
In an evening rally in Cincinnati, Trump sought to get back on message, blasting Clinton as "corrupt" and repeating his pledge to hire a special prosecutor to investigate her email scandal
"She should be locked up," he told a rally of thousands.
She doesn't have the strength, she doesn't have the aptitude, she doesn't have what it takes.
In a sinister note, he charged that Clinton met "in secret with international banks to plot the destruction of US sovereignty in order to enrich these global financial powers."
The former secretary of state, visiting a campaign field office in San Francisco, briefly addressed the ugliness of the presidential race.
"We cannot let this pessimism, this dark and divisive and dangerous vision of America, take hold in anybody's heart," she said. "There's hardly any part of America that he's not targeted."