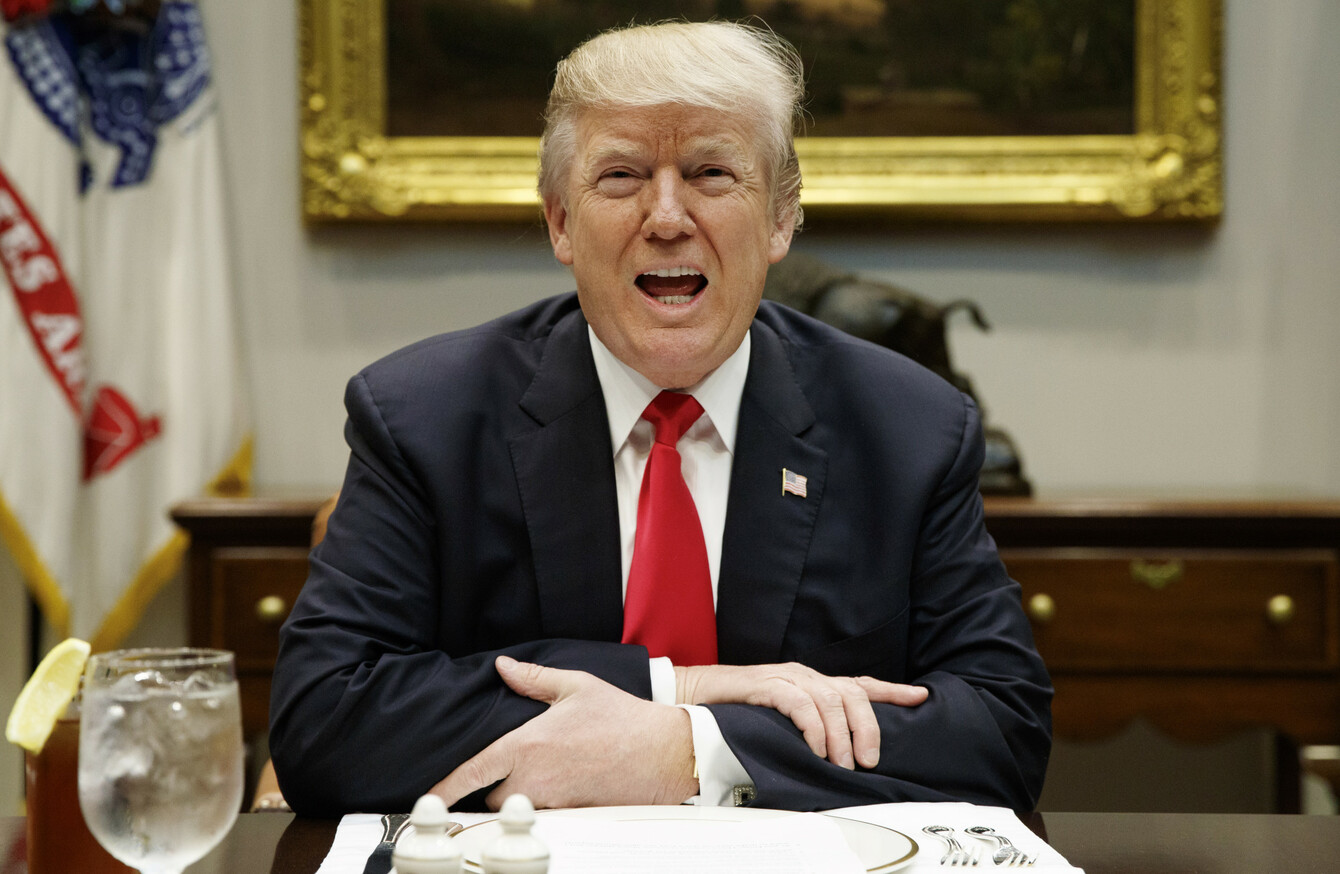 Image: Evan Vucci via PA Images
Image: Evan Vucci via PA Images
FEAR AND UNCERTAINTY have been heightened among the undocumented Irish living in America since Trump came to power.
The US President regularly stated his plans to track down and deport illegal US residents when he became president and after his election success, undocumented Irish were warned to keep their heads down.
US Immigration Attorney with USAVisaNow.net Caro Kinsella advised people to 'remain silent or you'll be gone very quickly'.
Some of the family members of the undocumented Irish have written to the Department of Foreign Affairs in the past year explaining the situation of their family members and asking what can be done.
Information provided to TheJournal.ie through a Freedom of Information request show some of these letters.
One letter – which was sent on the week that Trump won the Presidential election – was marked as 'urgent'. It read:
My sister, as well as I'm sure the other thousands of undocumented Irish in the States, are living in fear over there at the moment.
"Is there any plans being made to meet with president-elect Mr Donald Trump to discuss over Irish who are living there illegally?
Surely to God he won't break up families who are law-abiding, working and paying taxes, etc.
Another person asked for an update on how the government are currently pursuing this matter with the US.
"Could you update me as to how you plan to continue to advance this issue into the future in the hope of one day securing the permanent future of these Irish citizens."
One person described how their sister was unable to return home for their mother's funeral as she is undocumented. The letter said, "This broke our hearts at the time."
The letter also described how the woman in question works, pays taxes and has never been in trouble with the law.
"President Barack Obama passed an executive bill two years ago, but this has been overturned by several states who made an appeal against his decision.
The years are passing by and nothing positive is happening.
"I would be grateful if you could continue to put pressure on the US Government to pass immigration reform so that our Irish people (who have worked hard in the States) for many years would be able to come home and visit their families."
Another letter about the plight of a family member said, "year after year we await news of immigration reform".
'Illegal is illegal' 
Others were less supportive of the undocumented with one man asking for them to be described as illegal rather than 'undocumented'.
He also pointed out that highlighting the 50,000 undocumented Irish may jeopardise those who are waiting on visas to the US.
#Open journalism No news is bad news Support The Journal

Your contributions will help us continue to deliver the stories that are important to you

Support us now
"Dear Minister, could you please stop describing the 50,000 Irish on the US as undocumented. They are illegal emigrants just as people who enter Ireland illegally are illegal.
For a larger image of the letter, click here. 
Another criticised the Department of Foreign Affairs for urging undocumented in the US to remain calm and stay in touch with their local consulate and immigration centre. It read:
I am shocked that DFA allows itself to be complicit in this situation. Illegal Irish residing in other countries should not get the 'backing' of the Irish government. Illegal is illegal.
"As a migrant in Ireland myself, I always ensure that my visa is up to date and reflect the appropriate status."
Click here for a larger image of the above letter. 
The person added that they sympathise with the undocumented but added "if the Irish government won't hesitate deporting illegals in Ireland than the DFA should not be providing any assistance to undocumented Irish anywhere".