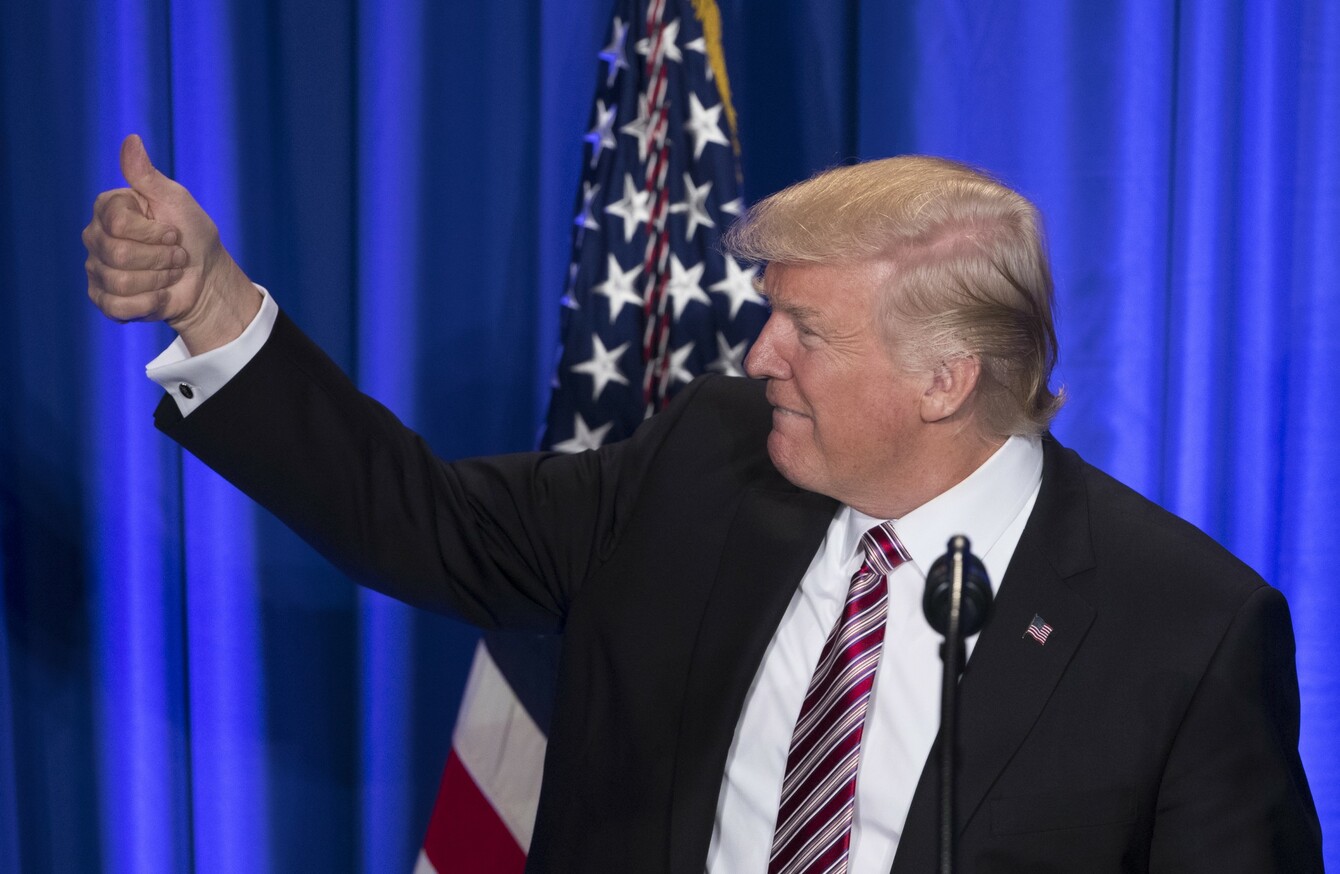 President Trump at the Republican Congressional Retreat in Philadelphia yesterday.
Image: Matt Rourke AP/Press Association Images
President Trump at the Republican Congressional Retreat in Philadelphia yesterday.
Image: Matt Rourke AP/Press Association Images
AMONG THE MANY executive orders signed by Donald Trump in his first week of office as US President, one has detailed how crimes committed by illegal immigrants will be documented and published on a weekly basis.
The order, which is titled "Enhancing public safety in the interior of the United States", says that enforcement of the country's immigration laws is "critically important to the national security and public safety" in the US.
The order says: "To better inform the public regarding the public safety threats associated with sanctuary jurisdictions, the Secretary [of Homeland Security] shall… on a weekly basis, make public a comprehensive list of criminal actions committed by aliens and any jurisdiction that ignored or otherwise failed to honour any detainers with respect to such aliens."
In terms of prioritisation, the order says that those who have committed crimes should be the first in line to be deported from the US, as "the presence of such individuals… is contrary to the national interest".
It adds that immigration laws cannot be applied correctly if they "exempt classes or categories of removable aliens from potential enforcement", and that local jurisdictions will be obliged to follow.
The move will set to undo the approach taken by sanctuary cities in America.
A sanctuary city which is a city where authorities have adopted a policy of protecting illegal immigrants by not prosecuting them for violating federal immigration laws.
Cities that are designated as sanctuary cities include New York, San Francisco, Miami and others.
The order threatens the withdrawal of federal funds if cities do not comply with the directive.
Alongside his executive order to go ahead with the border wall with Mexico, the Trump administration's approach to immigration has been sharply criticised.
Alison Parker, co-director of US Program at Human Rights Watch, said: "With one broad sweeping action, President Trump could be sending millions of people with the most minor – or no – criminal records off to serious danger, and devastate US citizen families."
New York Attorney General Eric Schneiderman said: "Any attempt to bully local governments into abandoning policies that have proven to keep our cities safe is not only unconstitutional, but threatens the safety of our citizens.
I urge president Trump to revoke this executive order right away. If he does not, I will do everything in my power to fight it.
Chicago Mayor Rahm Emmanuel said: "There is no stranger among us. We welcome people, whether you're from Poland or Pakistan, whether you're from Ireland or India or Israel and whether you're from Mexico or Moldova, where my grandfather came from, you are welcome in Chicago as you pursue the American Dream."
Condemnation for Trump's actions was not universal, however.
The mayor of Miami-Dade County in Florida was one of the first to drop its sanctuary city status, as he didn't want the millions of dollars the area receives in federal funding to be put at risk.
Mayor Carlos Gimenez said: "I want to make sure we don't put in jeopardy the millions of funds we get from the federal government for a $52,000 issue.
"It doesn't mean that we're going to be arresting more people. It doesn't mean that we're going to be enforcing any immigration laws."
Trump, himself, was quick to praise Gimenez for his stance on the issue.
Others praised Trump's approach.
Texas Congressman Michael McCaul, who chairs the Homeland Security Committee, said: "I applaud the president for moving swiftly to put in place the multi-layered barrier defenses we need to keep criminals, drugs, and potential terrorists out of our country."
Louisiana Attorney General Jeff Landry said: "I applaud president Trump for initiating this process, and I am hopeful Congress will follow with penalties for cities supporting illegal activity."
With reporting from AFP.