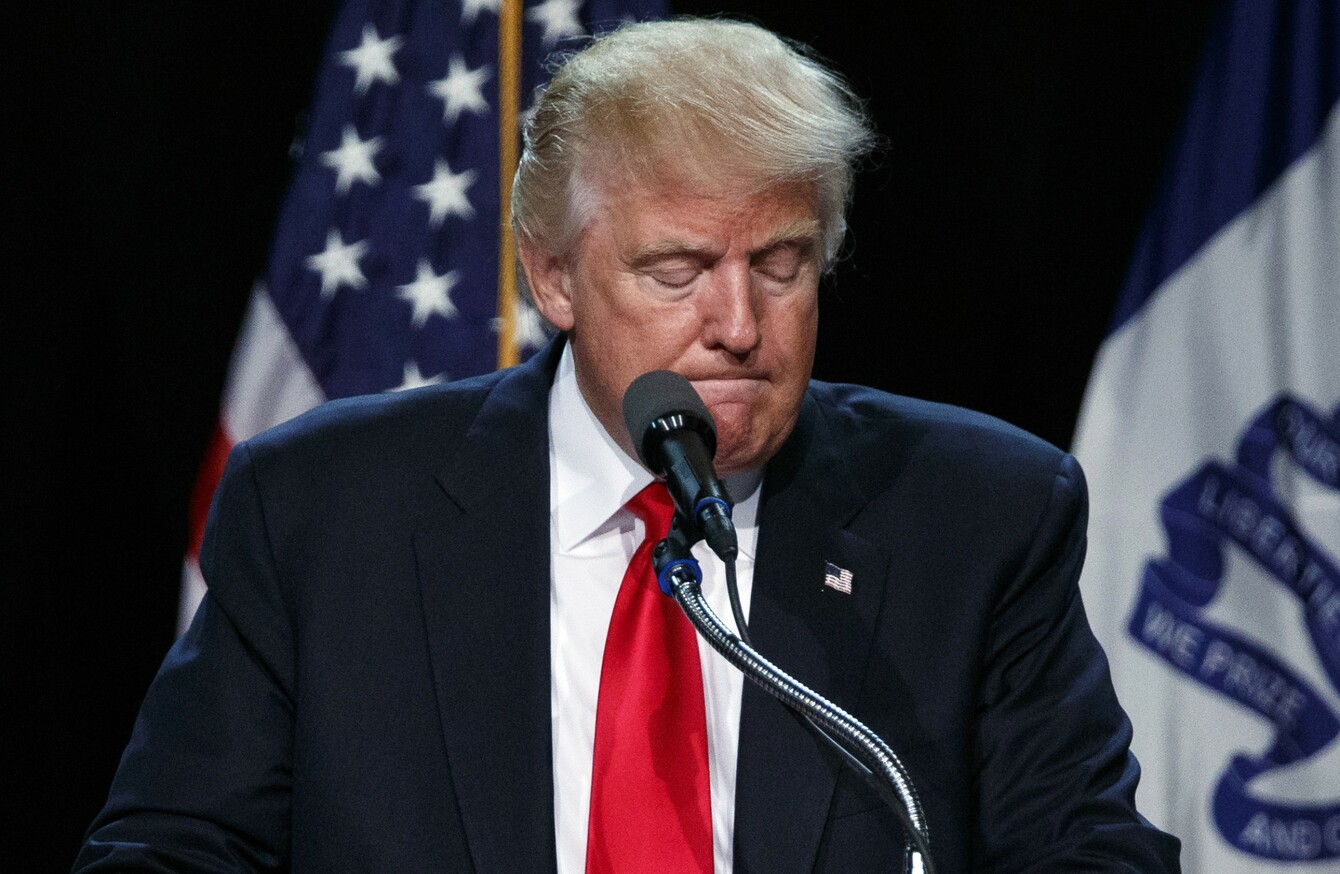 Donald Trump at a campaign rally today in Des Moines, Iowa.
Image: Evan Vucci
Donald Trump at a campaign rally today in Des Moines, Iowa.
Image: Evan Vucci
DONALD TRUMP SUFFERED more blows to his presidential campaign today when a CIA ex-director accused him of being an "unwitting agent" of Russia, as polls showed rival Hillary Clinton surging, even in traditional Republican strongholds.
Trump's drive for the White House hit another snag when he made the rare acknowledgement of an error, backtracking from claims that he saw video footage of money being transferred to Iran by secret plane.
Despite the stumbles, including Trump's refusal to back down in a confrontation with the parents of a Muslim American soldier killed in action in Iraq, his campaign chairman Paul Manafort told Fox News it has been "an improving week."
The latest setback came in the form of harsh criticism by Michael Morell, a 33-year veteran of the Central Intelligence Agency who served presidents of both parties and then helmed the agency in 2011.
"On 8 November, I will vote for Hillary Clinton," he wrote in a New York Times column, adding that Trump "may well pose a threat to our national security."
Morell said that as Russia's president, "Putin played upon Mr. Trump's vulnerabilities by complimenting him. He responded just as Mr Putin had calculated."
Trump has praised Putin as a great leader, and taken policy positions "consistent with Russian, not American, interests" including endorsing Russian espionage against US figures like Clinton, Morell said.
Capping the lousy week, Trump admitted Friday he wrongly claimed to have seen secret Iranian footage of $400 million in hard currency being delivered to Tehran as payment for the release of US prisoners.
Trump raised eyebrows this week when he made that assertion and gave many details of what he said he saw in the film.
But he then made a rare backtrack. "The plane I saw on television was the hostage plane in Geneva, Switzerland, not the plane carrying $400 million in cash going to Iran!" Trump tweeted.
Trump's campaign has insisted that the money was "a payment for hostages" held in Iran who were released in January.
The White House says it was returning cash from an unfulfilled 1970s Iranian military order.
"We do not pay ransom for hostages," President Barack Obama said Thursday.
Furtive
The story of the seemingly furtive money transfer in an unmarked plane was broken this week by the Wall Street Journal.
The White House has said it was returning cash from a 1970s Iranian military order that was not fulfilled because of the Islamic Revolution.
Earlier this week, Trump told a crowd in Florida that he had seen a video of the plane full of cash in Iran, and proceeding to explain the tape in great detail.
Over there, where that plane landed, top secret, they don't have a lot of paparazzi, you know. The paparazzi doesn't do so well over there.

But they have a perfect tape, obviously done by a government camera, and the tape is of the people taking the money off the plane. It's a military tape. It's a tape that was a perfect angle, nice and steady.
In response to The Washington Post, Trump spokesperson Hope Hicks later confirmed the presidential candidate was actually talking about a widely shown video of a private plane carrying the four US hostages landing in Switzerland.
No one from the Trump campaign has explained why he claimed it was a military video from Iran. US officials have also denied the video exists, with The Daily Beast reporting one "just chuckled at the proposition" when asked.
'Nice plane'
Despite these denials – including by his own spokesperson – at a rally in Portland, Maine, Trump repeated his claim on Thursday.
It was interesting because a tape was made, you saw that? With the airplane coming in? Nice plane. And the airplane coming and the money coming off, I guess. That was given to us, has to be, by the Iranians.
Obama also fielded questions about the transaction, telling reporters "this wasn't some nefarious deal", but part of a decades-old dispute over a failed military equipment deal dating back to the 1970s.
He pointed out that the payment, along with an additional $1.3 billion in interest to be paid later, was announced by the administration last January, a day after the implementation of a landmark nuclear agreement with Iran.
It wasn't a secret. We were completely open about it.
"The only bit of news is that we paid cash," he said.
The reason is because we couldn't send them a check and we couldn't wire the money.
"We don't have a banking relationship with Iran which is part of the pressure we applied on them.