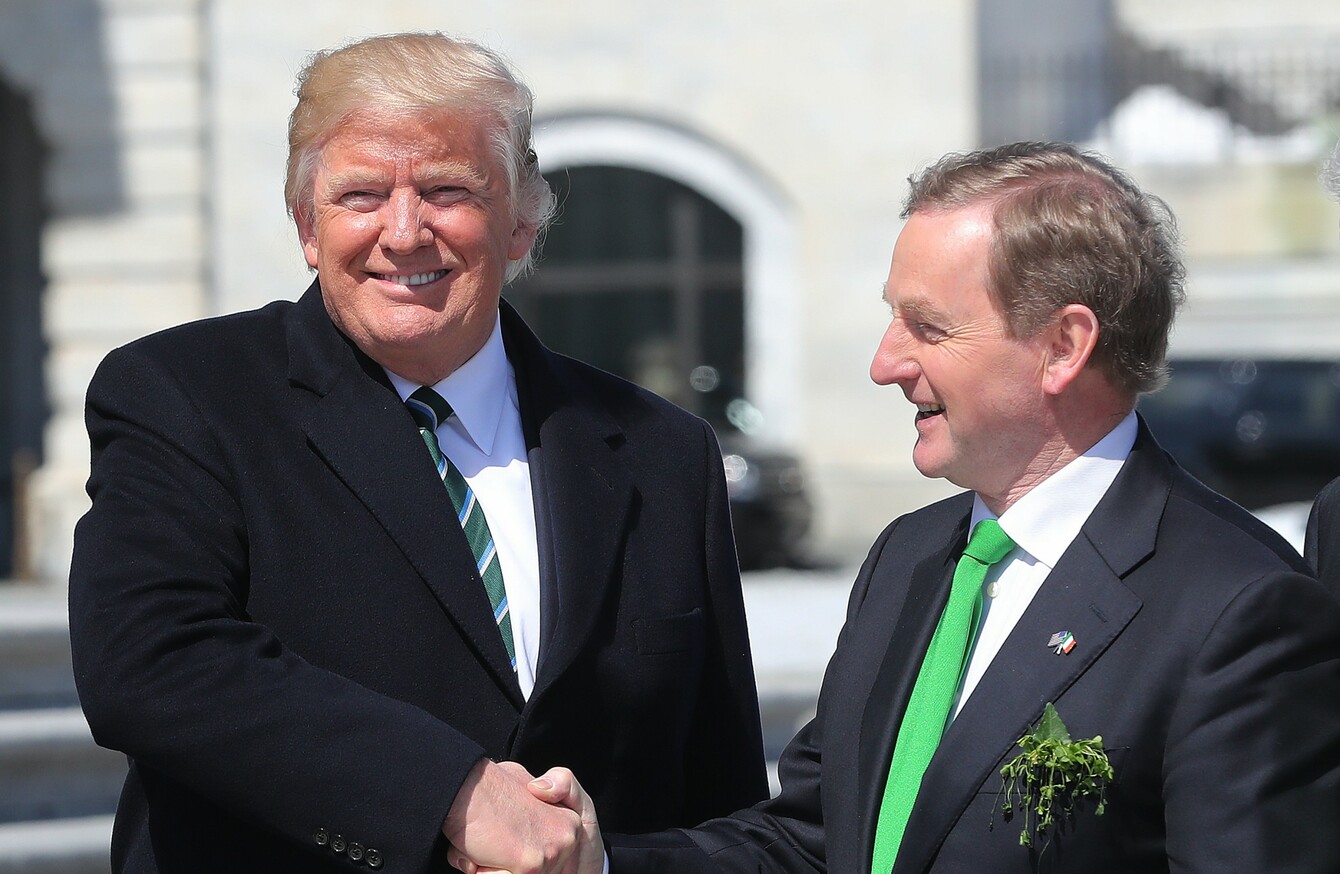 Image: Niall Carson PA Wire/PA Images
Image: Niall Carson PA Wire/PA Images
US PRESIDENT DONALD Trump has praised Ireland for not raising taxes during the recession saying that the country has done an "amazing job".
In an interview with the Economist, Trump discussed a range of issues but, unprompted, singled out Ireland for its approach to taxing businesses in recent years.
The interviewer had asked the President how he would calculate success in his economic policies, and if it would be similar to how he judges the success of his businesses.
He said that a lot of companies had been forced out of the US because of high taxes, and said that there are some that would return to the US if the environment was more business-friendly.
He then cited Ireland as an example of a country that created such an environment, even during the economic downturn:
You look at Ireland. I own great property in Ireland that I bought during the downturn. And I give the Irish a lot, a lot of credit.
They never raised their taxes. You know you would have thought when they were going through that really… they would've double and tripled their taxes. They never raised it a penny.
And they got through it and they are thriving now. Ireland's done an amazing job. A lot of companies have moved to Ireland and they like it.
He went on to say that companies would return to the US in their droves once he freed up some regulatory barriers and lowered the corporate tax rate.
The wide-ranging interview covered a range of Trump's policies, including trade deals, his negotiating tactics and immigration.
He also spoke about tax inversions, calling them a "disaster". He spoke on this topic in relation to Ireland before, when pharma giant Pfizer planned to merge with a smaller company and base itself in Dublin.
Only a presidential candidate at the time, he said, "Apple and all of these great companies will be making their products in the United States".
We're not going to be losing our companies.
Our companies are leaving our country rapidly, whether it's Carrier air conditioning, whether it's Ford, whether it's Eaton … Pfizer – great company … they're going to Ireland and there's so many more.
In March, Trump met with Taoiseach Enda Kenny in the White House for the traditional St Patrick's Day gathering.
#Open journalism No news is bad news Support The Journal

Your contributions will help us continue to deliver the stories that are important to you

Support us now
As the pair shook hands and posed for photographs following a private meeting, Trump confirmed to reporters that he intends to visit Ireland.
"I really love Ireland, I'll be there absolutely," Trump said in response to a question.
Kenny later confirmed that Trump agreed to come to Ireland after he extended an invite to the US President.
"We had a good, friendly and constructive engagement," Kenny told reporters in the White House lawn after the photocall.