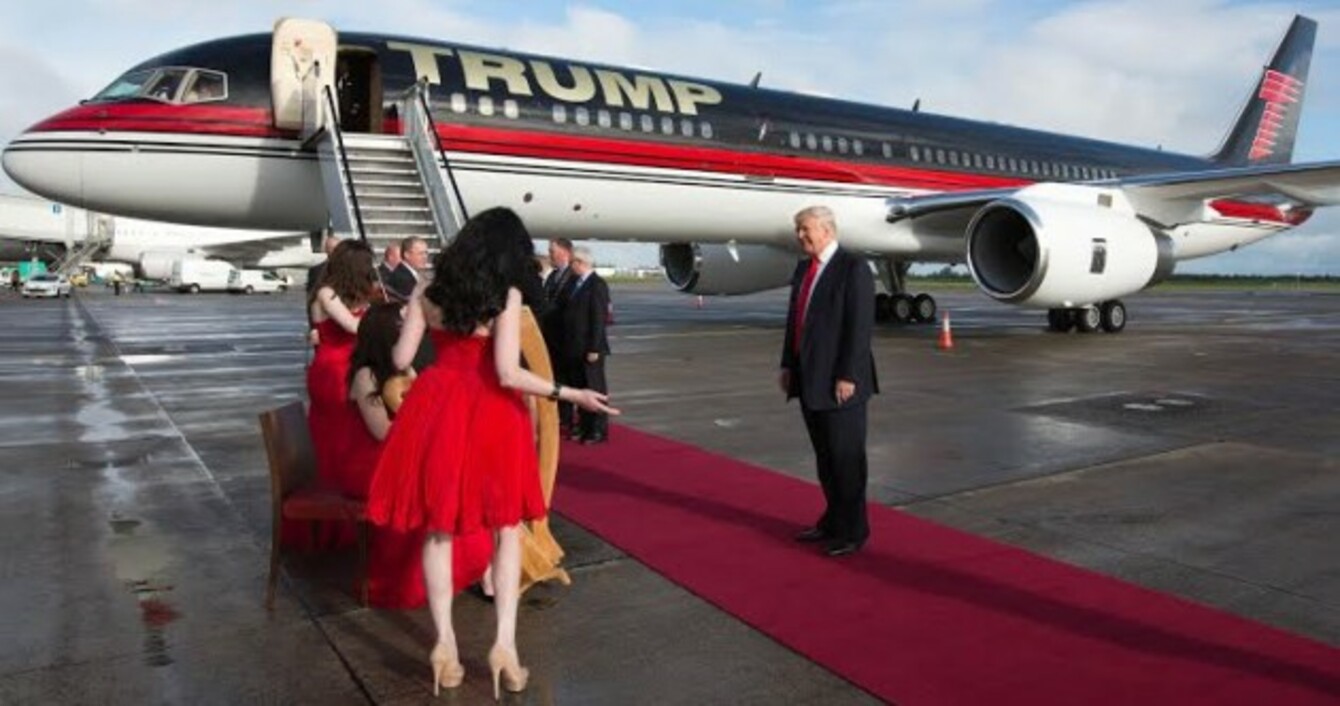 Image: Sean Curtin
Image: Sean Curtin
Updated 22.46
DONALD TRUMP HAS landed in Ireland, vowing to bring "hundreds" of jobs over the next few years in Co Clare, and promising environmentalists that he will, in fact, be a friend of the 'Vertigo angustior' — the microscopic snail that has hampered the development plans of Doonbeg golf resort's previous owners.
The Trump Organisation snapped up the luxury hotel and golf course for a knockdown price of €15 million in February — and the US businessman told reporters at Shannon Airport this morning that he was planning to "at least double or triple" that investment as part of his initial plans.
He also said he would work closely with environmental authorities on the redevelopment of the Greg Norman designed course — which was badly damaged in the recent winter storms.
The 67-year-old billionaire — best known in recent years for his role as host of The Apprentice, and his 'birther' campaign against Barack Obama — caused a stir among tourists and workers at the airport, as his customised 757 swept in from the west shortly before 8am.
He was greeted at the end of the red-carpet by Finance Minister Michael Noonan, County Clare Mayor Joe Arkins, various local dignitaries, and a freezing three-piece of musicians — who sang, fiddled and played the harp as Trump stepped down to the tarmac alongside his two sons, Ed and Donald Jnr, and daughter Ivanka.
(Youtube: TheJournal.ie)
The Trump circus is in town for next three days. In terms of his work schedule, the businessman says one of the main reasons he's in Clare is to begin planning a new ballroom for the complex.
"A lot of people work in ballrooms — they generate a lot of taxes and they generate a lot of jobs.
One of the main reasons I'm here is siting the ballroom, but we'll come back to you with an application for a truly great ballroom. I believe people from all over the world will be using this ballroom.
The 400-acre oceanside Doonbeg development — the Trump Organisation's first golf course purchase in Ireland — has already been renamed as Trump International Hotel & Golf Links, Ireland.
His organisation had originally tried to buy the resort around four years ago – but the plans fell through. Trump swooped in with his chequebook at the start of this year, after receivers were appointed to Doonbeg's previous owners – resort developers Kiawah Partners.
"The hotel is one of the finest hotels anywhere in the world."
We'll do fix-ups — but they really built something that is … that's why I've been after it for four years. What took me so long?… I'm not kidding.
Locals in Doonbeg can look forward to seeing the Trump family in the area "a lot", he said. He also pledged to work closely with the community on the redevelopment of the course: Clare County Council served a 'stop work' order on the resort earlier this year, after lorry-loads of rock armour were brought in to build flood defences.
That order has now been lifted after talks between course managers and local officials, and work to repair the holes damaged during the storms is under way.
Questions
Local environmental issues, and, in particular, the area's famous snail, were favourite topics of reporters at this morning's press conference at Shannon's Gate 6.
Trump's record as a climate change skeptic is well known (see below) — but if the tycoon was bugged by the line of questioning, he wasn't giving anything away.
"The snail issue is an issue that will go on — and we'll be very protective of it. We want to work together with certain environmental people — but they've been terrific, and as you know we've already got lots of approvals," he told the first questioner.
But when the snail came up later in the conference, Trump seemed a little less effusive about the tiny gastropod, which is protected by strict environmental measures.
#Open journalism No news is bad news Support The Journal

Your contributions will help us continue to deliver the stories that are important to you

Support us now
"You see — when they originally came they said that one snail is endemic to that one spot, it's not anywhere else. Now they've found it's all over — it's all over the world.
So at one time it was a protected species but they found out, unfortunately after they had built the course, that it's all up and down the coast and all over different parts of the world.
"It's not what they thought it was, but nevertheless we'll be working with them [the community] to do what's proper."
In terms of an overall investment, Trump mooted a figure of as much as €45 million. He said plans were in train to build extra hotel units at the complex, and suggested more investment could be attracted to the area as a result of the 'Trump effect'.
"I bought it for — well, you know what the number is. I would say I'll be doubling and tripling that number very quickly, to make it great.
It could be that other things happen because of it, and also other investment will be made in Ireland  — because a lot of times, when I go to a community, I'll make an investment and then I'll make other investments in totally unrelated things because I'm here.
"It's crazy… I'm mean I might see something that I like and all of a sudden I'm doing something else."
Trump said he was also planning a helicopter service between his 'triangle' of Irish and Scottish golf resorts — ferrying high-rolling guests between Doonbeg, Aberdeen and his newly-acquired Turnberry links.
After fielding a few more general questions on his plans for the visit (he'll be getting a round of golf in — no big surprise) and any possible Presidential plans for 2016 (he's not giving anything away) the Trump family swept out of the room, and on to Doonbeg.
Before hitting the road — there was just time for a short, private chat with the Finance Minister, a more public grip-and-grin with airport management ('it looks great!') and a quick pause to pose for selfies with surprised travelers.