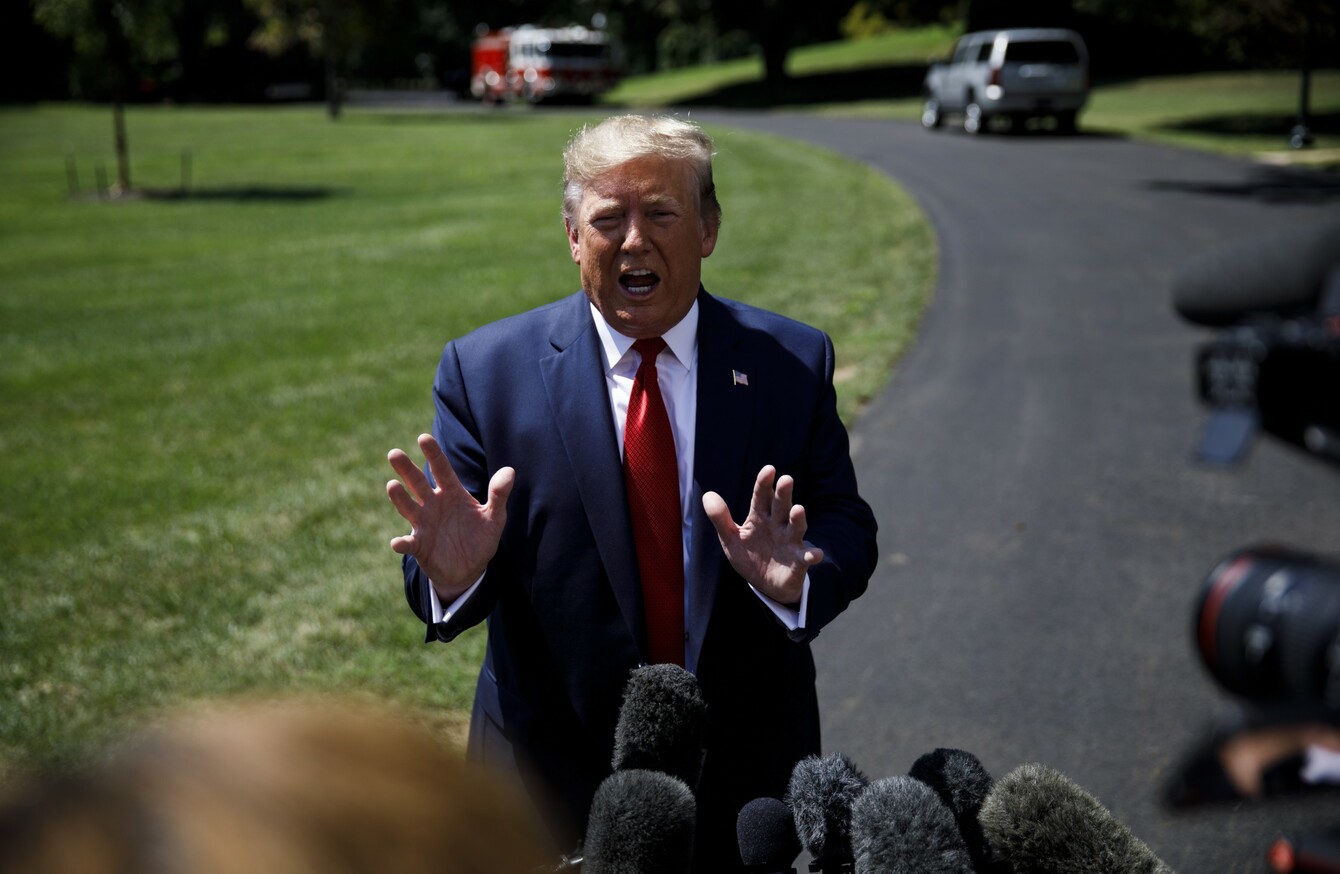 Trump has criticised Jewish Democrats, accusing them of "disloyalty".
Image: Ting Shen/Xinhua News Agency/PA Images
Trump has criticised Jewish Democrats, accusing them of "disloyalty".
Image: Ting Shen/Xinhua News Agency/PA Images
Updated Aug 22nd 2019, 9:00 AM
US PRESIDENT DONALD Trump has been hit by waves of criticism following a rambling, impromptu press conference in which he took aim at Jewish Democrat voters, the prime minister of Denmark and referred to himself as the "chosen one".
After spending recent days emphasising his work on behalf of Israel and tweeting approvingly of a description of himself as the "King of the Israel", the US President used a press conference on the White House lawn to lambast his critics in the Democratic Party – including frequent targets Alexandria Ocasio-Cortez and Ilhan Omar – while also doubling down on his claim that Jewish Democrats were being disloyal. 
Trump, who has positioned himself as a staunch ally of Israel, made the remark on Tuesday night while criticising Democratic politicians who support a boycott of the Jewish state.
"Where has the Democratic party gone?" Trump said, adding: "I think any Jewish people that vote for a Democrat, I think it shows either a total lack of knowledge or great disloyalty."
Source: C-SPAN/YouTube
Asked about the comments on Wednesday, Trump said: "You vote for a Democrat, you're being very disloyal to Jewish people and you're being very disloyal to Israel."
Members of America's more than five million-strong Jewish community – 80% of whom voted Democratic in the 2018 mid-term elections, according to the Pew Research Centre – have criticised Trump's notion of loyalty and blamed the president for fuelling anti-Semitism.
Trump also took aim at Denmark, whose prime minister Mette Frederiksen had firmly rebuffed any suggestions of selling Greenland to the US, calling it "absurd". 
"The Prime Minister's statement that it was absurd, that it was an absurd idea, was nasty. I thought it was an inappropriate statement. All she had to do was say 'no we wouldn't be interested'", Trump told reporters. 
"I thought it was a very not nice way of saying something. This has been something that has been discussed for many years," he added, citing President Harry Truman's plans in the 1940s to purchase the sprawling land mass. 
On Wednesday morning, in signs of an escalating diplomatic row, Trump had postponed a planned meeting to Denmark over the Greenland issue. 
Trump also became inflamed over suggestions that his administration was overseeing a slide into recession as the country's trade war with China continues. Referring to himself as "the chosen one", Trump said the US was achieving unprecedented success against China. 
"We are winning against China," he said. "They want to make a deal. It's got to be a deal that's good for the United States. They want to make a deal. Probably we will make a deal."
"Somebody had to do it. I am the chosen one. Somebody had to do it. So I'm taking on China. I'm taking on China on trade. And do you know what? We're winning." 
#Open journalism No news is bad news Support The Journal

Your contributions will help us continue to deliver the stories that are important to you

Support us now
Criticism
Trump's comments have already been widely criticised, with some accusing him of employing anti-Semitic language. 
"It's a bit unclear what the president was trying to say in terms of who Jews are disloyal to… While he wasn't exactly clear about that, I will be exactly clear on what that was: anti-Semitic," Jonathan Greenblatt, the CEO of the Anti-Defamation League, said on CNN.
The president "has no right to tell Jewish Americans he knows what is best for us or to demand our loyalty," said Halie Soifer, executive director for the Jewish Democratic Council of America.
Trump's rambling performance triggered confusion and dismay from many commentators and observers, with #25thAmendmentNow trending on Twitter in the aftermath of the press conference, referring to a constitutional clause for declaring the president unfit. 
The comments have dominated US media on Wednesday and into Thursday, with many discussing how Trump's Greenland comments turned from a silly season story into a serious international incident, with the Washington Post referring to the last 24 hours as a "saga of the absurd". 
With additional reporting by © AFP 2019