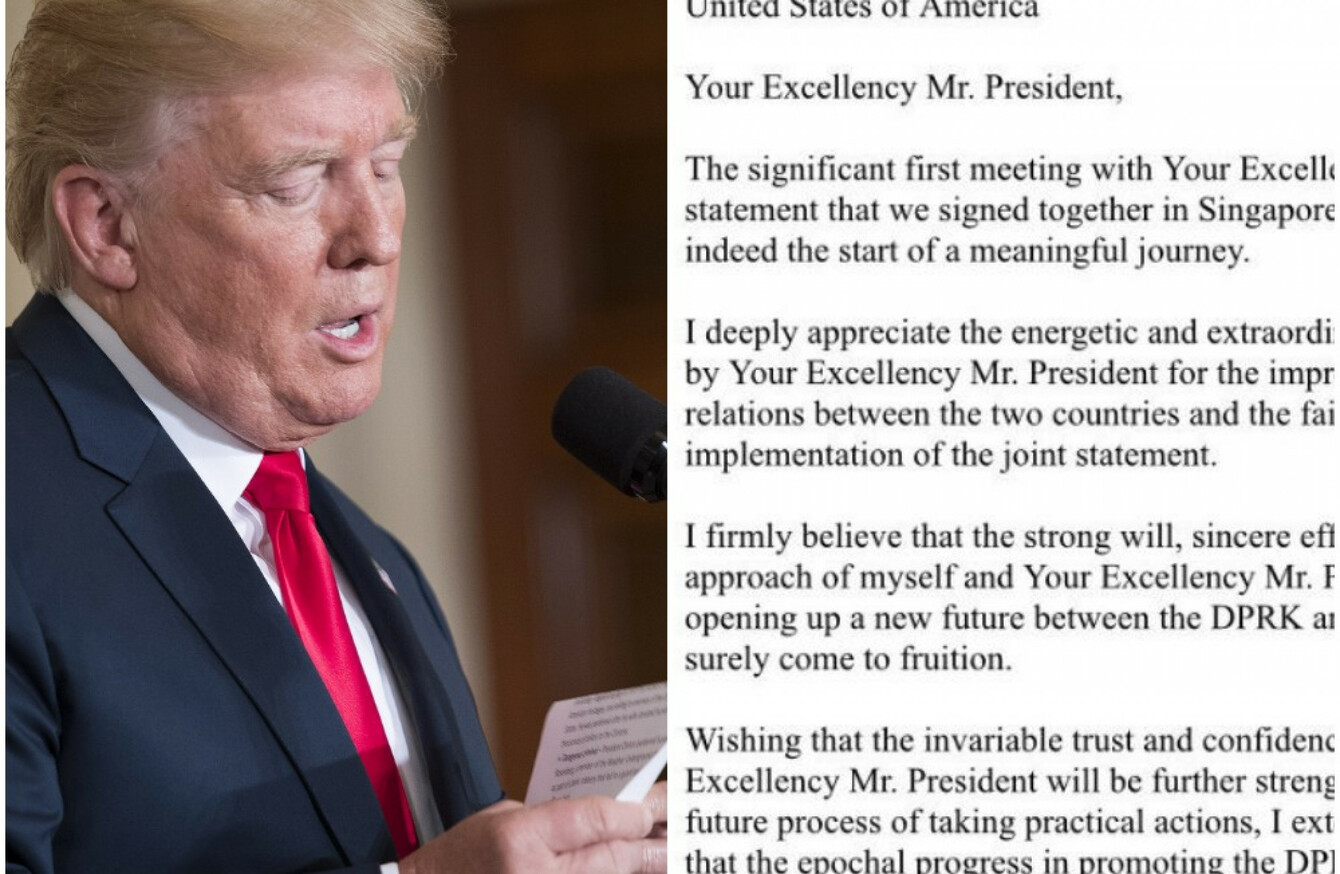 Image: PA Images
Image: PA Images
US PRESIDENT DONALD Trump once more signalled his optimism today about efforts to end the nuclear standoff with North Korea, as he took the extraordinary diplomatic step of tweeting out a letter from Kim Jong Un.
It came the same day that he arrived in the UK, and questioned whether Prime Minister Theresa May will deliver on voters' intentions when they decided to quit the European Union.
The four-paragraph letter – an upbeat missive in which Kim voices hope in a "new future" and speaks of his "invariable trust" in Trump – is dated 6 July, the day Secretary of State Mike Pompeo landed in North Korea for what turned out to be acrimonious talks with Kim's regime.
"A very nice note from Chairman Kim of North Korea," Trump tweeted alongside a copy of the letter. "Great progress being made!"
Addressing Trump, Kim describes their 12 June summit in Singapore, and the resulting joint statement, as the "start of a meaningful journey".
"I firmly believe that the strong will, sincere efforts and unique approach of myself and Your Excellency Mr. President aimed at opening up a new future between the DPRK and the U.S. will sure surely come to fruition," Kim writes, according to the translation tweeted by the president.
"I deeply appreciate the energetic and extraordinary efforts made by Your Excellency Mr. President for the improvement of relations between the two countries and the faithful implementation of the joint statement," he adds.
Kim also voices hope "the invariable trust and confidence in Your Excellency Mr. President will be further strengthened in the future process of taking practical actions."
Talks with Theresa
The convention-shredding US president ignored diplomatic niceties ahead of touching down for the four-day visit — his first to Britain since taking power — by rebuking his beleaguered host as she battles to stop her government falling apart over Brexit.
"The people voted to break it up (Britain's ties with the EU)," Trump said in Brussels following a NATO summit there just before flying to London.
"So I would imagine that's what they will do, but maybe they will take a little bit of a different route. I don't know (if) that is what they voted for," he added.
Asked about Trump's remarks while also in Brussels, May said: "What we are doing is delivering on the vote of the British people… that's what our proposal does."
The president and First Lady Melania Trump landed at Stansted Airport from where they were whisked by helicopter to Winfield House, the American diplomatic residence.
At a welcoming garden party, the Beatles track We Can Work It Out" played in the background.
Unfavourable view
Trump is set to largely avoid mass protests planned for his controversial trip, which includes talks with May, tea with Queen Elizabeth II and a private weekend in Scotland.
Before arriving he shrugged off the organised demonstrations, which tomorrow will include a giant baby-shaped balloon bearing Trump's features and have required police to be mobilised from across the country.
"They like me a lot in the UK," he added in Brussels.
But some 77 % of Britons have an unfavourable view of Trump, according to a poll by YouGov with 1,648 respondents.
Amnesty International tonight unveiled a 15-metre banner on Vauxhall bridge opposite the US Embassy branding him a "Human Rights Nightmare".
London Mayor Sadiq Khan, who signed off on the so-called "Trump Baby" blimp, defended the decision today, arguing the protests were not anti-American.
"But having a special relationship means that we expect the highest standards from each other, and it also means speaking out when we think the values we hold dear are under threat," he said.
Despite a series of diplomatic spats between Britain and Trump, May is hoping for a quick trade deal with the US after it leaves the EU.
"There is no stronger alliance than that of our special relationship with the US and there will be no alliance more important in the years ahead," May said ahead of the visit.
But Brexit champion Nigel Farage, conducting interviews outside the ambassador's residence after Trump's arrival, predicted there would be "confrontation" on the visit.
#Open journalism No news is bad news Support The Journal

Your contributions will help us continue to deliver the stories that are important to you

Support us now
"The Americans can't believe, quite frankly, what a mess we're making of Brexit," he told the BBC.
Dinner at Churchill's birthplace
Trump arrived in Britain after a fraught NATO summit in Brussels where he piled pressure on allies to double their defence spending.
He is due to leave on Sunday for talks in Helsinki the following day with Russian President Vladimir Putin, whose government May has accused of unleashing a lethal nerve agent in the city of Salisbury.
Russia has strongly denied the charge.
Britain "is in somewhat turmoil", Trump said before departing Washington, remarking that dealing with Putin might surprisingly be the easiest part of the European trip.
That turmoil includes the resignations of May's Brexit and foreign ministers over her plan to retain close ties with the EU after leaving the bloc in March.
May hosted Trump this evening for a black-tie dinner with business leaders at Blenheim Palace, the birthplace of World War II prime minister Winston Churchill.
He is due to stay overnight back at Winfield House, where demonstrators plan to play recordings of migrant children held in US detention centres.
Tomorrow, May and Trump will hold talks, expected to focus on Brexit and Russia, at the prime minister's Chequers country residence followed by a press conference.
Trump next heads to Windsor Castle for tea with the queen, as protesters stage a mass demonstration in London.
He then travels north to Scotland where he will spend the weekend privately, joined by son Eric Trump. Trump's late mother hailed from Scotland, and he owns two luxury golf courses there.