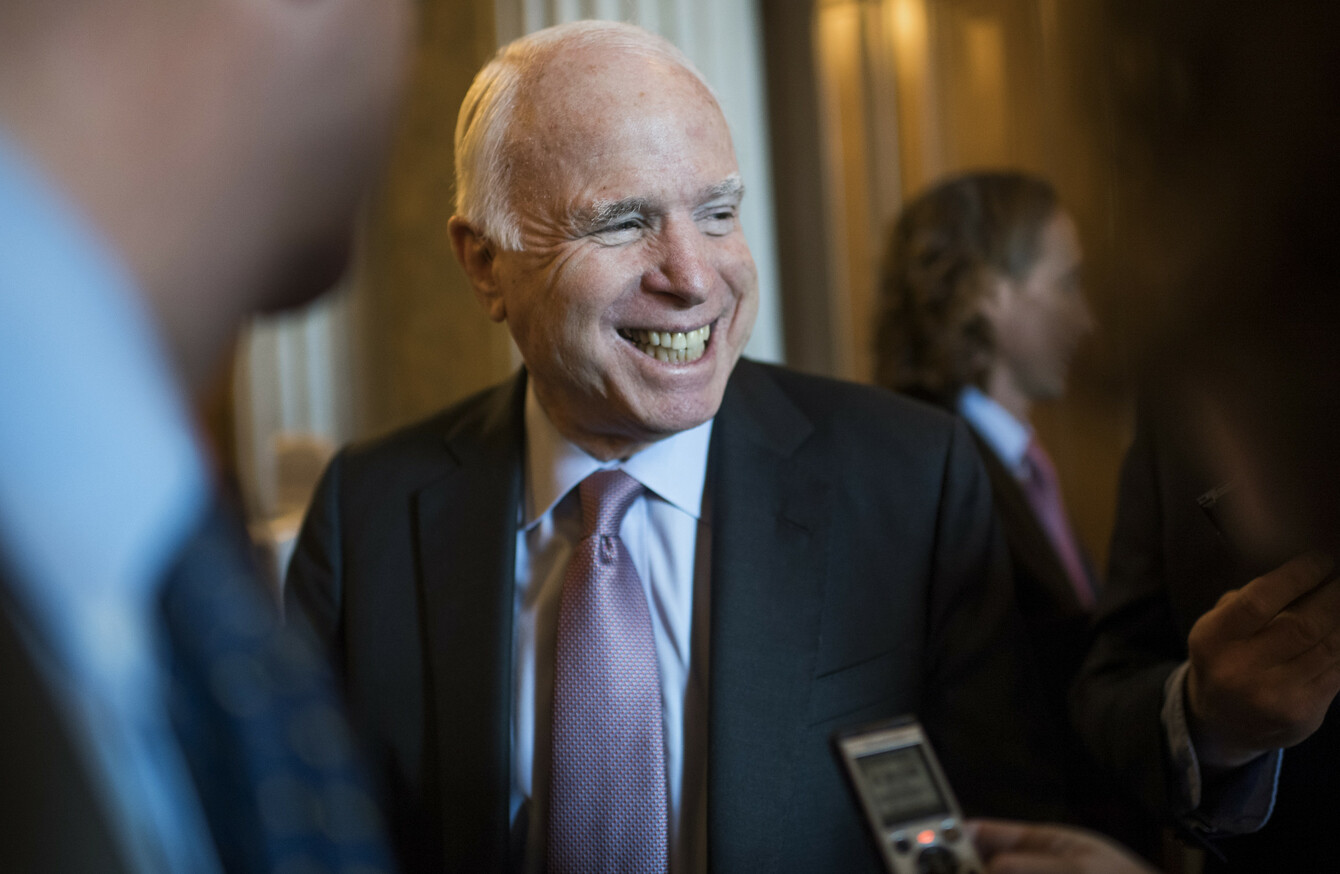 Senator John McCain said he would not vote to progress the bill.
Image: CQ-Roll Call/SIPA USA/PA Images
Senator John McCain said he would not vote to progress the bill.
Image: CQ-Roll Call/SIPA USA/PA Images
US PRESIDENT DONALD Trump strongly criticised US senator John McCain after the senator announced his opposition to the latest Republican attempt to replace Barack Obama's signature healthcare law.
McCain's opposition is likely to doom the repeal effort.
It is the second time in two months that he has defied his party and Trump over efforts to replace the Affordable Care Act, often referred to as "Obamacare", which has long been in Republicans' sights.
"I cannot in good conscience vote for the Graham-Cassidy proposal," McCain said of the bill proposed by fellow Republican senators Lindsey Graham and Bill Cassidy, adding he believed health reform legislation needed to be a bipartisan effort.
Speaking at a political rally last night in Alabama, Trump called McCain's opposition "sad" and "a horrible, horrible thing" for the Republican Party.
But he said he would continue the fight to repeal Obamacare even if it meant going back again and again.
In a series of tweets this morning, Trump again criticised McCain, saying he "never had any intention of voting for this bill".
"John McCain never had any intention of voting for this Bill, which his Governor loves. He campaigned on Repeal & Replace. Let Arizona down!" The president said.
In Alabama yesterday, Trump said he was disappointed but that he would continue to try to get rid of Obamacare.
"I have to tell you, maybe – it's a little tougher without McCain's vote," he said at a rally in Huntsville.
You get knocked down and then the bad ones stay on the stool and they say 'We quit, we quit.' The great ones get up and they end up winning. That's what we are going to do.
Cancer diagnosis
In July, McCain made a dramatic return to Washington from Arizona after a brain cancer diagnosis to become one of three Republican senators who helped sink their party's earlier bid to replace Obamacare.
Now, rebels within the party ranks appear set to torpedo what may be the party's last chance to make good on a longstanding Republican goal, and a signature pledge of the president.
With both McCain and the conservative Rand Paul opposed, it would take just one more Republican defector to prevent the bill's passage before a deadline of 30 September, the end of the fiscal year. At least two party moderates – Susan Collins and Lisa Murkowski – are known to have serious reservations.
#Open journalism No news is bad news Support The Journal

Your contributions will help us continue to deliver the stories that are important to you

Support us now
The bill's collapse would be yet another blow to the president and the Republican leadership, who have been unable to move forward on repealing Obamacare despite controlling Congress and the White House.
In coming out against the latest bill, McCain criticised the fact that it had bypassed regular Senate order, and noted that it would not be fully reviewed by the non-partisan Congressional Budget Office (CBO) before the end of the month.
The senator said he could not "support it without knowing how much it will cost, how it will affect insurance premiums, and how many people will be helped or hurt by it".
The White House scrambled earlier this week to win over Republicans skeptical of Graham-Cassidy, with Trump himself phoning lawmakers and state governors seeking to tilt the scales in favor of the bill.
Trump made his position on Republican defectors clear on Friday, writing on Twitter that those who vote against Graham-Cassidy "will forever… be known as 'the Republican who saved Obamacare.'"
© – AFP 2017 With reporting from Cormac Fitzgerald and Associated Press