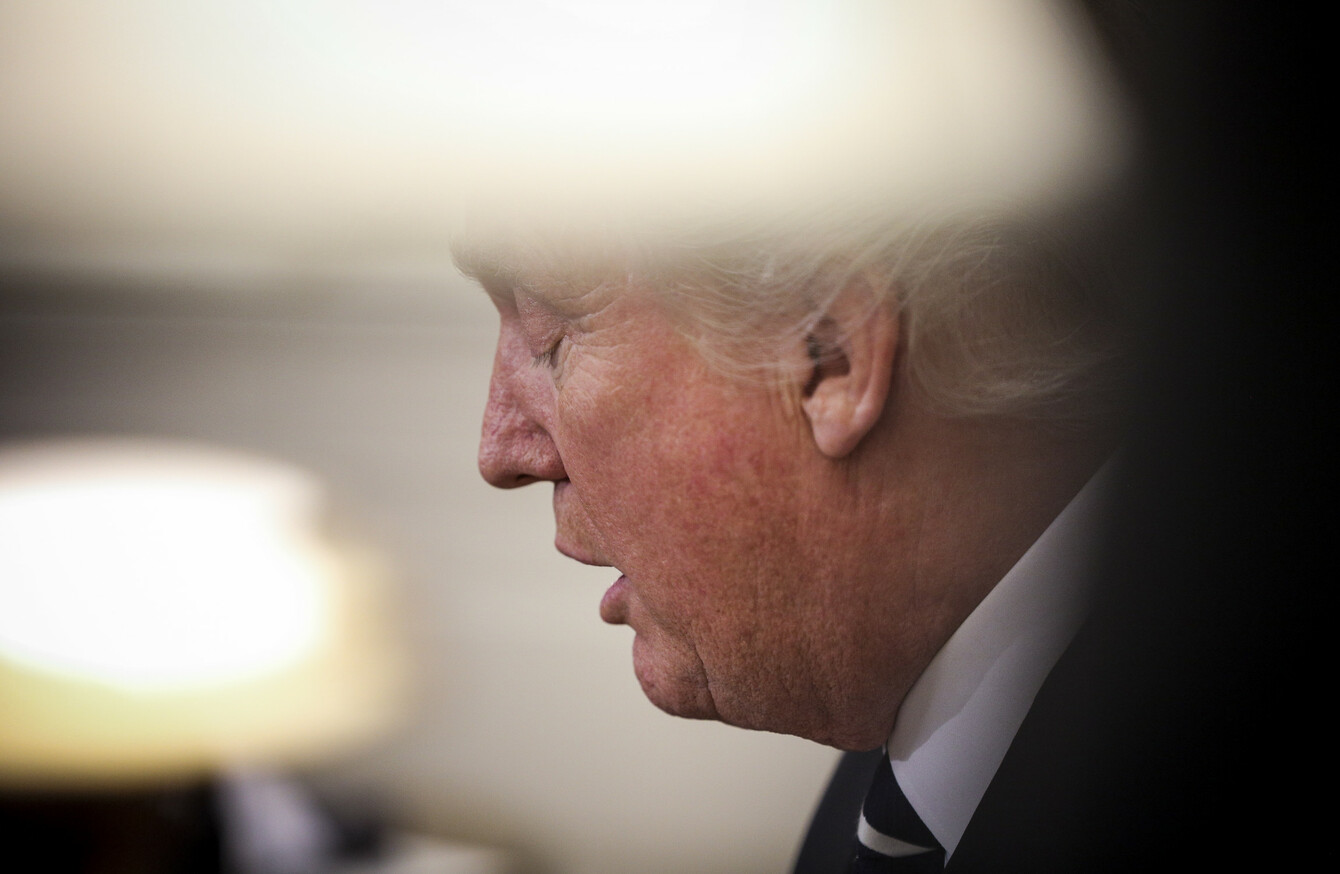 US president Donald Trump speaks during a meeting with American workers.
Image: Photo by Oliver Contreras/SIPA USA
US president Donald Trump speaks during a meeting with American workers.
Image: Photo by Oliver Contreras/SIPA USA
THE FBI HAS warned that it has "grave concerns" over the accuracy of a secret Congressional memo that could depict the agency as deeply politicised, as President Donald Trump's top aide signalled the White House would allow the document's release.
Based on highly classified information, the four-page memo – written by Republican lawmaker Devin Nunes, the chairman of the House Intelligence Committee – suggests that the Justice Department and the FBI abused their power in running surveillance on a member of President Donald Trump's election campaign in 2016.
The Justice Department and the FBI have actively lobbied against its release, which has the potential to taint special counsel Robert Mueller's investigation into alleged collusion between the Trump campaign and Russians, an investigation that is edging closer to the president himself.
But White House chief of staff John Kelly said yesterday that the document could be made public soon, once White House lawyers have vetted it.
"It'll be released here pretty quick, I think, and the whole world can see it," Kelly told Fox Radio.
This president… wants everything out so the American people can make up their own minds. And if there are people to be held accountable, then so be it.
The FBI stressed its concerns in an extraordinary, unsigned public statement that demonstrated its growing rift with Trump and Nunes, a staunch defender in Congress of the president.
"With regard to the House Intelligence Committee's memorandum, the FBI was provided a limited opportunity to review this memo the day before the committee voted to release it," it said.
As expressed during our initial review, we have grave concerns about material omissions of fact that fundamentally impact the memo's accuracy.
In a statement, Nunes countered that it was "no surprise" that the Justice Department and FBI would oppose the release of "information related to surveillance abuses at these agencies".
"It's clear that top officials used unverified information in a court document to fuel a counter-intelligence investigation during an American political campaign," he said.
Espionage probe during 2016 election
Nunes' committee voted on Monday to release the memo, distilled from a much larger volume of documents used by the FBI to get a so-called FISA national security warrant to spy on Trump campaign official Carter Page, who was suspected of espionage.
Media reports, citing lawmakers who have seen the document, say it alleges that to obtain the warrant, they submitted as evidence the contentious and unproven "Russia dossier."
The dossier includes information on contacts between the Trump campaign and Russia compiled by former British intelligence agent Christopher Steele and financed in part by Democrat Hillary Clinton's presidential campaign.
Republicans say it provides evidence that the Justice Department, allegedly full of pro-Clinton officials, actively sought to undermine Trump.
Because of its sensitive nature, to release the memo, Nunes needs the president's approval.
If Trump does not act either way, Nunes can release it as early as Saturday.
But Democrats say the memo is based on selective information that does not reflect the entire classified file on the FISA warrant application on Page.
Instead, they say, Nunes is running a politically-motivated stunt to smear the Mueller collusion investigation, which is also examining whether Trump tried to obstruct the probe.
The release of the memo could sour relations between the president and the Federal Bureau of Investigation, which Trump has repeatedly attacked as biased against him.
In May 2017, Trump fired FBI director James Comey, who refused to swear personal loyalty to the president as he pressed forward on the Russia investigation.
Leaked text messages of two FBI investigators involved in both an investigation into Hillary Clinton's use of a private email server and the Russia probe show them expressing strong anti-Trump feelings.