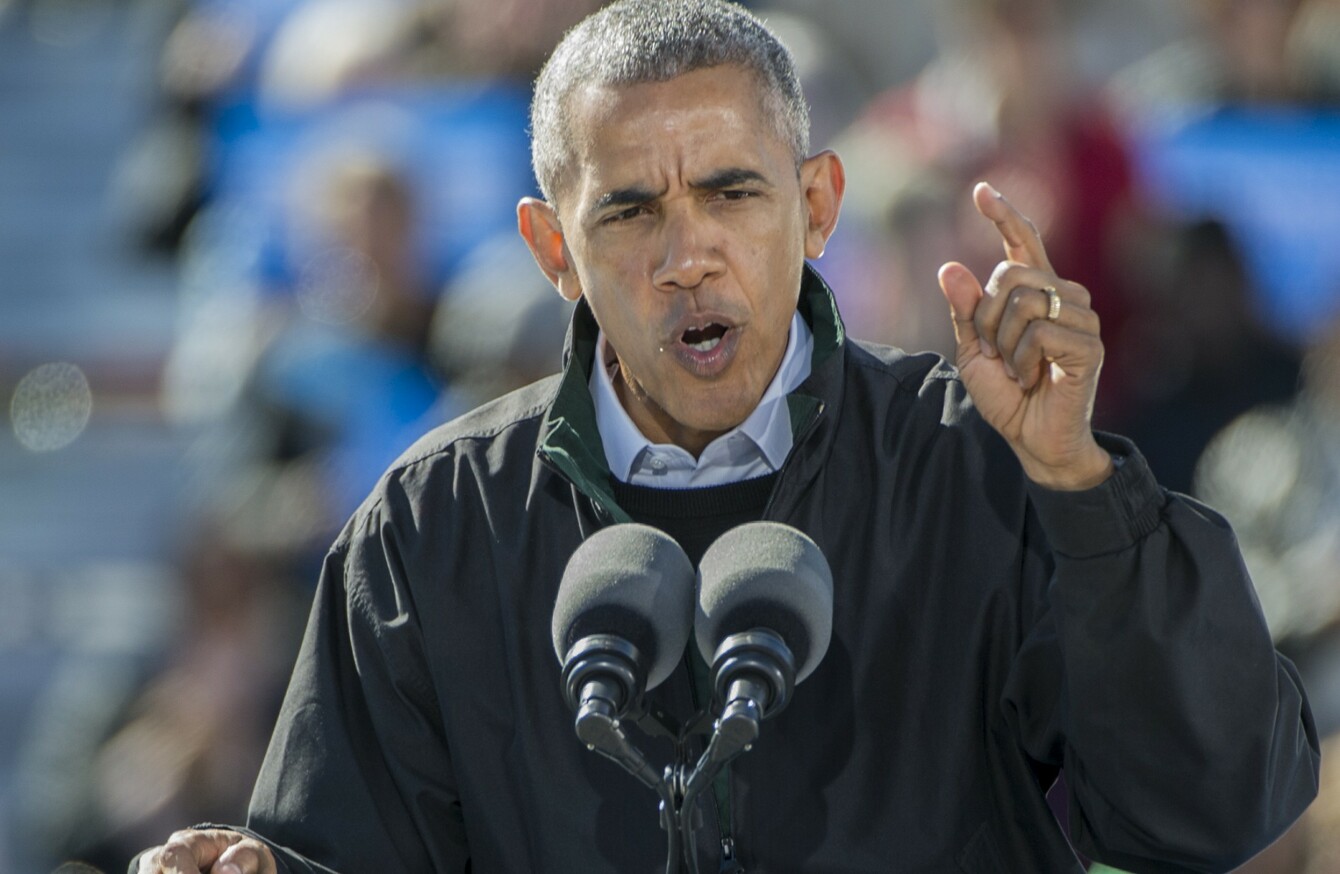 Image: Phil Long/PA
Image: Phil Long/PA
BARACK OBAMA HAS warned this evening that "democracy itself" is on the ballot in November's election.
At a campaign event for Hillary Clinton in Cleveland, Ohio, Obama trashed Trump as a dictator-in-the-making, but also voiced concerns about how his legion of supporters might react to a possible election defeat.
Trump has in the last week declared himself free from the shackles of normal political etiquette and hurled a series of highly inflammatory accusations against Clinton and her husband.
"Civility is on the ballot" on 8 November, Obama told a group of largely young voters in the swing state of Ohio.
"Tolerance is on the ballot," he continued. "Courtesy is on the ballot. Honesty is on the ballot. Equality is on the ballot. Kindness is on the ballot. All the progress we made in the last eight years is on the ballot.
"Democracy itself is on the ballot right now."
Trump chaos
As Trump has tanked in polls, his campaign in chaos over a damning video tape and snowballing allegations of sexual impropriety, thoughts have turned to whether the controversial real estate mogul would even acknowledge defeat should he lose.
He has spent the last week claiming the media and a "global elite" are working against him.
"Hillary Clinton meets in secret with international banks to plot the destruction of US sovereignty in order to enrich these global financial powers, her special interest friends and her donors," Trump told supporters in Florida.
Obama gave that claim short shrift.
"C'mon man!" he said.
"This is somebody who… is now suggesting that if the election doesn't go his way, it's not because all the stuff he's said, but it's because it's rigged and it's a fraud.
You don't start complaining about the refs before the game's even done. You just play the game, right?
Obama's speech was the second strike at Trump in as many days by the US presidential couple — after Michelle Obama caused a sensation with an impassioned takedown of the Republican nominee.
With 25 days to go before Election Day, Clinton cheered on as the first lady branded Trump "disgraceful" and urged women to fight him at the ballot box — but is herself keeping a strikingly low profile.
With reporting by Garreth MacNamee