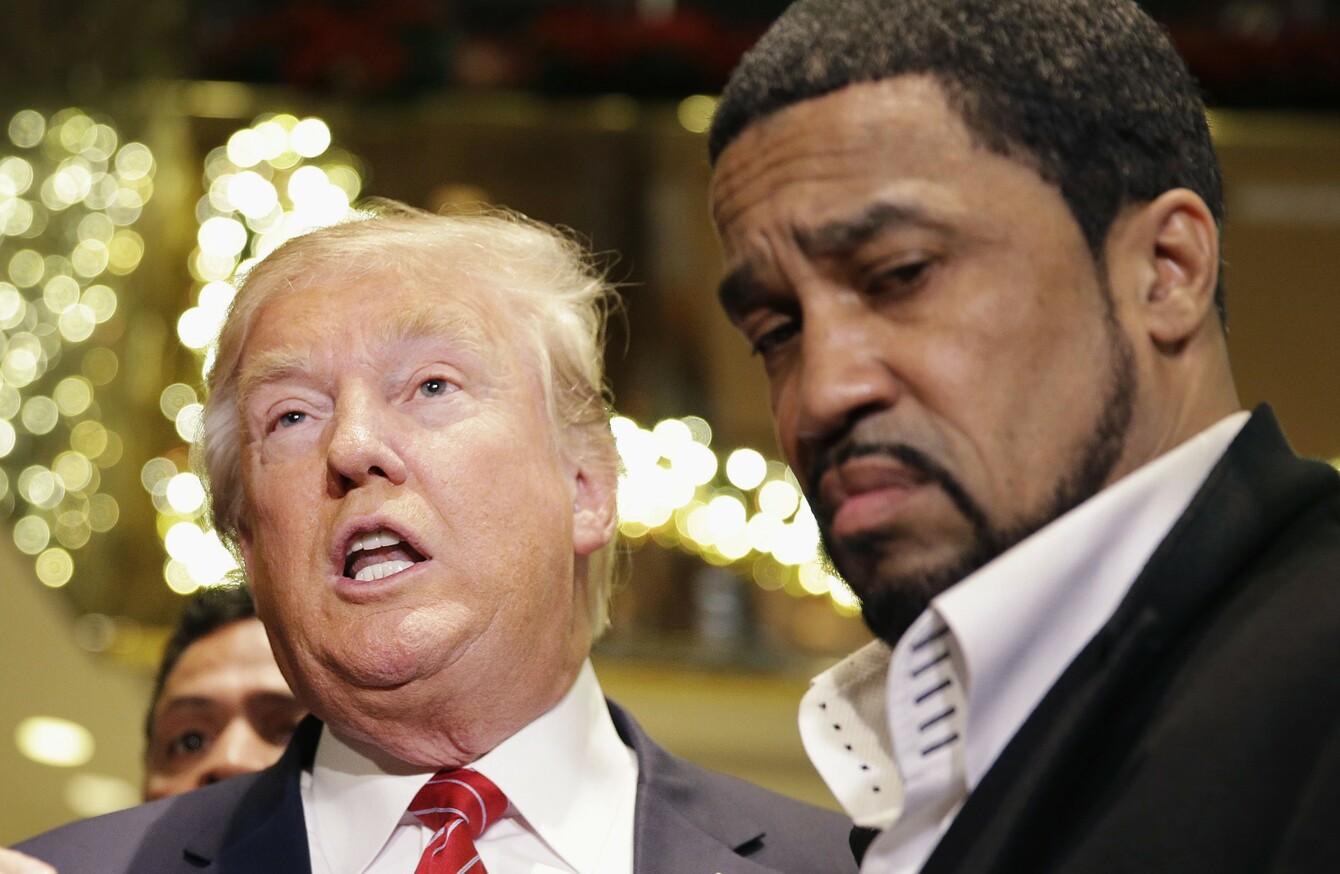 Donald Trump talks with reporters while surrounded by a group of African-American religious leaders.
Image: Associated Press
Donald Trump talks with reporters while surrounded by a group of African-American religious leaders.
Image: Associated Press
DONALD TRUMP ABRUPTLY scrapped a news conference designed to showcase his support from black religious leaders in the US, as African-American pastors lined up to deny they were willing to endorse the Republican frontrunner.
It was an unusually public u-turn for the billionaire real-estate mogul, 69, whose controversial campaign last week invited the world's media to Trump Tower in New York for a press conference scheduled for yesterday.
There, he would "be joined by a coalition of 100 African-American evangelical pastors and religious leaders who will endorse the GOP frontrunner after a private meeting," his campaign had said.
But on Sunday, the 2016 White House hopeful took to Twitter in customary bombastic style to confirm that the press event was off, even if the meeting – albeit with an unspecified number of pastors – was on.
"Will be meeting on Monday at Trump Tower with a large group of African-American pastors. Many I know – wonderful people! Not a press event," he tweeted to his more than five million followers.
Not endorsing
After the meeting, Trump – who has courted controversy on a range of topics, notably his remarks about Mexican immigrants and his support for registering US Muslims – said he would travel to the southern US state of Georgia for "a big rally."
However, several prominent African-American pastors who had been invited to the meeting denied that they were willing to endorse Trump.
"I do not support nor will endorse Donald Trump," wrote Corletta Vaughan, senior pastor at the Holy Ghost Full Gospel Cathedral in Detroit, on Facebook.
In an earlier message on the social networking site she called Trump "an insult and embarrassment".
"ZERO experience," she said.
"Flaunting a ticket of unbridled bigotry, sexism, racism and everything that is wrong with America."
Bishop Clarence McClendon from Los Angeles was another who said he had been invited — but did not plan to attend.
"The meeting was presented not as a meeting to endorse but as a meeting to engage in dialogue," he said in a statement, adding he had not made up his mind who to vote for in the 2016 election.
Bishop Paul Morton, founder of The Full Gospel Baptist Church Fellowship, also said he was steering clear.
"I refused because until he learns how to respect people you can't represent me thru my endorsement," he wrote on Twitter.
'Racially inaccurate'
Last week, more than 100 black religious leaders and scholars called on African-American ministers to think twice before meeting Trump.
They accused him of "racially inaccurate, insensitive and incendiary rhetoric" that "brings out the worst sorts of white racist aggression," in an open letter published by Ebony magazine.
Trump recently tweeted a graphic showing that 81% of white homicide victims were killed by blacks. The website PolitiFact said the correct figure from the Department of Justice was 15%.
On Sunday he again refused to back down from his claims that Arab Americans cheered the collapse of the Twin Towers on 9/11.
"I saw it. So many people saw it… And so why would I take it back? I'm not going to take it back," he defiantly told NBC's Meet the Press talk show.
Republican experts have warned that Trump could do lasting damage to the party and that his nomination in the primaries would essentially hand the presidency to Democratic frontrunner Hillary Clinton.