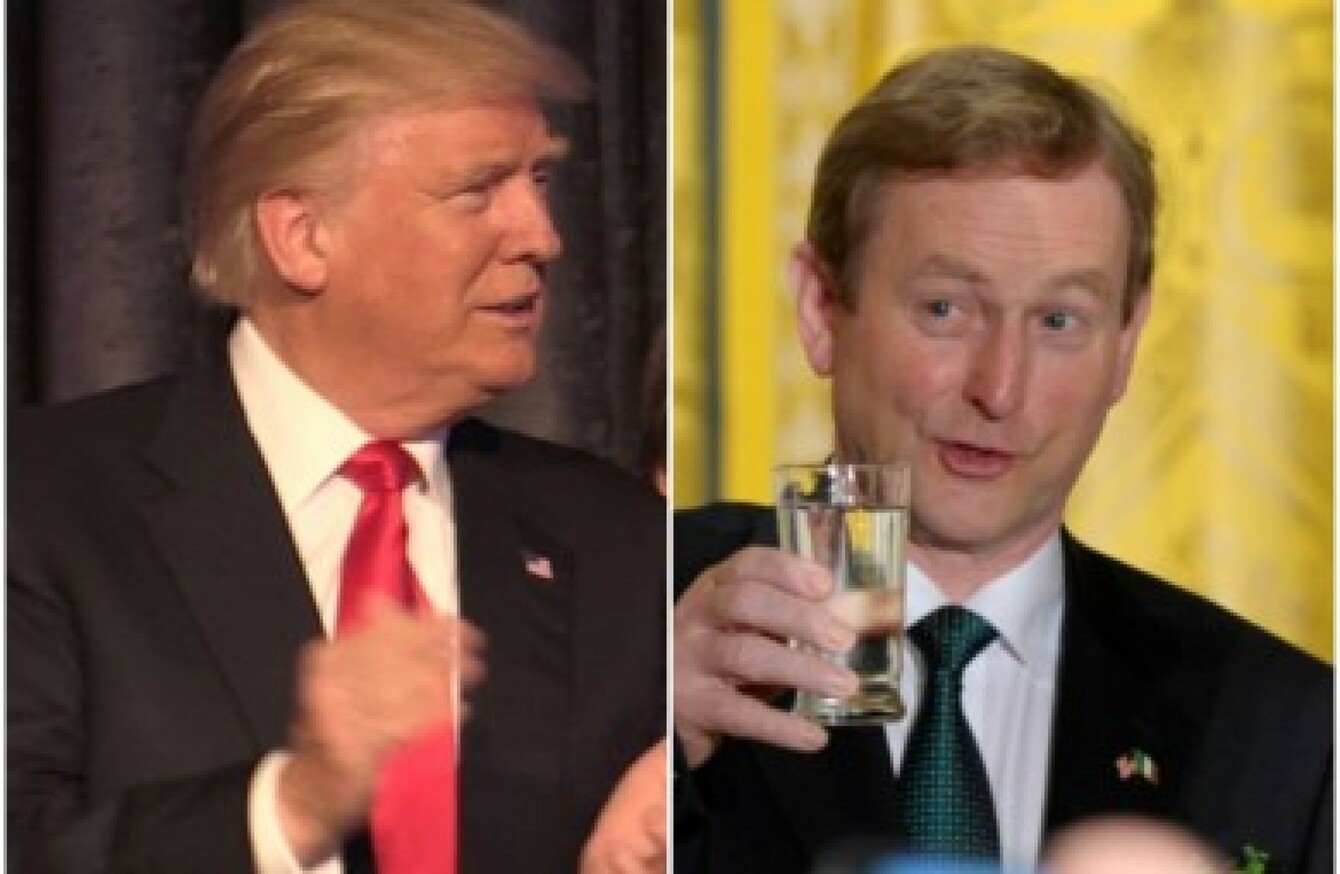 Image: PA WIRE
Image: PA WIRE
ALMOST A THIRD of people would be against the idea of Enda Kenny meeting Donald Trump at the White House next March for the annual Shamrock Ceremony.
According to a Claire Byrne Live/Amárach Research poll carried out for TheJournal.ie, 61% of people support the Taoiseach meeting Trump on St Patrick's Day, after he becomes US president.
29% of people said Kenny shouldn't meet him. 10% answered 'don't know'.
The Taoiseach was invited to the White House to take part in the traditional 17 March ceremony during a ten minute phone call with President-elect Trump on the day he claimed victory in the US general election.
The invitation came in spite of criticism of the controversial businessman-turned-GOP-nominee from across the Irish political establishment during his campaign for the White House.
Kenny called some of Trump's comments "racist and dangerous" and Fianna Fáil leader Micheál Martin asserted the businessman had given an "appalling example for how the free world should speak and articulate".
Since the election 
The Taoiseach has also spoken to Vice President-elect Mike Pence recently, later coming in for some harsh criticism online for a Tweet about the call in which he said the Republican "knows Ireland and the issues that matter to our people".
Pence has been a consistent opponent of LGBT rights and has previously advocated so-called "conversion therapy" for gay people.
"He is very much acquainted with the issues about the country here," Kenny said, when asked about their conversation.
He is also clear about the turnabout in our economic situation after coming through a very difficult period.
Speaking generally about the new US political landscape, in a media briefing this week, the Taoiseach said:
"It's not a case of wringing hands here. This is a case of dealing with the reality of a new regime and a new administration taking up office in the United States. And my conversation, both with the President Elect and the Vice-President Elect, was on the basis of the relationship of this country with the United States.
And as part of that, I mentioned the traditional economic, social, historic and political links that we have; the way things have changed, from an Ireland where we relied very heavily on remittances from the United States to keep families alive here, to where Irish-owned firms now employ over 100,000 people across 50 states.
The annual Shamrock Ceremony, which has its roots in the 1950s, but evolved into a broader celebration of Irish-American relations under the Bill Clinton presidency, offers Ireland annual access to US top officials. High level trade talks usually take place during the visit, each March.
1,000 people were canvassed as part of the Claire Byrne Live/Amárach Research poll, carried out on Monday of this week.