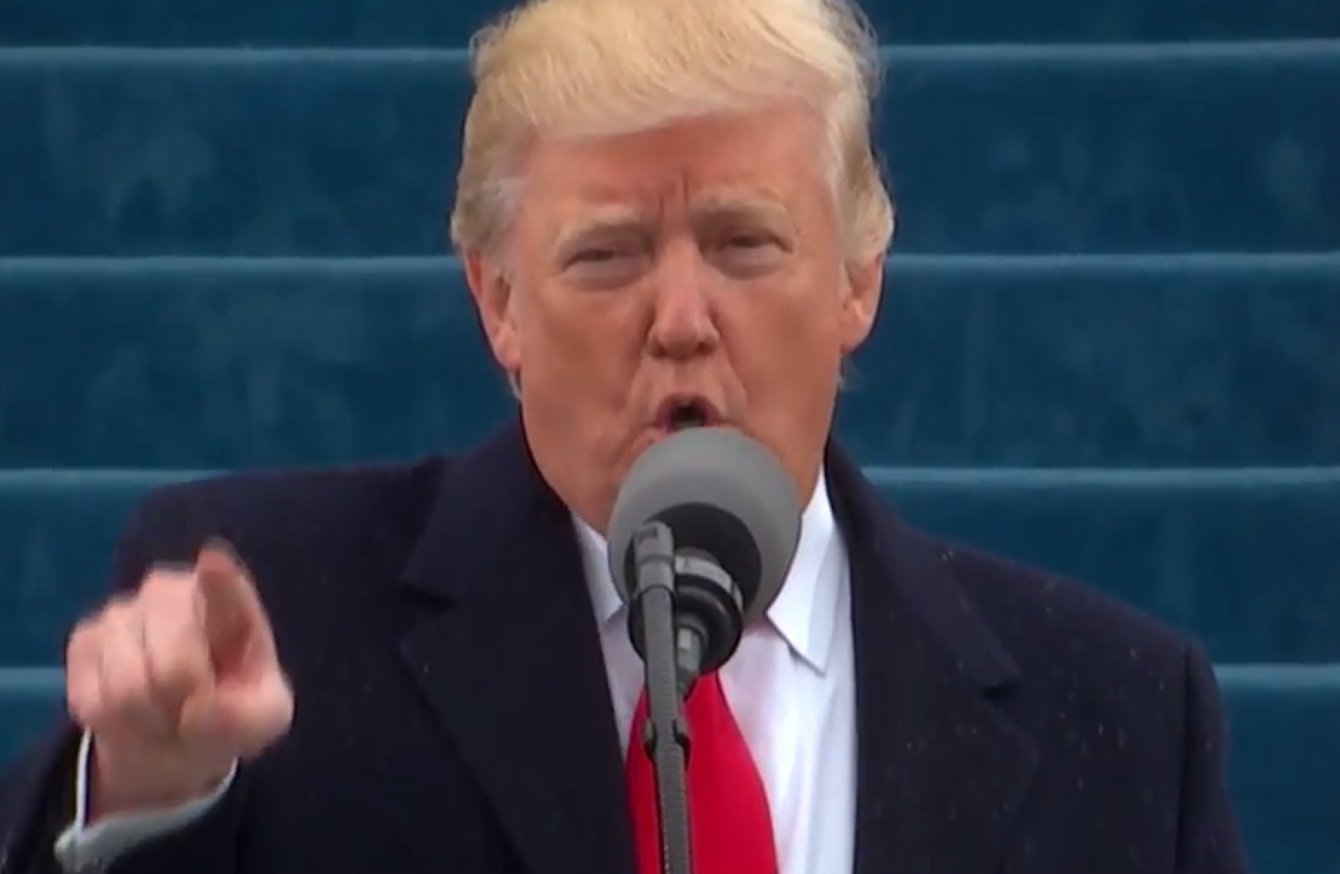 Source: TheJournal.ie/YouTube
HOPES WERE NEVER exactly sky-high for Donald Trump's inaugural speech – and even conservative commentators conceded after its conclusion that the brief address had done little to heal the divisions that emerged during the long White House campaign.
"A combative, aggressive inaugural speech from Pres Trump. His supporters will be thrilled, his opponents will be terrified," editor-in-chief of conservative magazine the Weekly Standard Stephen Hayes wrote on Twitter.
Piers Morgan's assessment was that the "smart crowd will hate it" but that "ordinary Americans will be cheering him on".
At the other end of the spectrum of opinion, editor of NewYorker.com Nicholas Thompson reckoned it was "harsher, crueler, and much darker than the moment deserved".
The language was a little more creative than his off-the-cuff campaign stump speeches – but the content didn't differ dramatically.
Here are some of the key passages:
Power to the people
January 20th, 2017 will be remembered as the day the people became the rulers of this nation again. The forgotten men and women of our country will be forgotten no longer.
American carnage
For too many of our citizens, a different reality exists: Mothers and children trapped in poverty in our inner cities; rusted-out factories scattered like tombstones across the landscape of our nation; an education system, flush with cash, but which leaves our young and beautiful students deprived of knowledge; and the crime and gangs and drugs that have stolen too many lives and robbed our country of so much unrealised potential. This American carnage stops right here and stops right now.
Eradicate radical Islamic terrorism
We will reinforce old alliances and form new ones -– and unite the civilised world against Radical Islamic Terrorism, which we will eradicate completely from the face of the Earth.
America first
We must protect our borders from the ravages of other countries making our products, stealing our companies, and destroying our jobs.  Protection will lead to great prosperity and strength.
We will follow two simple rules: Buy American and Hire American.
Make America great…
Trump signed off his speech in his typical manner – if anything, upping the volume a little.
Your voice, your hopes, and your dreams, will define our American destiny. And your courage and goodness and love will forever guide us along the way.
Together, We will make America strong again.
We will make America wealthy again.
We will make America proud again.
We will make America safe again.
And, yes, together, we will make America great again. Thank you, God bless you, and God bless America.
Own speech
It emerged earlier this week that Trump had planned to write his speech himself – although it's likely others, most likely his adviser Stephen Miller will have had a hand in penning it.
Nevertheless, given the content, there were plenty of people agreeing with the assessment of Daily Show host Trevor Noah that, yes, Trump may well indeed have written the thing.
And though it was on the short side – not by much, compared to previous inaugurals.
It was a little shorter than the one Bill Clinton delivered at the start of his first term, as the graph below from NBC shows – but longer than the speeches given by Kennedy and Carter.