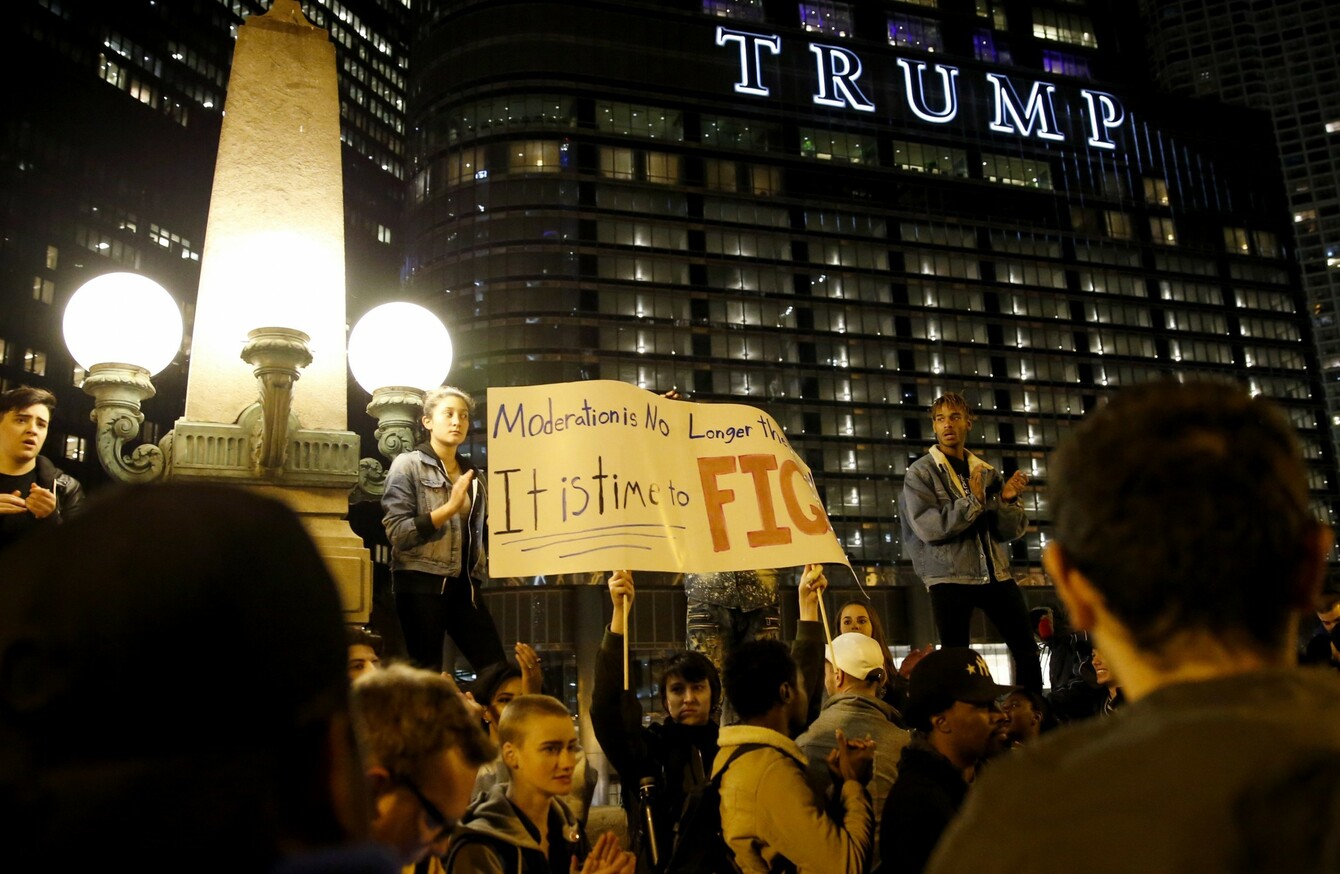 Image: Nam Y. Huh
Image: Nam Y. Huh
THOUSANDS OF DEMONSTRATORS took to the streets in several US cities for a second night of nationwide protests last night over the stunning election of Donald Trump to the presidency.
Trump, commenting on the unrest for the first time, blamed the news media.
Shouting "Not my president!" and carrying placards that read "I did not elect hate for president," some 300 people marched in Baltimore.
Protests also took place in New York, Chicago, Denver, Dallas, Oakland and elsewhere.
"We are just showing that this is going to be the next four years. It'll be four years of resistance," Kaila Philo, a 21-year-old student, told The Baltimore Sun.
She said she had created an event on Facebook for her friends that ended up attracting thousands.
In Portland, police said a rally there had degenerated into what they called a riot because of "extensive criminal and dangerous behavior." Police said protesters were smashing storefront windows.
Earlier, demonstrators – mostly students – also marched in San Francisco, Los Angeles and other cities.
Some 1,000 students, most of them high-schoolers, marched through San Francisco's financial district toward City Hall chanting "Not my president!" and blocking traffic. Some also carried placards that read "Trans Against Trump" and "Make America Safe For All."
"We are protesting because we want to stand up for our rights and we deserve to be heard," Pamela Campos, 18, told the San Francisco Chronicle.
"Donald Trump is just racist. He's attacking all the immigrants, all the Muslims. I saw all my classmates crying yesterday."
Students held walkouts in several other northern California cities, including Napa and Hayward.
In Los Angeles, several hundred students marched at the University of California campus carrying placards that read "Dump Trump" and "Love trumps hate."
"Initially, I accepted his election but yesterday when I saw Hillary's concession speech, I couldn't avoid crying," Daisy Rivera, 24, told AFP of the Democratic candidate Hillary Clinton.
"I can't believe we have that racist, xenophobic, misogynist elected president."