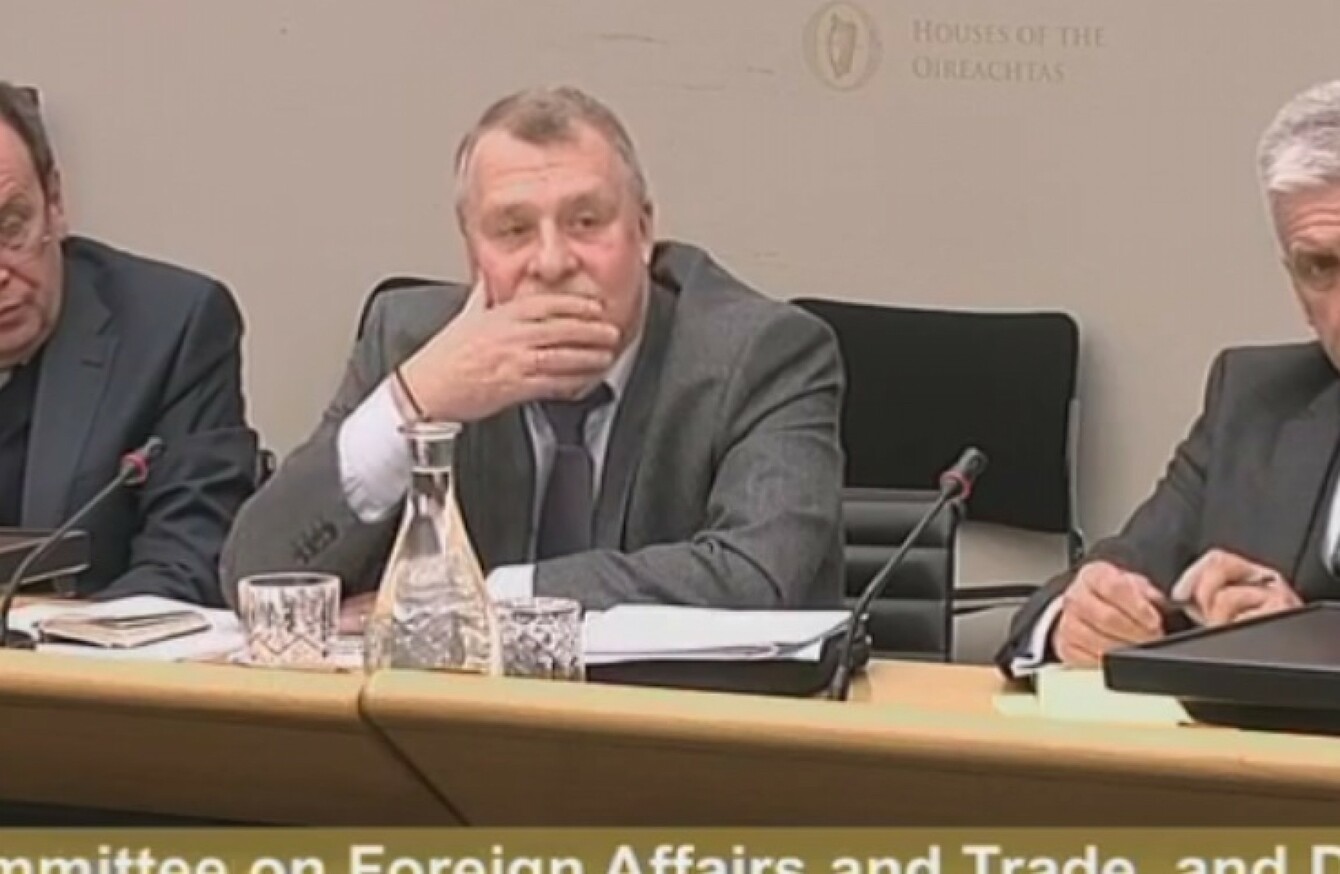 Updated 18.00pm
THINGS GOT TENSE between Fine Gael's Sean Barrett and the Russian Ambassador Maxim Alexandrovich Peshkov today over Russia's actions in Ukraine and Syria.
The Russian ambassador appeared before the Joint Oireachtas Committee on Foreign Affairs, Trade and Defence to talk about Syria, the Ukraine and other matters of mutual interest.
Forty minutes into the meeting, it was Fine Gael's Sean Barrett's turn to ask questions.
Crimea
Speaking about the Ukraine, he told the ambassador that Russia shouldn't invade Crimea and then ask the people what they want.
"Which invasion?" asked the ambassador.
"The Russian invasion," said Barrett. "You then ask the people what they want after you invade them?" he added.
"We didn't invade Crimea," said Peshkov.
"You walked into Crimea and took it over," Barrett said. The Russian ambassador said there was an invasion, but it was from Kiev. He stated that "trains of friendship" were sent, full of "well-armed military and radicals" and told the people of Crimea to "behave themselves".
"Of course you know much more than myself about Russia's military in Crimea, I'm sure," the ambassador told Barrett. "Try to be objective," he added.
Source: TheJournal.ie/YouTube
Barrett questioned the ambassador about Russia's involvement in the two countries, stating:
Why are we trying to defend the indefensible? Every part of the world has become unsettled and it is mainly due to interference by outsiders in resolving problems that are internal. What is Russia's proposals for Syria, when do you intend on withdrawing from Syria? What is your end result for Syria? That is what I'd like to know. Equally I would like to know, what is your end result for the Ukraine? Is going to continue on and on and on?
He said the Irish people were familiar with what it is like to have other countries getting involved in Irish matters.
We in Ireland had to put up with this for many, many, many centuries. We know what it's like.
The Dun Laoghaire TD said it was time for parties to step back and ask the question: what are we trying to achieve here?
"In the meantime thousands and thousands of people are losing their lives.
"I would like to hear from you, exactly what is the agenda for the Russian federation in terms of both of these countries?" he asked.
Role of the international community 
Following on from Barrett, Independent TD Maureen O'Sullivan said she would like to ask the US, the EU and Saudi Arabia the same question that was posed to the ambassador.
"Where is the real desire for a just peace in Syria?" asked O'Sullivan, asking the ambassador is it just the case of "keep bombing until someone throws in the towel".
"There are going to be no winners in Syria, least of all the Syrian people," she said.
"How can it be solved? God knows. But we are doing our best," said the ambassador.
The ambassador was also asked about flight MH17 flight that crashed in Ukraine in 2014.
#Open journalism No news is bad news Support The Journal

Your contributions will help us continue to deliver the stories that are important to you

Support us now
The ambassador said Russia is "strictly standing on the position that an independent neutral investigation is necessary in this issue".
From the very beginning we sent all technical data to the Netherlands. Until now we are not sure if they have any technical data from Ukrainian side – the tapes, dispatcher talks between tower and plane. We are not sure, we don't know whether Americans gave their technical data from satellites… we gave everything to Netherlands.
We are not sure that they are using our data
He said if any more data is needed they are will hand it over.
Last month, the Minister for Foreign Affairs Charlie Flanagan and the Taoiseach were embroiled in controversy the Dáil was told the minister had met with the ambassador.
Kenny said Flanagan called in the Russian ambassador on 27 September, and conveyed to him the government's criticism of recent developments in Syria.
However, it was later clarified that this was not the case and that the ambassador met with departmental officials, but not Flanagan
Source: TheJournal.ie/YouTube
According to the Department of Foreign Affairs, Charlie Flanagan has since met with the Russian ambassador, in person, at Iveagh House, last month.
Charlie Flanagan told the Dáil recently:
The facts call into question the legitimacy of Assad's regime, its authority, and indeed its authority to invite military support from other states.
I made that position clear in a recent meeting I had with the representative of Russia in Ireland, the Russian ambassador.
'Take this message to your government'
Today, Committee Chairman, Brendan Smith TD, said the current situation in Syria is one which is having a devastating and wide-reaching humanitarian consequence, including the mass migration of people to Europe and beyond.
He told the ambassador that the concerns raised by committee members today are the same views echoed by the Irish people.
There is absolute disbelief that the international community can allow this carnage, this massacre of people to continue.
 We would  ask you ambassador to bring back to your own government the very serious concerns of this country in regards to this ongoing conflict that must be brought to an end as soon as possible.