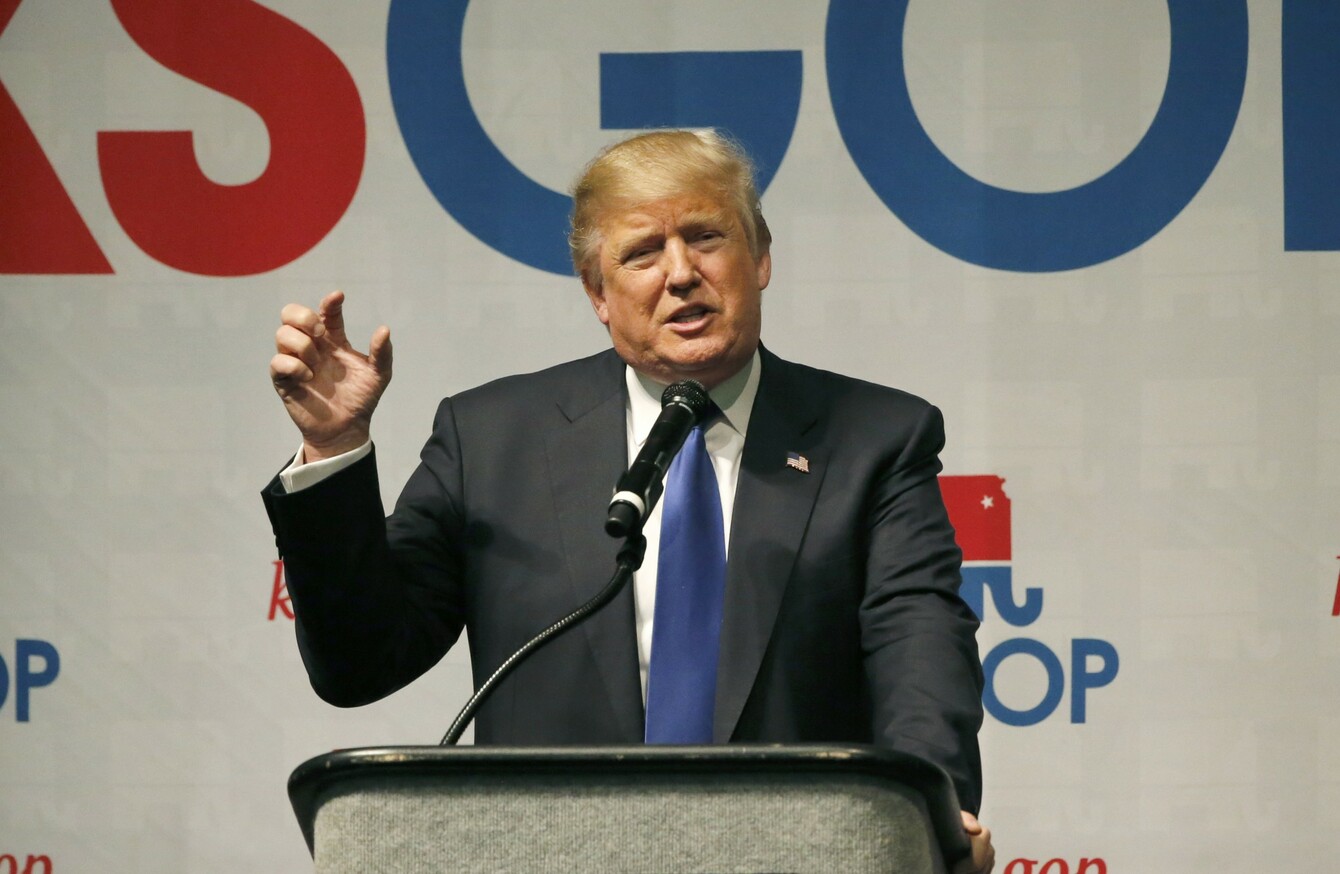 Image: AP/Press Association Images
Image: AP/Press Association Images
FIVE MORE STATES began voting today in the hotly contested White House primary race as Trump rallies throw up more controversy. 
The brash billionaire is ahead in the all-important delegate count for the Republicans, having won 10 of the 15 states that have voted to date in the process that determines the nominees for both parties.
Former secretary of state Hillary Clinton is well ahead of rival Senator Bernie Sanders on the Democratic side, hoping to expand her lead as she inches closer to securing the nomination.
Clinton and Sanders do battle Saturday in Kansas, Louisiana and Nebraska, while the Republicans are contesting Kansas, Kentucky, Louisiana and Maine.
Trump made waves when he cancelled a scheduled Saturday morning appearance at the Conservative Political Action Conference near Washington, opting instead to hold a rally in Wichita, Kansas.
The move angered members of the American Conservative Union which hosts CPAC.
In a further sign of tensions surrounding Trump's rise, his Friday night rally in New Orleans, Louisiana saw skirmishes inside and outside the venue.
"Oh no, not another one of these. Get out. Get them out. Get out of here, troublemakers," Trump boomed as protesters interrupted his speech.
Outside, protesters squared off against Trump supporters.
"This is what hate looks like," a protester screamed as he pointed to the rally venue, in video footage posted by The New Orleans Times-Picayune.
Another protester held a sign that read "Return of the Fuher," an apparent Hitler reference.
https://www.facebook.com/Channel4News/videos/10153560684671939/
Trump also defended a scuffle at another of his rallies in New Hampshire where a protester was thrown out by four of his supports.
Trump said that the protester "looked like and NFL football player" and was a "really rough guy" who was "swinging and swinging".
"We had a couple of people in the audience who were equally rough and they took him out. They took him out," Trump said.
We had four guys that jumped on him and they were swinging and swinging. The next day we got killed in the press that we're too rough. Give me a break, right? We don't want to be too politically correct anymore, right folks?
© – AFP 2016 with reporting by Rónán Duffy