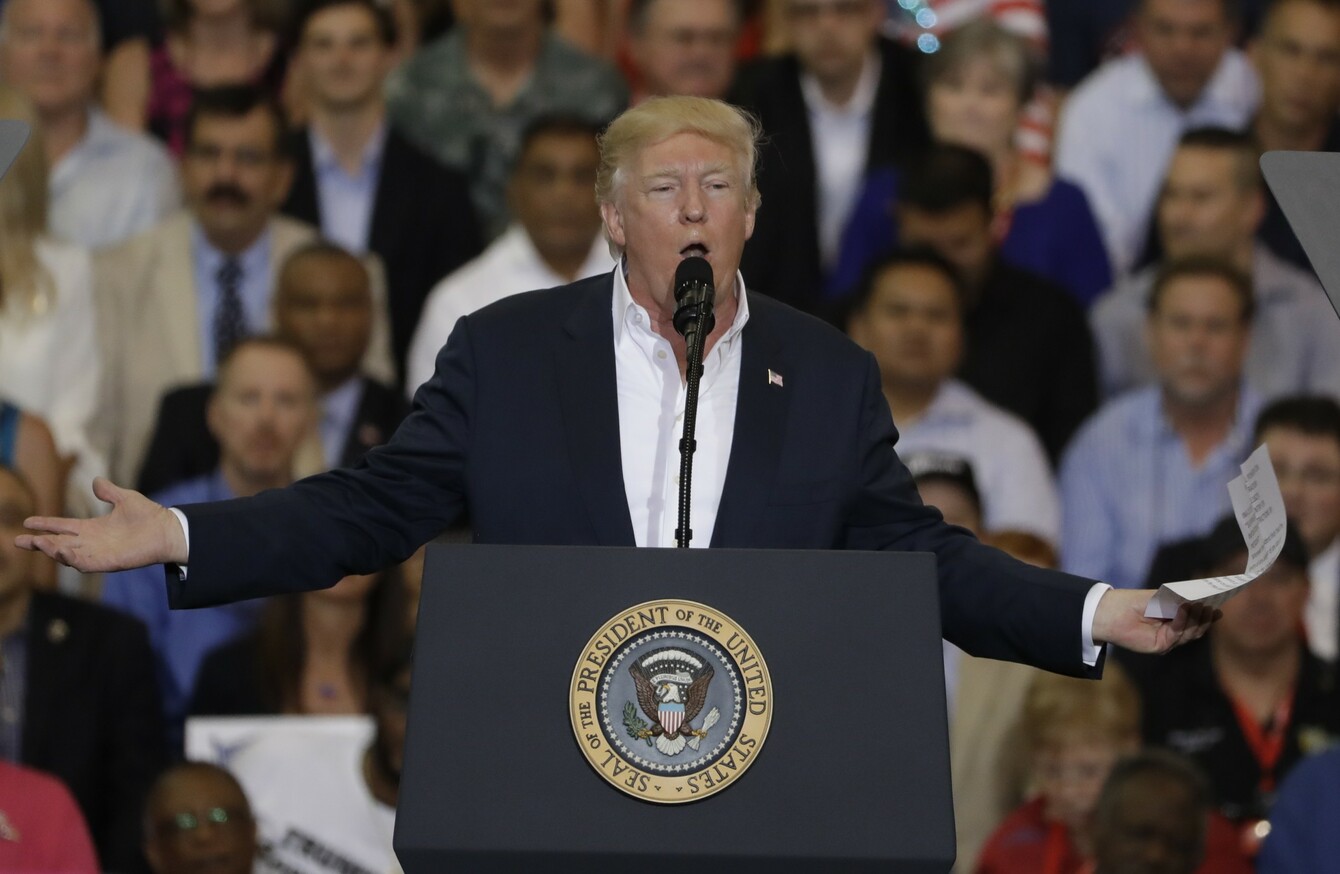 Trump speaking on Florida over the weekend.
Image: AP Photo/Chris O'Meara
Trump speaking on Florida over the weekend.
Image: AP Photo/Chris O'Meara
US PRESIDENT DONALD Trump has once again made comments about Sweden which have the country's leaders scratching their heads.
Trump took to Twitter today to once again criticise the Scandinavian country's immigration record.
"Give the public a break – The FAKE NEWS media is trying to say that large scale immigration in Sweden is working out just beautifully. NOT!" Trump tweeted.
His comments follow on from a weekend of strong criticism from the Scandinavian country and its citizens after he referenced a nonexistent terrorist incident while speaking to supporters at a rally on Saturday.
"You look at what's happening in Germany, you look at what's happening last night in Sweden. Sweden, who would believe this? Sweden," he said.
They took in large numbers. They're having problems like they never thought possible.
Trump yesterday tweeted an explanation of his remarks.
"My statement as to what's happening in Sweden was in reference to a story that was broadcast on @FoxNews concerning immigrants & Sweden," the US leader wrote.
Less than impressed
The country's leadership and citizens have been less than impressed with the US leader's remarks, with State bodies and officials seeking clarity over his comments.
Swedish Prime Minister Stefan Lofven said today he was "surprised" by Trump's remarks.
"I was, like many others I believe, surprised by the comments made about Sweden this weekend," Lofven said during a joint press conference in Stockholm with visiting Canadian Governor General David Johnston.
We have opportunities, we have challenges, we're working (on) them every day. But I think also we must all take responsibility for using facts correctly, and for verifying any information that we spread.
Meanwhile, Sweden's Employment Minister Ylva Johansson, in an interview with Swedish public television on Sunday, said she also is seeking clarification of Trump's statement.
"We want to know what he means," she said in an interview broadcast on Sunday.
"The US president speaks and the whole world listens.
He is speaking about Sweden in a way that we don't understand what he means or refers to – in connection with acts of terrorism in other countries. It would make sense if we could get an answer to this question.
Sweden's former prime minister Carl Bildt has also been rowing in on criticising Trump.
"Just a piece of friendly advice: when you are in a hole, stop digging," he tweeted earlier this afternoon.
Past issues
This weekend isn't the first time Trump and the Swedish government haven't seen eye to eye on issues.
Responding to last month's ban from the US on immigrants from seven predominantly Muslim countries, Swedish Foreign Minister and Deputy Prime Minister Margot Wallstrom called the decision "deeply unfortunate".
"This decision increases mistrust and tensions between people. Not since World War II have so many people fled war and conflict," she wrote.
It is the joint responsibility of all countries to help them, including the US.
Immigration is a hot topic in Sweden, which has seen its population grow in recent years as it took in more asylum seekers.
The country took in the the highest number of refugees per capita in Europe in 2015, with 80,000 asylum seekers entered the country.
Immigration has been met with resistance from some sections of Swedish society, with the far-right anti-immigration Sweden Democrats growing in popularity over the past two years.
Riots in Stockholm in 2013 brought the spotlight on issues of integration and social inequality in the country.
However, the country has remained strong in its commitment to playing its part in alleviating the refugee crisis.
With AP and AFP