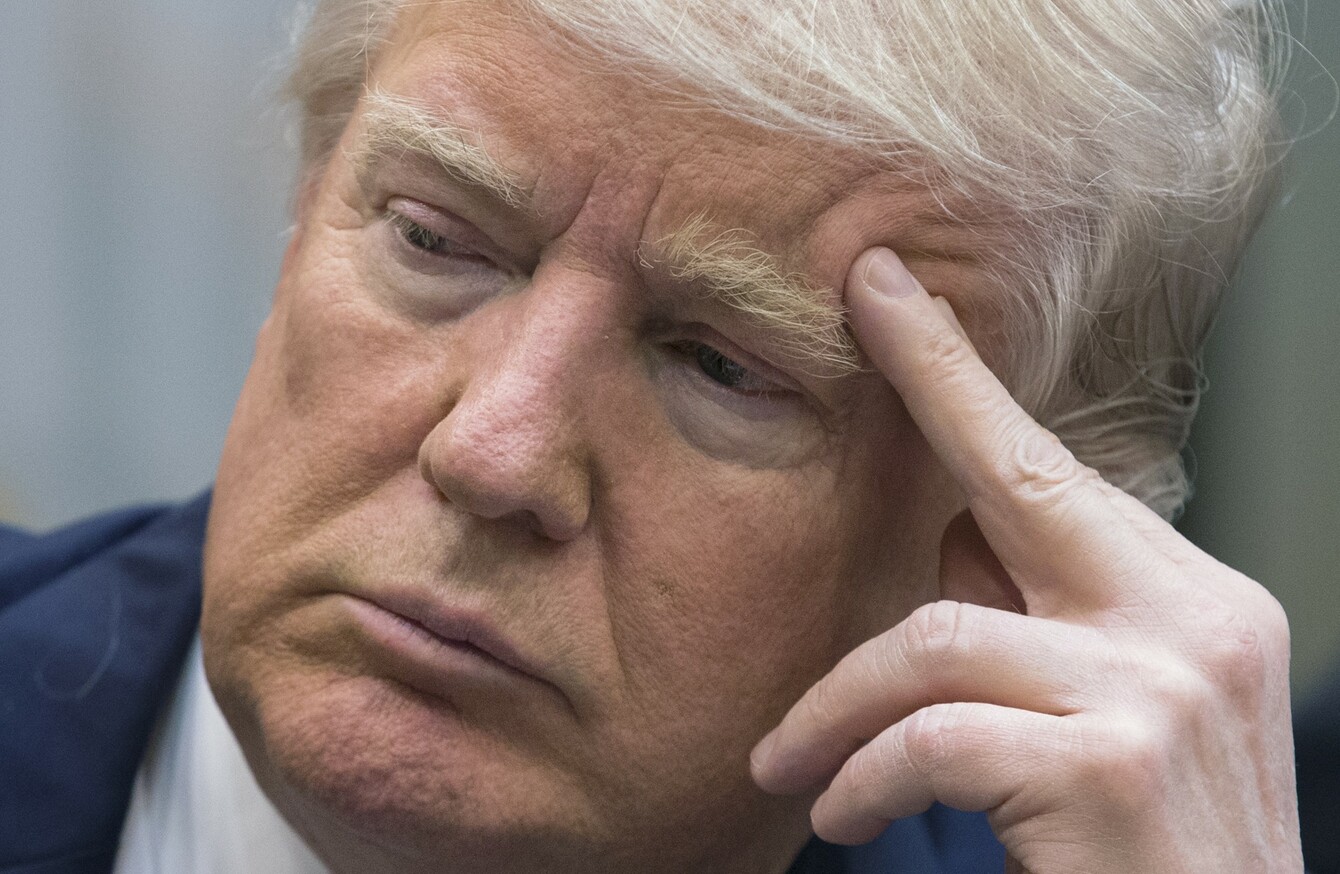 Image: Michael Reynolds/Consolidated News Photos/Michael Reynolds - Pool via CNP
Image: Michael Reynolds/Consolidated News Photos/Michael Reynolds - Pool via CNP
DONALD TRUMP PAID around $38 million in taxes in 2005, the White House acknowledged late last night.
The confirmation came as a handful of elusive details about the president's tax status were leaked to the US media.
Trump has steadfastly refused to release his full tax returns, breaking with decades of tradition among presidential candidates of all political parties.
The leak – a summary of one year's filing from more than a decade ago – is a small but tantalising glimpse into the mogul's tax history.
The White House confirmed the details just before David Cay Johnston, a Pulitzer Prize-winning investigative journalist and MSNBC said they would reveal the short filing.
The snapshot was broadly favourable to the White House and appeared to back up Trump's claim that he paid his fair share of taxes.
But the 2005 return showed amounts owed but, crucially, not sources of income that would confirm or repudiate questions about Trump's business ties.
"The documents show Trump and his wife Melania paying $5.3 million in regular federal income tax – a rate of less than 4%" Johnston wrote in a post on the Daily Beast.
However, the Trumps paid an additional $31 million in the so-called 'alternative minimum tax,' or AMT.
AMT was originally designed to prevent rich taxpayers from using excessive loopholes, and Trump has previously called for its elimination.
Appearing on MSNBC with centre left commentator Rachel Maddow, Johnston said he did not know the source of the leak, noting that the return was placed in his mailbox.
"Let me point out it's entirely possible Donald sent this to me," he said.
Donald has a long history of leaking material about himself when he thinks it's in his interests.
Trump's overall tax rate was around 25% on earnings of over $150 million.
The president has variously claimed – without evidence – that he would not release his taxes because he is under IRS audit, and that US voters do not care.
A recent Langer Research poll showed almost three-quarters of Americans believe Trump should release his tax returns.
Donald Trump junior was quick to claim victory over those who speculated his dad paid no taxes.
"I don't know much, but if I recall correctly $38,000,000 is a lot more than $0… right???" he wrote on Twitter.
#Open journalism No news is bad news Support The Journal

Your contributions will help us continue to deliver the stories that are important to you

Support us now
On the attack
The Trump White House bashed the media for publishing the return, but confirmed its authenticity and key figures.
"You know you are desperate for ratings when you are willing to violate the law to push a story about two pages of tax returns from over a decade ago," an administration official said.
Trump paid "no more tax than legally required," said the official, who refused to be named.
That being said, Mr. Trump paid $38 million even after taking into account large-scale depreciation for construction, on an income of more than $150 million.
The official said that Trump also paid "tens of millions of dollars in other taxes such as sales and excise taxes and employment taxes and this illegally published return proves just that".
The dishonest media can continue to make this part of their agenda, while the president will focus on his, which includes tax reform that will benefit all Americans.
TheJournal.ie's political reporter Christina Finn will be bringing you all the latest updates from Enda Kenny's visit to Washington this week, including his meeting with US President Donald Trump on Thursday.
Stay up-to-date by following @ChristinaFinn8, @TJ_Politics and TheJournal.ie's Facebook page.