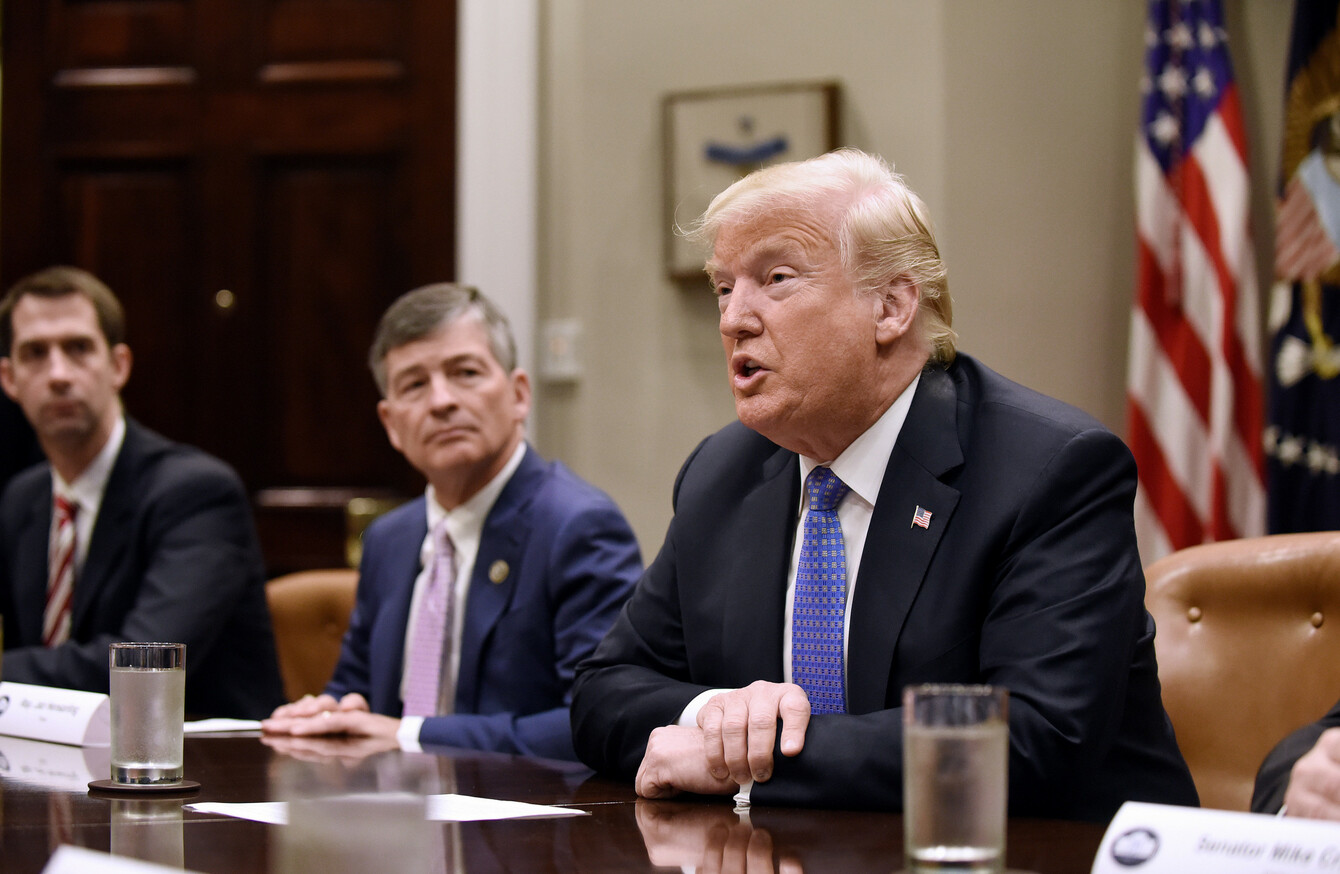 Image: Douliery Olivier/ABACA
Image: Douliery Olivier/ABACA
PRESIDENT DONALD TRUMP, to the alarm of US trading partners and economists, has been making good on his campaign pledges to slap punitive tariffs on countries he accuses of cheating American workers.
His trade war with China, which escalated with tit-for-tat steps on Thursday, is the largest and broadest of several fights picked by Trump. Here is a summary of the ongoing conflicts:
China
After weeks of apparently fruitless negotiations, the United States imposed 25% tariffs on approximately $34 billion of Chinese products on July 6, sparking an immediate dollar-for-dollar response from Beijing.
China accused the United States of starting the "largest trade war in economic history."
The two countries traded blows again on Thursday, this time hitting $16 billion worth of goods from each other with more punitive customs taxes.
It's not over. Washington is holding public hearings this week on the possibility of striking $200 billion in Chinese products with tariffs of 25%.
China has vowed to hit back with tariffs on $60 billion in American goods -– a smaller amount that highlights Beijing's limited ability to retaliate since it imports much less than it exports.
Trump has threatened to target all $500 billion in goods the US imports from China, noting that Beijing cannot continue to retaliate in kind since it imports less than $200 billion a year in American goods.
Beijing has filed a complaint in the World Trade Organization against the US actions.
And despite Trump's sharp criticism of the WTO, Washington has in turn filed a complaint against the retaliation by China and others.
- European Union -
After several months of threats, Trump on June 1 imposed tariffs of 25% on steel and 10% on aluminum from the EU, Canada and Mexico.
Trump has said the European Union is "possibly almost as bad as China" when it comes to trade, as a raft of retaliatory tariffs from Brussels came into effect on June 22.
From blue jeans to motorbikes and whiskey, the EU's hit-list of products targeted the most emblematic of American exports.
Trump has also threatened to impose punitive levies on imported cars, something Germany's powerful auto industry particularly fears.
But European Commission President Jean-Claude Juncker and Trump on July 25 announced a plan to defuse the row, with Washington backing off the auto tariffs against Europe, at least for now.
Both sides are now discussing how to pursue talks toward zero tariffs. But the European Commission is awaiting a negotiating mandate from EU member states.
Canada and Mexico
Canada and Mexico, members of the North American Free Trade Agreement (NAFTA) with the US, have imposed their own counter-tariffs on US goods after Washington's steel and aluminum duties took effect.
Trump and Canadian Prime Minister Justin Trudeau traded barbs over the steel tariffs at a farcical summit of the Group of Seven countries in June.
Those tariffs were imposed after Trump came to office demanding an overhaul of the "terrible" NAFTA deal. Complicated talks to that end have been proceeding.
On Wednesday, Mexican Economy Secretary Ildefonso Guajardo said Mexico and the US were close to finalising a preliminary agreement on a new NAFTA pact which would let Canada sign on.
The re-negotiation has dragged on US demands to increase American content installed in duty-free autos, and for an "extinction clause" to review the treaty every five years.
Japan
Japan is another target of Trump's steel tariffs, which Tokyo calls "extremely deplorable."
Japan has informed the WTO that it plans to impose retaliatory measures on US goods to the tune of 50 billion yen (395 million euros, $455 million).
#Open journalism No news is bad news Support The Journal

Your contributions will help us continue to deliver the stories that are important to you

Support us now
It also wants an exemption from the threatened US duties on auto imports, which represent a major threat to its car industry as well as Germany's.
Iran
Trump announced in May he was abandoning the 2015 nuclear deal with Iran and reimposing sanctions in two phases in August and November, with the second targeting the country's vital oil and gas sector.
That entails the potential for huge penalties against those who trade with Iran, including European energy firms and automakers.
Europe has vowed to keep providing Iran with the economic benefits it received from the nuclear deal.
But many of its bigger companies have already pulled out of the country before their investments could bear fruit, including Total, Daimler, Siemens and Peugeot.
Turkey
Igniting a secondary skirmish, Trump this month said that he had doubled steel and aluminum tariffs on NATO ally Turkey amid a row over an American pastor held for two years on terror charges.
The Twitter announcement on August 10 caused the Turkish lira to crash nearly 20%, and prompted President Recep Tayyip Erdogan to claim Turkey was victim of a "political plot" and an "economic war".
Turkey has in turn hiked tariffs on imports of several US products such as rice, alcohol, leaf tobacco, cosmetics and cars.