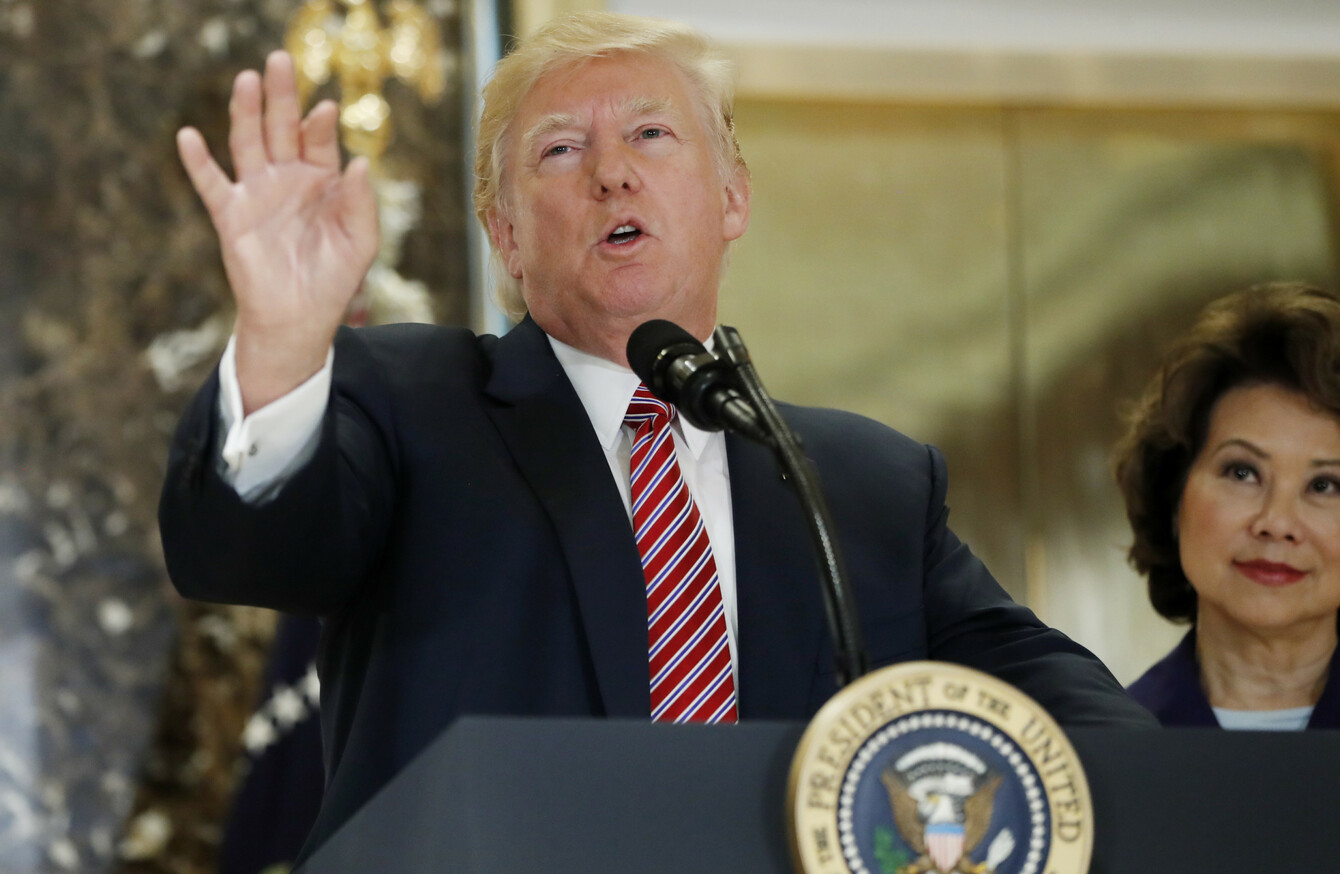 Trump speaks to the media yesterday.
Image: Pablo Martinez Monsivais
Trump speaks to the media yesterday.
Image: Pablo Martinez Monsivais
US PRESIDENT DONALD Trump has triggered fresh outrage after reiterating his initial response to the violent white supremacist rally in Charlottesville that resulted in bloodshed, saying there was "blame on both sides".
The statement once again drew sharp criticism from across the political and cultural board.
NBA star LeBron James blasted Trump for making hate "fashionable again", saying individuals must combat racism and not look to the "so-called president".
James reacted swiftly after the US president reiterated his opinion that there was "blame on both sides" in the deadly racial unrest in Charlottesville at the weekend.
"Hate has always existed in America. Yes we know that but Donald Trump just made it fashionable again!" James tweeted shortly after Trump angrily defended his controversial initial response to the white supremacist rally on Saturday that erupted in clashes with counter-demonstrators.
One woman was killed when a car drove into anti-Nazi protesters.
"We must be clear. White supremacy is repulsive," Republican House Speaker Paul Ryan wrote on Twitter.
"This bigotry is counter to all this country stands for. There can be no moral ambiguity."
"Charlottesville violence was fueled by one side: white supremacists spreading racism, intolerance & intimidation. Those are the facts," tweeted Tim Kaine, a Democratic senator from Virginia who was Hillary Clinton's runningmate in last year's presidential election.

Outrage "unites"
"Racism, bigotry, anti-Semitism, it is not okay. You can't support it in any form or fashion," Republican Congressman Will Hurd of Texas told CNN.
I think the outrage across the political spectrum about this is maybe the thing that ultimately unites us.
"President Trump is a sympathizer of neo-Nazi White Supremacists," Steven Goldstein, head of the Anne Frank Center for Mutual Respect, said in a statement.
If that doesn't make him racist and Antisemitic, and sick with hate for other oppressed peoples, what does?
"The President's most shameful weekend was just extended indefinitely," actress-activist Mia Farrow said in a tweet.
"There is only one side," tweeted the Southern Poverty Law Center, which monitors American hate groups.
White supremacy is always wrong.
The Republican president – who one day previously had solemnly denounced racism and singled out the Ku Klux Klan and neo-Nazis as "criminals and thugs" – also hit out at the "alt-left" over the weekend melee.
After the contentious press conference, the head of the main US labour union, the AFL-CIO, joined several high-powered executives in stepping down from Trump's manufacturing advisory panel.
#Open journalism No news is bad news Support The Journal

Your contributions will help us continue to deliver the stories that are important to you

Support us now
"President Trump's remarks today repudiate his forced remarks yesterday about the KKK and neo-Nazis," union leader Richard Trumka said in a statement.
Minister for Foreign Affairs Simon Coveney said the government "totally condemns the kind of racism and bigotry" that was apparent in Charlottesville over the past week.
"White supremacy or white nationalism is a kind of thinking that Ireland condemns outright with no equivocation."
British Prime Minister Theresa May, a close ally of Trump's, said that she sees "no equivalence between those who propound fascist views and those who oppose them.
"I think it is important for all those in positions of responsibility to condemn far-right views wherever we hear them."