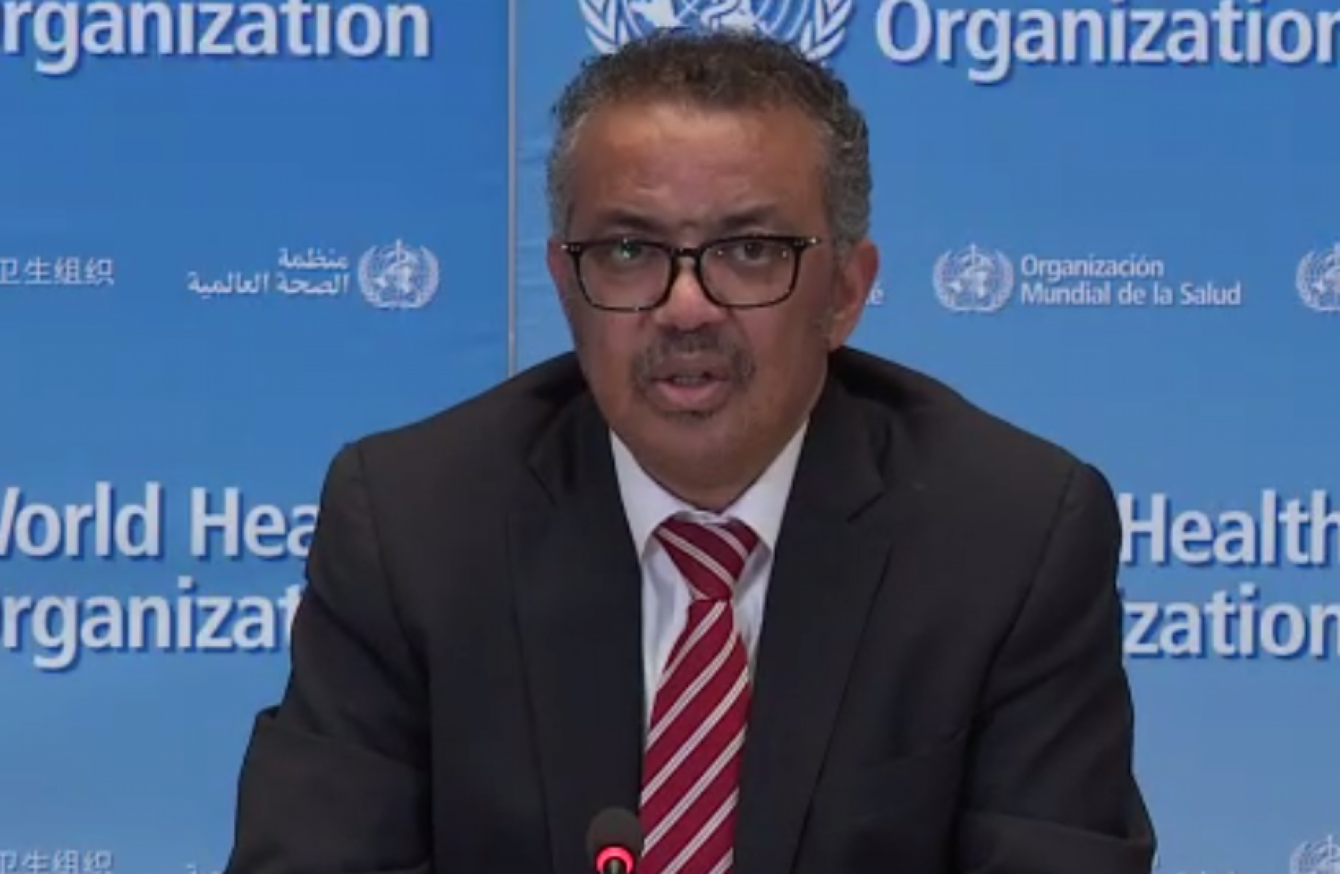 WHO director general Tedros Adhanom.
Image: TheJournal.ie
WHO director general Tedros Adhanom.
Image: TheJournal.ie
THE WORLD HEALTH Organisation (WHO) has marked 100 days of battling the coronavirus by calling for national unity, asking politicians not to use the virus for political point scoring.
Director general of the WHO Tedros Adhanom made the call this afternoon after being asked about US President Donald Trump's threat to cease sending US funds to the organisation.
Trump made the threat last night, claiming that the WHO had "called it wrong" on the virus and that the organisation was "very China-centric" in its approach. 
Reacting to the threat this afternoon, Adhanom said the world must "quarantine politicising Covid". 
He said he would not directly address Trump's threat because "we shouldn't waste time pointing fingers", but that politicians across the world should not use Covid-19 for political point-scoring.  
Please don't politicise this virus. It exploits that differences you have at the national level. If you want to be exploited and if you want to have many more body bags. Then you do it. If you don't want many more body bugs, then you refrain from politicising it. 
"So now more than ever before, national unity is important. If we care about our people. If we care about our citizens. Please work across party lines, across ideology, across beliefs, across any differences for that matter. We need to behave. That's how we can defeat this virus," he added. 
Adhanom made reference to the Cold War when the United States and the USSR "came together to fight smallpox", a disease he said was killing two million people every year.  
He said it should be taken as an example for the world and he specifically said the US and China should now do the same.
"The two powers, agreed to fight smallpox together, and brought the rest of the world together. Smallpox was eradicated in 10 years from then. And now, the United States and China should come together and fight," he said. 
Pushed further on what a withdrawal of US funding would do the WHO, Adhanom said the "generosity of US support" has been a bipartisan commitment and that he expects it to continue. 
"I would like to use this opportunity to thank the US for its generous support so far," he said.
Adhanom also told the briefing that he has been the subject of personal racist attacks in recent months and has even received death threats.
He added that today marks 100 days since the WHO was first informed about the then unnamed virus. 
"Today it is 100 days since the World Health Organisation was notified of cases of pneumonia of unknown origin in China. It's incredible to reflect on how dramatically the world has changed in such a short period of time," he said.