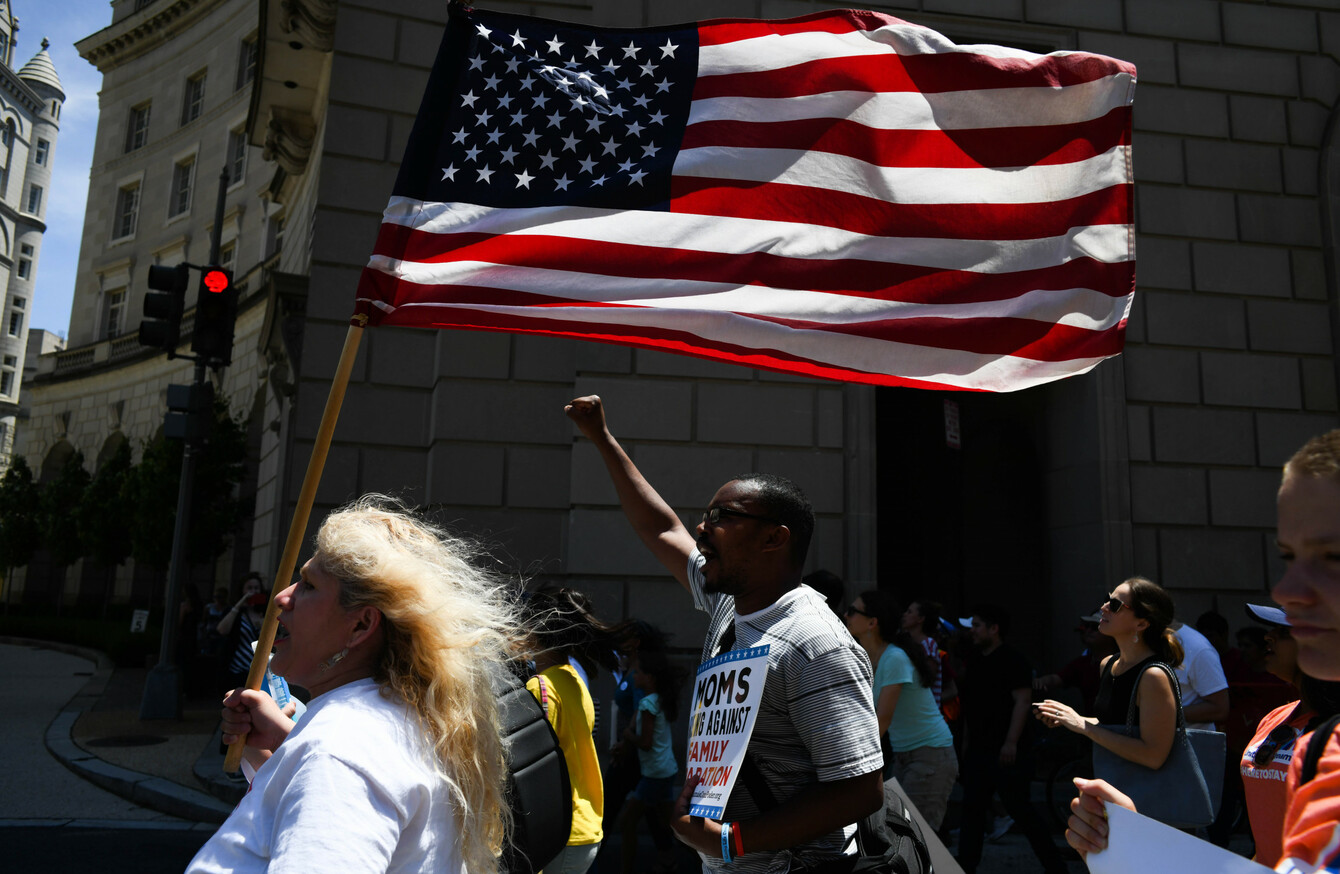 Immigrant families and supporters protesting the policy in Washington.
Image: Miguel Juarez Lugo/PA Images
Immigrant families and supporters protesting the policy in Washington.
Image: Miguel Juarez Lugo/PA Images
STORIES ARE EMERGING of hundreds of children being separated from their mothers and fathers at the US border, under new immigration policies that have been described as "a serious violation of the rights of the child".
Last month, US President Donald Trump introduced a "zero tolerance" policy aimed at deterring the thousands of families crossing the border monthly and asking for asylum.
This policy sees adults crossing the border subject to federal prosecution, meaning parents crossing with children are detained and separated from their sons and daughters.
It has caused uproar on social media, with commentators and politicians among those attacking the policy, with journalists invited in to one of the centres housing these detained children tweeting their experiences last night.
Former presidential candidate Bernie Sanders called the policy "inhumane, cruel and an affront to our values as Americans" while journalists have reported how there are Trump murals in these centres detaining children.
It's also been reported that Trump officials are considering "tent cities" for these children separated from their parents.
The US President has been stereotypically defiant in the face of criticism of the policy, while his attorney general Jeff Sessions said that "if people do not want to be separated from their children, then they should not bring them with them".
Sessions added: "You can't be giving immunity to people who bring children with them, recklessly, and improperly, and illegally."
It drew the ire of the United Nations, which called on the US to "immediately" halt the policy. "The use of immigration detention and family separation as a deterrent runs counter to human rights standards and principles," a spokesperson for the UN human rights office said.
'Help me get my child back'
A public defence lawyer has said that some parents who are under arrest say that they don't know what's happened to their children.
Miguel A Nogueras told CNN yesterday that some parents also claim they have been told their children are being taken to be bathed or cleaned up, then the adults don't see them again.
He said: "It's really hard to look in the eye of a mother or father who would plead for you — help me get my child back."
While it's always been a crime to illegally enter the US, authorities would often not refer those caught for prosecution. These people would often be granted the opportunity to claim asylum but Trump's zero tolerance policy put an end to that.
CNN reported on one case where an undocumented Honduran immigrant stood before a judge on Tuesday where he was sentenced for illegally entering the US. He'd been separated from his 8-year-old daughter after being arrested for attempting to cross the border.
Oman Rodriguez-Avila told the judge through a translator: "I would ask that you give me a short sentence because my daughter is here." He was sentenced to 15 days in jail, and his daughter remains detained.
Look inside
A number of reporters were brought inside one of the shelters in Texas where children are kept yesterday, to see what conditions are like in them.
MSNBC journalist Jacob Soboroff wrote on Twitter: "One of the first things you notice when you walk into the shelter — no joke — a mural of Trump with the quote "sometimes losing a battle you find a new way to win the war."
He noted that there were presidential murals "everywhere" in the facility.
Soboroff also said: "Moments after we walked in a shelter employee asked us to smile at hundreds of detained migrant kids in line for a meal because 'they feel like animals in a cage being looked at."
The reporter said he was told that the children only get to spend two hours outside in the fresh air a day and that while there were no cells and no cages, the children were still incarcerated there.
.@jacobsoboroff on Texas immigrant child detention center: "Effectively, these kids are incarcerated" #inners pic.twitter.com/ou7dT6hLU9

— All In w/Chris Hayes (@allinwithchris) June 14, 2018
#Open journalism No news is bad news Support The Journal

Your contributions will help us continue to deliver the stories that are important to you

Support us now
How to change it
Democrats have tried to pass legislation to end family separations, with Senator Jeff Markey remarking that "the Statue of Liberty under the Trump policy is not carrying a torch, it's carrying a pair of handcuffs".
According to Senator Dianne Feinstein, US Customs and Border Protection informed her that 658 children were taken from 638 parents during a 14-day period in May – an average of 47 children each day.
"This is not the United States that we know and we're here to try to put a stop to it," said Feinstein, the bill's chief sponsor.
Trump has blamed Democrats for passing "bad legislation" and then failing to change the border security laws but Democrats have countered that no law requires the government to separate children from their parents.
"Let's call this what it is. This is a human rights abuse that is being committed by the United States," Senator Kamala Harris said.
The bill states that a US agency may not remove a child from a parent "solely for the policy goal of deterring individuals from migrating to the United States or for the policy goal of promoting compliance with civil immigration laws."
For Trump of course, he still maintains his desire for a border wall. His demand for it was a constant campaign theme, while he has referred to some immigrants, particularly gang members, as "animals".
His other major crackdown on immigration came against the "dreamers", an Obama-era programme that granted legal protection to hundreds of thousands of immigrants who were brought in illegally as children.
A counter bill from Republicans currently being drafted would provide the money for that wall, while also preventing family separations.
As of yet, it's unclear how this legislation will prevent these separations.
And, while they wait, hundreds of children remain separated from their families.
With reporting from AFP