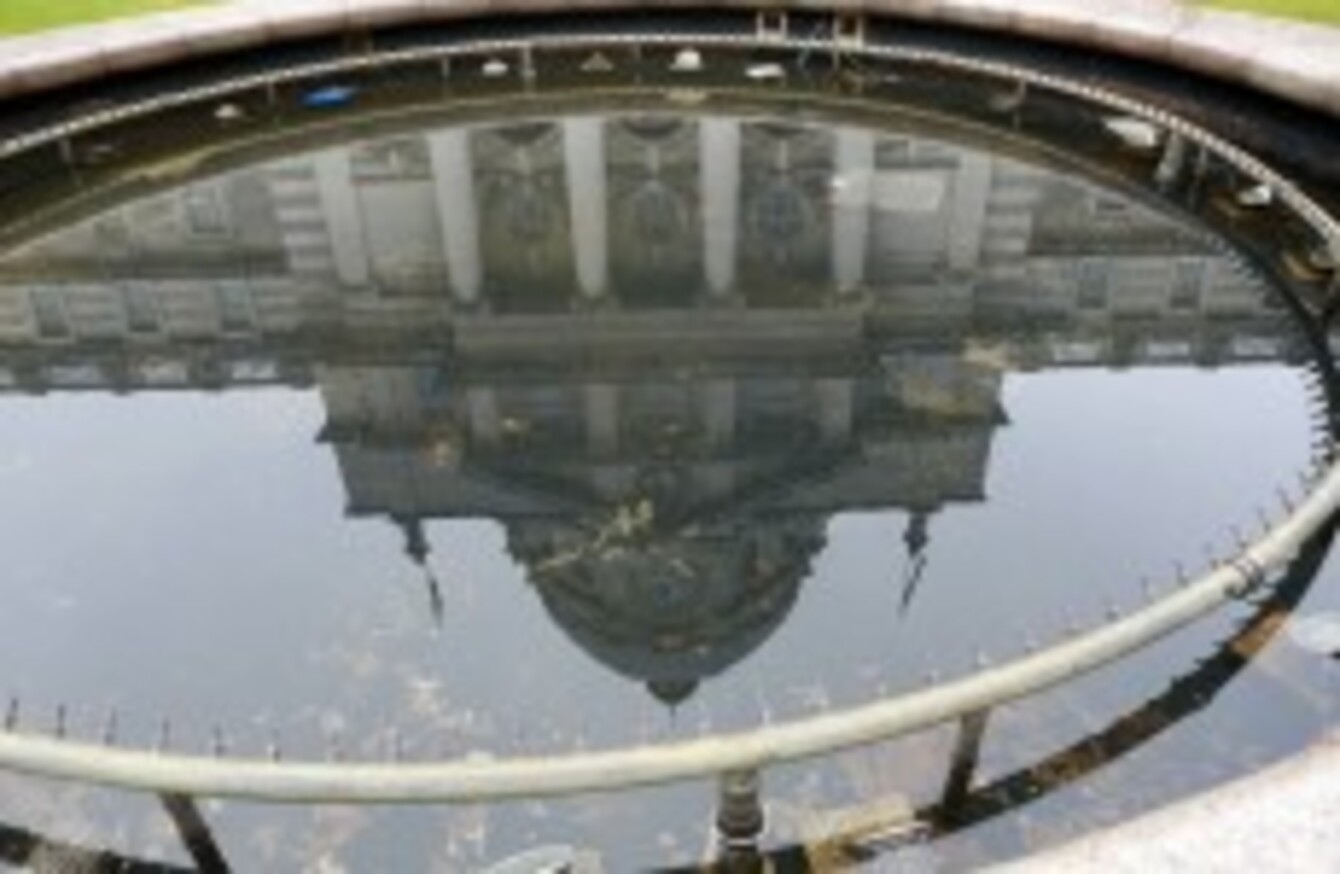 Government Buildings reflected in a fountain (File Photo)
Image: Sam Boal/Photocall Ireland
Government Buildings reflected in a fountain (File Photo)
Image: Sam Boal/Photocall Ireland
THE CONSTITUTION SHOULD be put under review every five or ten years, the Tánaiste has suggested at the MacGill Summer School this morning.
Joan Burton was speaking as the 34th annual summer school got under way in the Donegal village of Glenties with a session on how to restore trust in and credibility to our institutions.
Burton said that Constitutional Conventuon should become "a regular feature of our public life" and said number of referendums will be held next year on the recommendations of the last convention including on same-sex marriage, lowering the voting age and lowering the age of presidential candidates.
Burton said that the "sustained and deep-rooted reform" of Ireland's institutions is under way, citing whisteblower legislation, garda reforms, a ban on corporate donations, the FOI bill and X case legislation.
She acknowledged that faith in Irish institutions had taken "a battering" since the onset of the financial crisis.
She said there is a cynicism around politics and public life.
Burton said that restoring this trust would be a "slow and deliberate task" that would require the participation of the people.
"We must show by evidence that faith is warranted again. Faith is also built through participation. People believe in democracy because they have a say in it," she said.
She said that resorting citizens' trust "must involve our institutions not just working for the people, but working with the people, to achieve it". 
Repeating calamities
Management consultant Dr Eddie Molloy said that a feature of calamities in Ireland has been that they are consistently repeated.
He said that the government's national risk assessment focused too much on external factors when the problems are internal. He called for the civil service to be reconstituted as a 'fifth estate' – completely separated from politics.
Molloy cited the garda corruption scandal in Donegal in the early part of the last decade, the economic boom and boost and repeated failures in the HSE as evidence of the State not learning from its mistakes.
"Here we are we seem fated to repeating these things and unable to come to grips with them," he said.
Molloy added that Irish institutions "lack the capacity to learn" and as a result "we are fated to repeat a lot of these mistakes".
'Broken promises'
Public affairs consultant Gerard Howlin criticised the lack of political reform, saying: "The broken promise that matters most is a promise not fulfilled of a democratic revolution."
He criticised politicians being overly focused on getting re-elected but not exercising their power. He that single seat constituencies would reduce pressures that lead to "short-term and wrong decision making" but lamented that this will not happen.
Earlier, professor John Fitzgerald from the ESRI called for public servants to be more specialist and to produce more working papers.
He joked: "A world run by economists is a sad place – but a world run without economists is likely to go broke."
TheJournal.ie will be bringing you rolling coverage from the Glenties all this week and you can follow @oconnellhugh for updates.