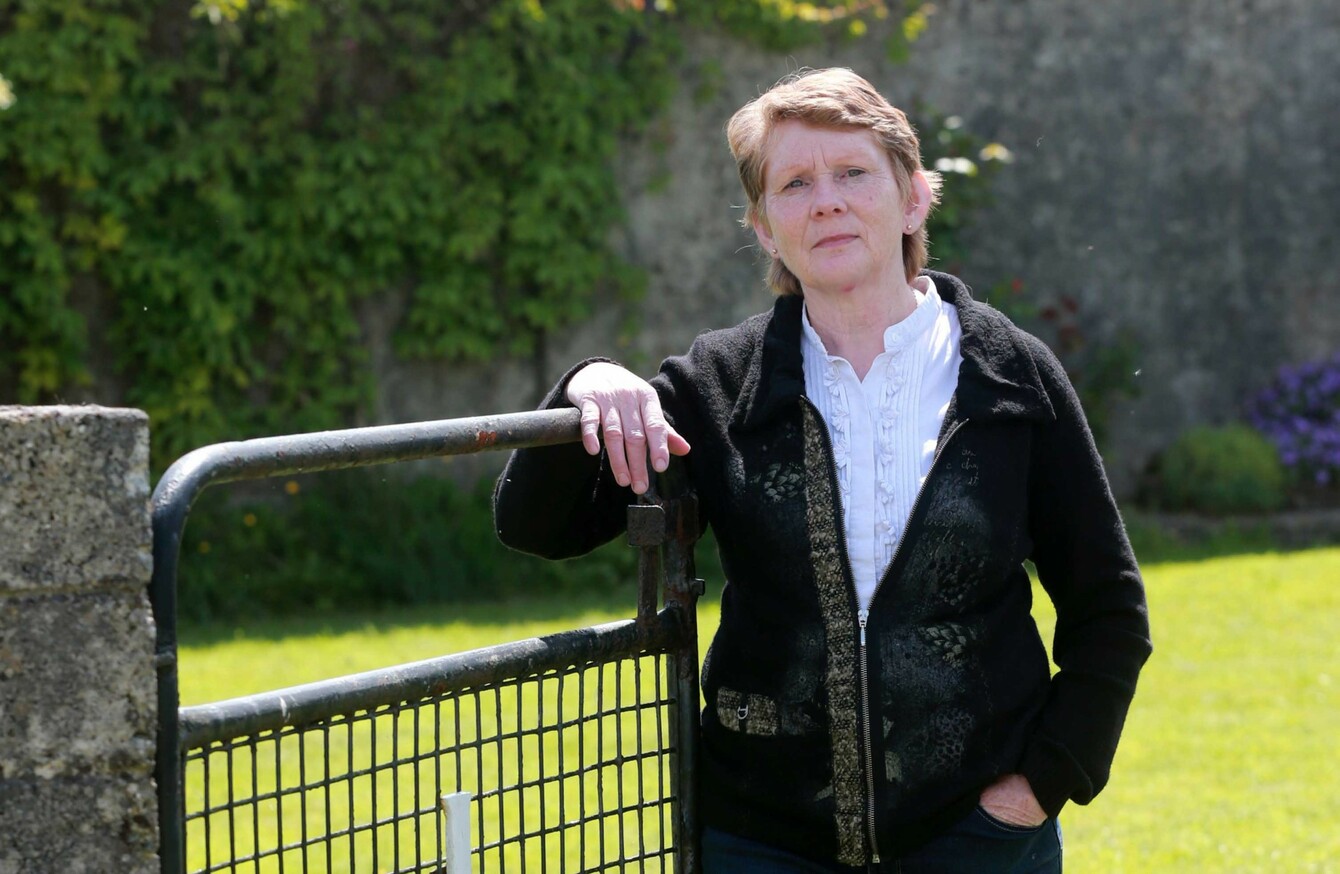 Catherine Corless at the site where remains were found.
Image: RollingNews.ie
Catherine Corless at the site where remains were found.
Image: RollingNews.ie
SURVIVORS OF THE Tuam mother and baby home, and people linked to the Tuam remains, are to meet with members of the Dáil in June.
The meeting follows this week's announcement that Minister for Children and Youth Affairs Katherine Zappone is to seek expert advice from abroad on the possible exhumation and identification of the remains.
Catherine Corless, the historian whose research led to the discovery of the human remains in sewage chambers at the Tuam site, told TheJournal.ie that she is happy with how things are progressing.
But she said that the fact a new Taoiseach is due to be appointed makes her feel "a little bit uneasy".
"They can't drop this now no matter who gets in," she said.
I know there's a lot of international pressure and lot of international groups ringing me and wondering what's happening.
In advance of the 1 June meeting, Corless said they "are just all waiting and hoping" that what they have requested will come to pass.
"They are saying something urgent has to be done with the Tuam site – it just can't be left as it is," said Corless of those affected. "[Minister Zappone] wants urgent action."
Acknowledgement and apology
Ministers Zappone and Simon Coveney had travelled to Tuam to meet with survivors of the home in March, as requested by Corless. "They spoke for nearly three hours," said Corless. "She took nearly everything on board, what they were looking for."
"The main thing they wanted was an acknowledgement and an apology. As regards Tuam graveyard they wanted to know how many bodies they did actually find, and what's going to be done – are they going to be left in the sewage area? Or are they going to be taken out, and if it is possible to take them out, is it possible to ID the remains."
The survivors also want to know if a DNA database could be set up, so that "they might be able to find their own brother or sister".
Minister Zappone put the requests to Cabinet on Tuesday of this week.
"It seems none of the ministers disagreed with her," said Corless.
Among the family members' concerns are the state of the remains in Tuam, and how possible it is to identify them.
"If they are not all there I have said it: there needs to be further excavations," said Corless.
"There is no point in just identifying half of the children. There are 796 missing. Are those adopted illegally; are they in other chambers underground? They need to be accounted for. There are coffin burials, I know that from my research there are coffin burials under a playground put in in the 80s."
Making up for the tragedy
Corless has given the Commission of Inquiry into the Tuam babies case the maps of where the other chambers and cesspits on the site are. "I would be able to tell them more-or-less exactly where to dig," said Corless.
She has also suggested that the Bon Secours sisters, who ran the Tuam home, should use some of their money to fund a DNA bank and the exhumation. She said this would be a "wonderful gesture" and could "maybe make up for the tragedy that went on in the 30s, 40s, and 50s in Tuam."
"We know they are a multimillionaire company with the hospitals they have, and wouldn't it be a wonderful gesture as a statement of apology," she said.
Corless said that she and the survivors have not had any contact with the Bon Secours sisters, despite her trying for the past number of years.
"I believed from the start they have the answers," she said.
'I've never come across any hostility'
When Minister Zappone announced the discovery of human remains at the Tuam site, Corless told TheJournal.ie at the time that it felt like a vindication for her. Speaking this week, she said she was touched by the response she has received since from the local community.
"I really expected an uproar from the community on the Dublin Road housing estate [where the remains were found]," she said. But instead, the locals held an evening of remembrance for the babies buried there – and they presented Corless with a bunch of flowers at the event.
They also told her that "they never realised the playground was on top of other children and they were horrified by that. It was a lovely peaceful evening."
She said the response has been "the most wonderful turn around, really and truly. I've never come across any hostility from anybody."
Right now, Corless is researching for the 'home babies', or those who lived at the home and survived.
"There are so many of them around," she said. "And still more approaching me. It is just unreal, all those people have been in our vicinity for so many years and it's only now you realise this is very alive, very much in the present."
She has been contacted by people from the USA and England, as well as Ireland, looking for information on their families.
Sealed and secured
A statement from Zappone's department this week said that the Tuam site "remains sealed and secured as it was at the time of the Commission's announcement of the discovery of human remains".
The Commission had removed a small sample of remains as part of its excavations to assist in confirming the nature of the discovery.
Her department said she is working with her Cabinet colleagues "to ensure decisions are taken on the future of the site as quickly, as effectively and as sensitively as possible".
The Government wholeheartedly supports the steps being taken by Minister Zappone to secure expert technical advice both national and international so that decisions on the approach to be adopted are informed by international best practices in this highly specialised area.
The questions to be addressed include whether excavations should proceed and if identification of remains is possible.
Minister Zappone announced the publishing of the second interim report of the Commission of Investigation into Mother and Baby Homes this week.
It did not make findings that abuse occurred in mother and baby homes, but noted that its investigations are not yet complete.
She said that since the Commission announced the discovery of human remains at the Tuam location, she has "been working with Government colleagues to establish an inclusive process of engagement with former residents, their families and other stakeholders with a view to building a consensus on how the sensitive issues which arise can be addressed".
It is essential that this process respects the memory and dignity of the deceased children who lived their short lives in this home. Galway County Council is the owner of the site and it will have a central role in progressing matters. I also understand that the Council has been liaising directly with the Commission and has written to the Coroner around these matters.
"I am anxious that decisions on the future of the site in Tuam are progressed as a matter of urgency and I hope to revert to Government very shortly with proposals," said Zappone.