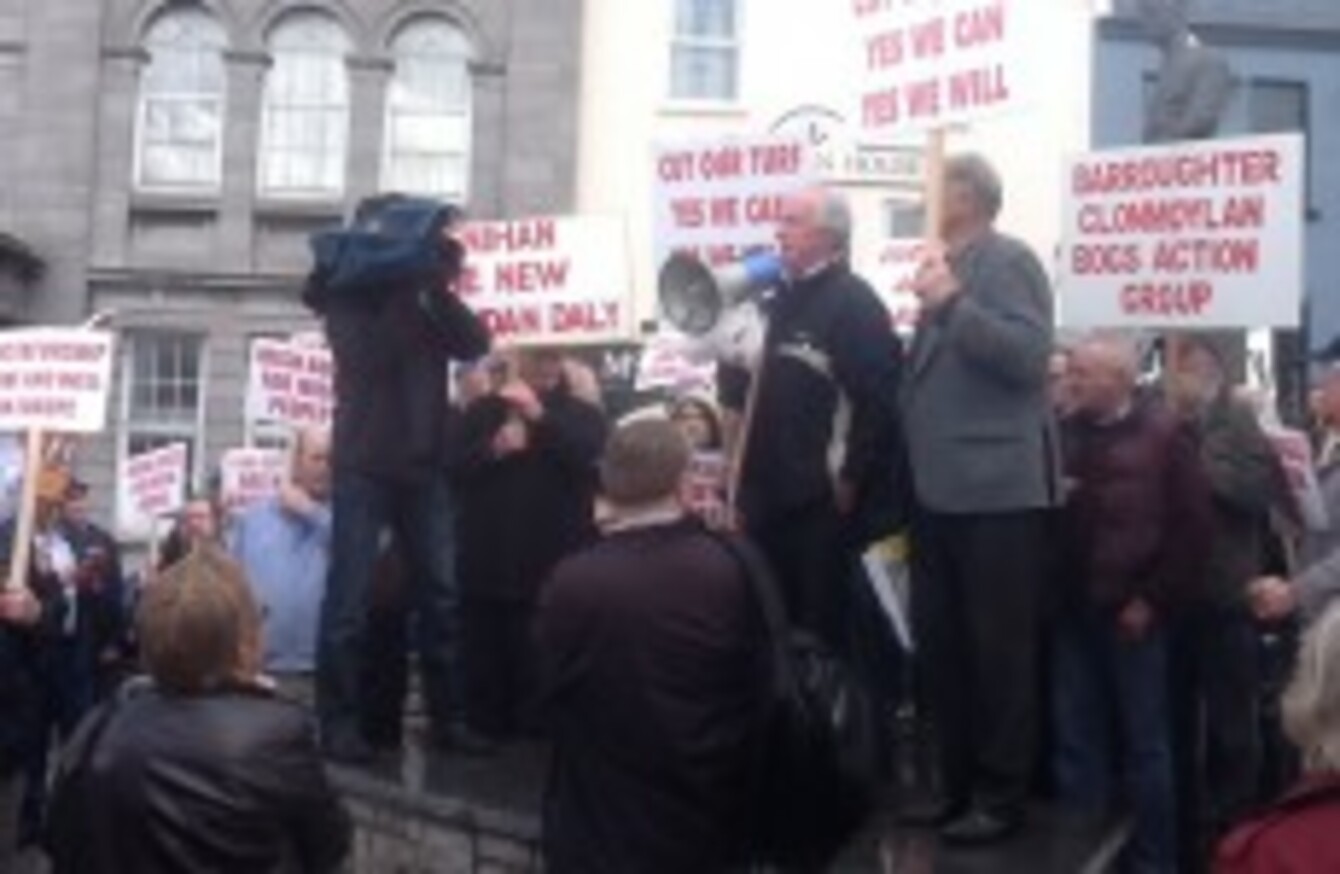 Image: Luke 'Ming' Flanagan
Image: Luke 'Ming' Flanagan
A GROUP REPRESENTING turf cutters has criticised the government over the wording in compensation documents sent out to those seeking a relocation bog.
A frequently asked questions document sent out with agreements, and seen by TheJournal.ie, says that the agreement will be in place for six years from January 2011 and should relocation not be finalised at the time, turf cutters may be requested to move to another scheme and "sign a final legal agreement at that time".
Some 2,668 people have applied for the compensation scheme to date with 1,888 opting for the financial compensation deal of €1,500 a year for 15 years as well as a once off sign-up payment of €500.
However 780 applicats are seeking relocation and the Department of Arts, Heritage and the Gaeltacht said they are being asked to sign this 'interim agreement' in order to trigger the €500 sign-up payment and ensure they receive either €1,500 or the delivery of 15 tonnes of turf a year until a suitable replacement bog is found for them.
However the Turf Cutters and Contractors Association (TCCA) said there is now a fear that if the government has not arranged for a relocation bog by 2017 or 2018, they may decide that people will have to accept the €1,500 monetary compensation deal instead.
"It is a fact that successive governments have not managed to solve a single one of the 53 so called SAC [Special Areas of Conservation] sites in 16 years," the association said. "The idea that they would be capable of getting their act together between now and 2018 is barely credible."
Speaking to TheJournal.ie about the agreement, TD Luke 'Ming' Flanagan said it "has annoyed a lot of people".
"I've had a huge amount of phonecalls to my office about it and the general feeling people have is that they made the mistake of trusting the government and now they're just going to go back to cutting their turf," he said.
Today a group of turf cutters staged a protest outside Galway Circuit Court in support of two men charged in relation to alleged illegal turf cutting on a bog in Kerry last year.
(Image: Luke 'Ming' Flanagan)
In a statement, the department said that "intensive work is ongoing" and that it is not possible to give a firm date for the agreement of each relocation site.
If it is not possible to find a suitable relocation site – for example, for reasons of quality or quantity of turf, planning, Environmental Impact Assessment requirements, or purchase or lease of sites issues – then the Department will consult with turf cutters as to the best option to take at that time.
The department said that of the total number of raised bog SACs, arrangements have been made or are at an advanced stage for turf cutters from four bogs to transfer to relocation bogs where they can continue to cut turf legally. Of the remaining 49 raised bog SACs, potential relocation sites have been identified for 32 bogs and these sites are now being assessed for their suitability.
The TCCA said in the coming weeks it will be organising a series of localised meetings to inform those affected.