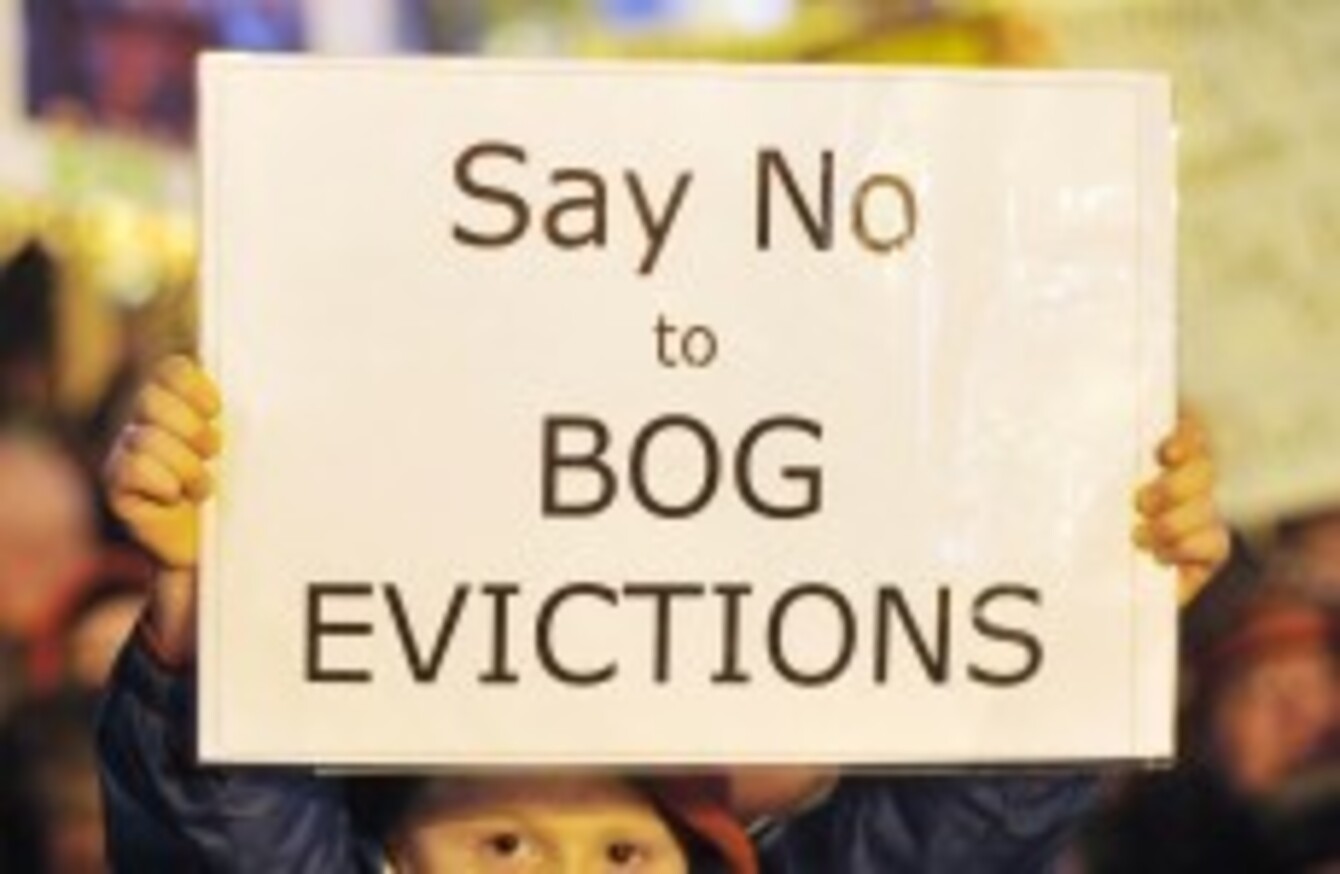 A boy amongst protesters outside the Dáil yesterday
Image: Laura Hutton / Photocall Ireland
A boy amongst protesters outside the Dáil yesterday
Image: Laura Hutton / Photocall Ireland
IRISH TURF CUTTERS have welcomed a Dáil motion supporting them, which was approved by government yesterday.
They also welcomed the news that they will be offered more compensation for the closure of bogs – €2,000 in compensation this year followed by €1,500 per year for the next 14 years.
The moves to ban turf cutting came under EU conservation regulations, which were a result of impending financial penalties from the European Commission.
Thousands of protesters against the closure of bogs met outside Leinster House yesterday as the motion was tabled.
The government withdrew its amendment to Roscommon-South Leitrim TD Luke 'Ming' Flanagan's motion which was in support of turf cutters.
Michael Fitzmaurice of the Irish Turf Cutters and Contractors Association told TheJournal.ie that "it's a first step in trying to right a problem that has been here for 15 years".
The turf cutters and the government can now go, or Ireland as unit can go forward, to Europe to try once and for all to sort it out that hasn't been sorted by previous governments. Any day that you get the Government to not oppose you in a private members' motion, it's unusual – so you're better going to Europe with the support or with everyone working together.
He said the turf cutters have had "14 or 15 years of previous governments kicking the can down the road and it's in nobody's interest not to sort this out. It's in nobody's interest that you would have conflict. Maybe for the first time ever there's people working together, [and it] will sort the whole shambles."
The government will be going to Europe with a national plan, said Fitzmaurice, adding that it is "important that you achieve your conservation – no one has a problem with that". But he said that they wanted for any person that wants to be able to cut turf that that facilty is made available to them.
He also welcomed the new compensation, saying that "if they get a few more pounds it's prob better for them".
We're not driven by the compensation – by our very name we stand for turf cutting. Anybody and everybody, it's their private property and they are entitled to do what they want with it.
Fitzmaurice said that he estimated there were around 4,000 people at one point outside Leinster House yesterday, adding that 69 buses with 52 passengers each drove up to Dublin, as well as another 900 individuals in cars.
This isn't about winners or losers – this is about Ireland as a nation working to achieve something that hasn't been achieved and being able to go to the EU and show them instead of getting bad criticism from different things in EU, for once in our life showing them we are working together.