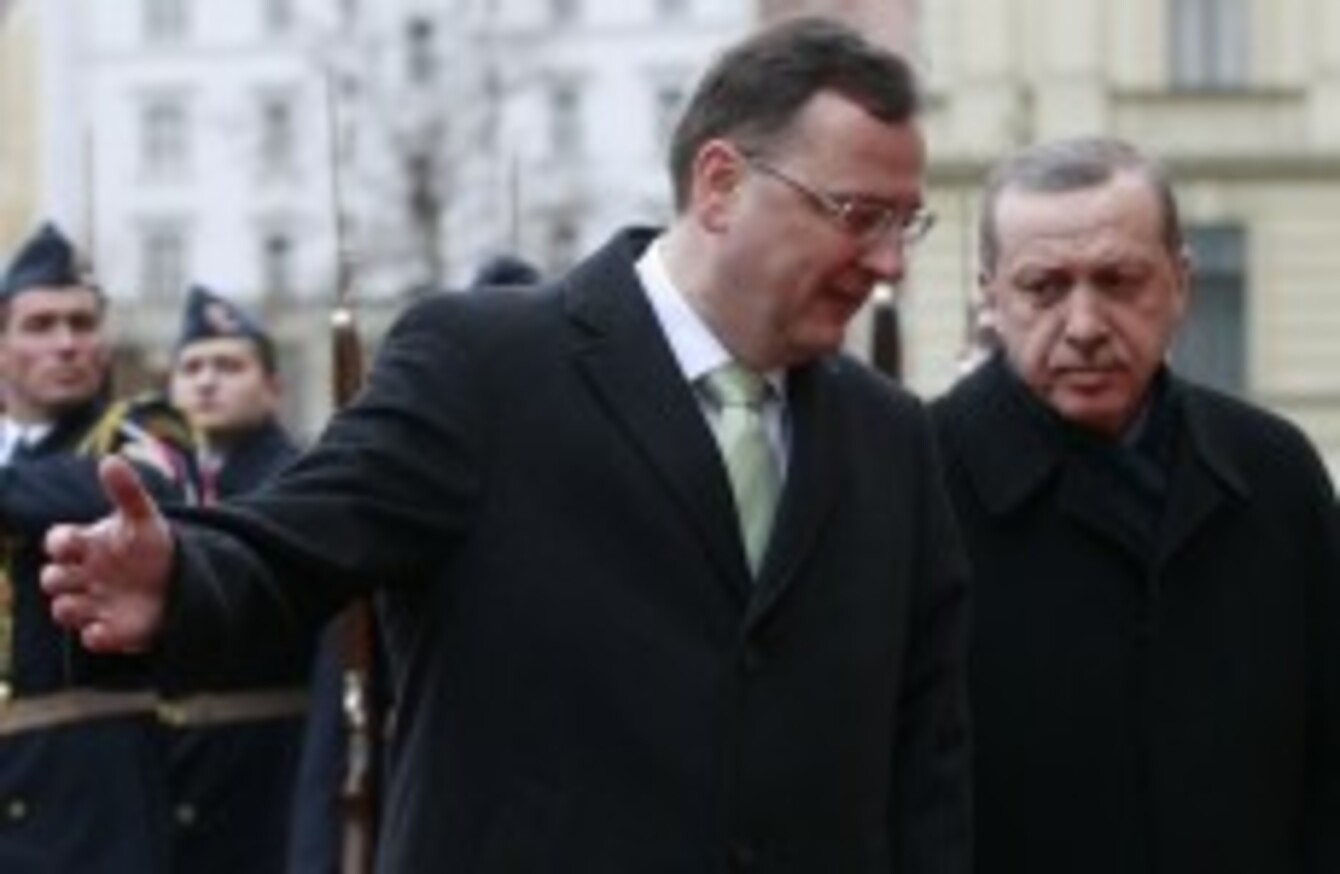 Czech PM Petr Necas (left) welcomes Turkish leader Recep Tayyip Erdogan in Prague earlier today
Image: AP Photo/Petr David Josek
Czech PM Petr Necas (left) welcomes Turkish leader Recep Tayyip Erdogan in Prague earlier today
Image: AP Photo/Petr David Josek
TURKISH PRIME MINISTER Recep Tayyip Erdogan has slammed the European Union for "unforgivable" delays lasting over half a century in Turkey's path to possible EU membership.
"We have been standing before (the EU's) gate since 1959. The official accession talks started in 1963. Such delays are unforgivable," he said after meeting his Czech counterpart, Petr Necas, in Prague.
"We are aware that we still have a lot to do, but I think many European countries do not meet the criteria that Turkey meets," he told reporters following talks that focused largely on bilateral ties.
"We want Europe to realise that five million Turkish citizens already live on the EU's territory, and they are part of Europe. I'm saying let's not delay it, let's finish it," said Erdogan, whose country of 74 million has been criticised by Brussels for its row with Cyprus and on human rights.
Necas, whose ex-communist country of 10.5 million joined the EU in 2004, backed Turkey's bid. EU powerhouses France and Germany have remained sceptical.
"We are staunch advocates of the EU's openness, of further enlargement, of Turkey joining the EU after completing all talks. We have always regretted the stagnation of these talks," said Necas, who heads a largely eurosceptic right-wing party.
Erdogan was due to meet with Slovakia's left-wing Prime Minister Robert Fico during a visit to Bratislava on Tuesday and Wednesday focused on bilateral ties.