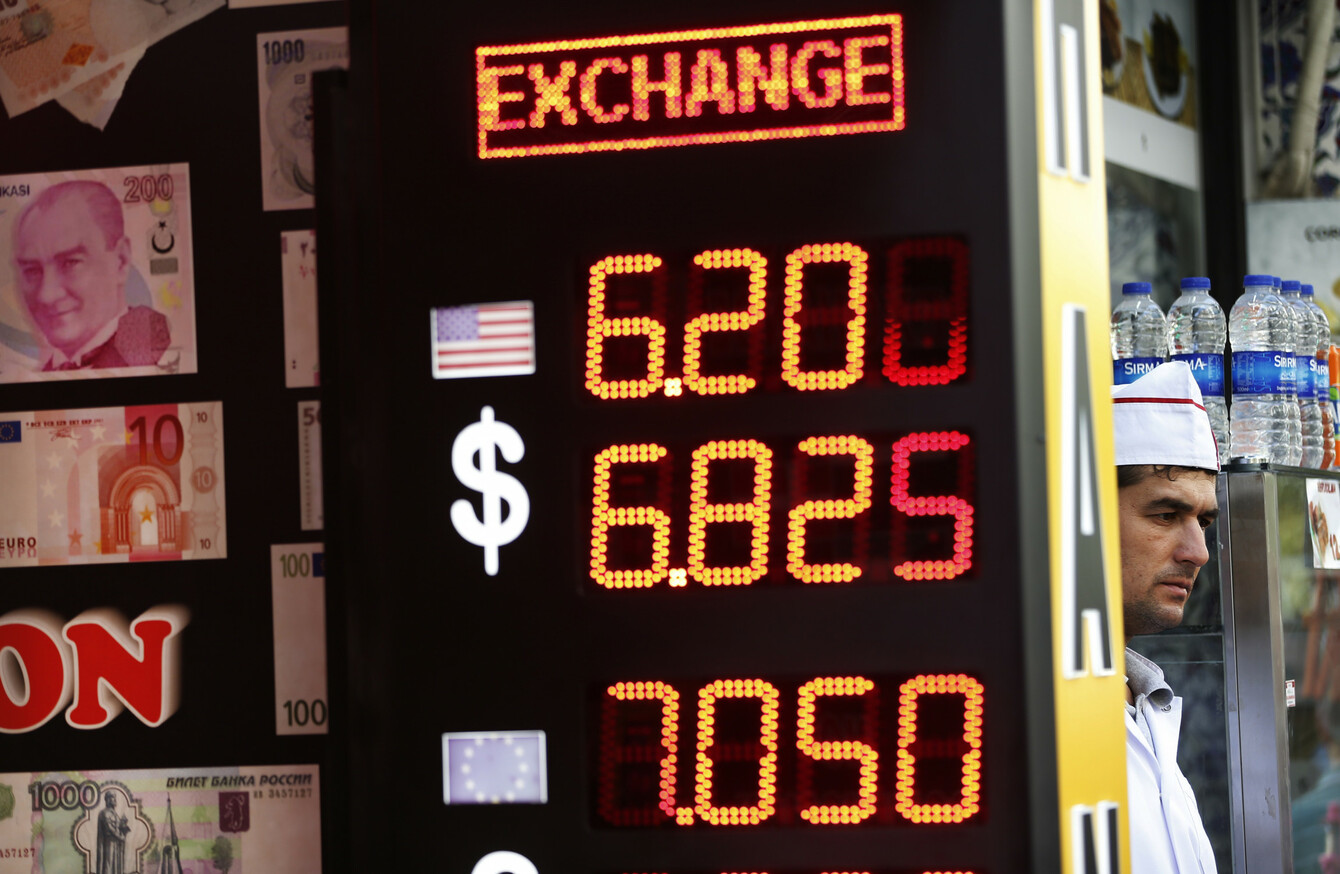 Image: Lefteris Pitarakis
Image: Lefteris Pitarakis
TURKEY'S CENTRAL BANK is today scrambling to calm markets which have been spooked by the precipitous plunge in its currency, the lira.
The fall has seen the embattled Turkish lira tumbled some 16% against the dollar on Friday as US President Donald Trump said he had doubled tariffs on steel and aluminium from Turkey.
As the lira plunged another 7% in value, investors fretted over potential economic contagion from Turkey, particularly to European banks.
Turkey and the United States, two NATO allies, have been locked in bitter disputes over a string of issues from a pastor's detention on terror charges to the war in Syria.
The dispute has severely hit the Turkish currency which has been in the free fall since Friday.
The country's President Recep Tayyip Erdogan accused America of "stabbing Turkey in the back".
"You act on one side as a strategic partner but on the other you fire bullets into the foot of your strategic partner," Erdogan told a conference in the capital Ankara.
"We are together in NATO and then you seek to stab your strategic partner in the back. Can such a thing be accepted?" Erdogan asked.
After Erdogan's speech, the lira was trading back at 6.9 to the dollar.
In its first statement since what was dubbed "Black Friday" in Turkey, the central bank said it was ready to take "all necessary measures" to ensure financial stability, promising to provide banks with "all the liquidity" they need.
The bank also revised reserve requirement ratios for banks, in a move also aimed at staving off any liquidity issues.
But to the dismay of markets, the statement gave no clear promise of rate hikes, which is what most economists and analysts say is needed to ease the crisis.
Control
However, Erdogan's influence over his central bank is another cause of concern for both investors and European leaders. The central bank has over the last few weeks defied calls from markets for rate hikes to combat these problems, raising fears of interference from Erdogan who has repeatedly called for low interest rates.
German Chancellor Angela Merkel weighed into the crisis, calling for an independent Turkish central bank.
Erdogan also blasted what he called "economic terror" on social media, vowing that the judiciary had taken necessary measures to punish so-called speculators.
The interior ministry launched an investigation into 346 social media accounts on grounds of "provocative sharings", the state-run Anadolu news agency reported.
Agathe Demarais, lead Turkey analyst at the Economist Intelligence Unit, told AFP that "with an overheated and indebted economy, Turkey will require credibly orthodox economic policies, fiscal discipline and central bank independence to reverse the current situation."
"A normalisation of relations with the US could also reduce the amount of legwork that the central bank will have to do to control the economic situation, but this is unlikely to happen at the moment," she said.