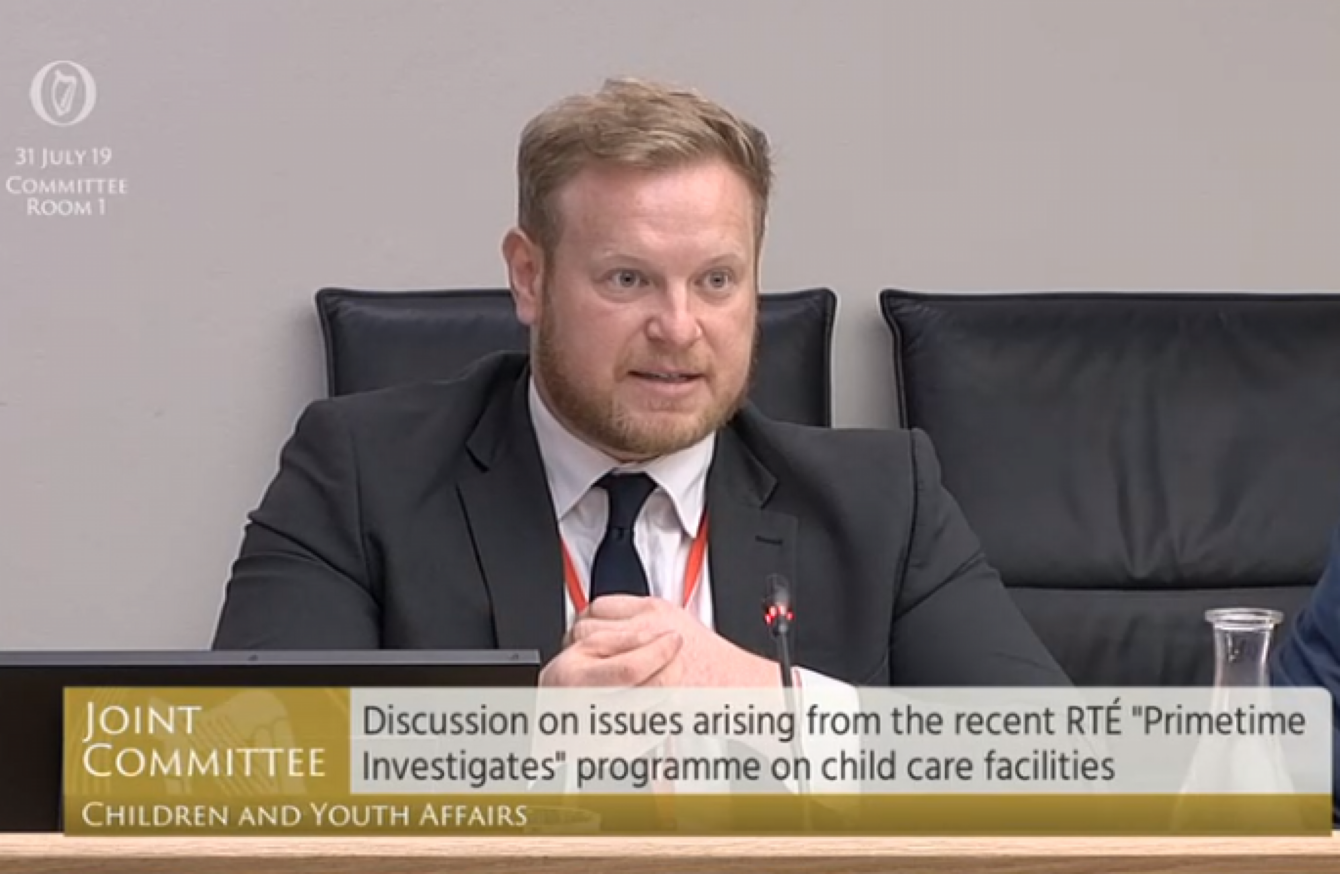 Tusla's Brian Lee appears before the Oireachtas Committee on Children and Youth Affairs this morning
Image: Houses of the Oireachtas
Tusla's Brian Lee appears before the Oireachtas Committee on Children and Youth Affairs this morning
Image: Houses of the Oireachtas
TUSLA HAS TOLD an Oireachtas Committee that it cannot give a "cast-iron guarantee" that similar issues to those seen a Dublin creche during an RTÉ documentary last week will never happen again.
The agency also said that limitations to its inspection regime mean that such issues are unlikely to arise when its inspectors visit childcare facilities to assess their compliance with regulations.
Officials from the agency appeared before a hearing of the Joint Oireachtas Committee on Children and Youth Affairs this morning to answer questions which have arisen since the broadcast of last week's RTÉ documentary.
Footage broadcast during the documentary showed a number of issues at the Hyde and Seek creche chain, which has four branches in Dublin, including concerns about fire safety, child protection and the garda vetting of staff.
Although the government is currently in summer recess, an emergency hearing of the committee was called due to the seriousness of the issues raised.
During the four-hour hearing, Tusla called for greater powers to regulate the sector more efficiently, including:
The ability to immediately close creches which have not been registered with the agency;
The ability to immediately close creches where there is evidence of child protection issues;
The introduction of a legal instrument to let parents know if problems have arisen at a creche where their child is receiving childcare;
The possibility of mandatory CCTV in registered childcare facilities.
In his opening statement, Tusla's interim chief executive Pat Smyth told the committee that practices observed during RTÉ's footage last were "shocking, unacceptable, and worrying".
Smyth acknowledged that Tusla had a primary responsibility to promote the safety and well-being of children, and that the agency immediately responds whenever it has reasonable cause for concern that there is serious risk to a child.
But he also said that the agency could not regulate for the behaviour of individuals, such as those seen during the RTÉ documentary, as part of its inspection regime.
He said:
The behaviours displayed are unlikely to be evident during an inspection and we rely on good professional practice and appropriate mandatory reporting under Children First, or through Tusla's unsolicited information office for the notification of child protection concerns.
He added that the practices and behaviours seen in the RTÉ documentary were an exception, and that the majority of registered creches are compliant with Tusla regulations. 
No guarantee
Meanwhile, Tusla's Director of Quality Assurance, Brian Lee told the committee that there were "limitations" to the agency's inspection regime because it only provided snapshots of quality in a service.
"It's for the staff and the service provider to provide the best service when an inspection of a service isn't there," he said, before adding that Tusla sought to drive improvement in the sector.
"In any type of sector like this, you can never give a cast-iron guarantee that something like that would never happen again.
"But by having a robust inspection model, by people complying with Children First [regulations] and various other initiatives… it reduces the likelihood of anything like that happening significantly."
Responding to questions from Fine Gael senator Catherine Noone later Lee said that rough handling of children had never been observed during a Tusla inspection.
However, he said that he "fully supported" the introduction of mandatory CCTV in childcare facilities to monitor staff and children.
RTÉ footage
Lee also explained the limited powers that Tusla has when it comes to dealing with creches where issues arise or those which do not register with the agency, as well as its ability to inform parents about such facilities.
He pointed out that if a creche is unregistered, Tusla can only ask it to desist from operating before issuing legal proceedings if it continues to provide a childcare service.
He also said that parents can only be informed about potential issues affecting their child if that child has been specifically identified as being at risk.
#Open journalism No news is bad news Support The Journal

Your contributions will help us continue to deliver the stories that are important to you

Support us now
And he said that if a creche is under investigation for a breach of regulations, it is legally difficult to inform parents because Tusla may be interfering with due process if it does so.
Asked whether the agency was able to act on information provided to it by RTÉ arising from its documentary, he claimed that Tusla had only been given footage of issues at Hyde and Seek following the broadcast last week.
"We got a very, very poor and incomplete child protection report on 17 July… that was less than two weeks ago," Lee said.
The RTÉ Investigates programme… started to identify concerns in those services since April. So it took two-and-a-half months for those to be brought to our attention.
We can't act unless information is brought to our attention.
He added that the broadcaster eventually provided Tusla with footage it had obtained from Hyde and Seek a day after the documentary aired, and confirmed that Tusla was now reviewing this to see if it showed any child protection issues.
Support for parents
Lee also outlined the powers that Tusla could be given in order for the agency to be better equipped to deal with issues such as those which arose at Hyde and Seek.
He recommended that the agency should be given powers to immediately close unregistered services and those where there is a "grave concern" for the health and safety of children, while he also called for a legal instrument to be drafted so Tusla can inform parents when issues arise at a creche without interfering in a legal process.
"If we could get those quickly through the legislative system, that would be of huge benefit to children and families," he said.
Sinn Féin TD Kathleen Funchion added that while it was important to legislate for such powers, it was just as important for representatives to provide support to parents who would potentially be affected by such closures.
"It's all well and good to say we have to close that, where there situations that children are at risk, but there also needs to be emergency supports there for parents," she said.