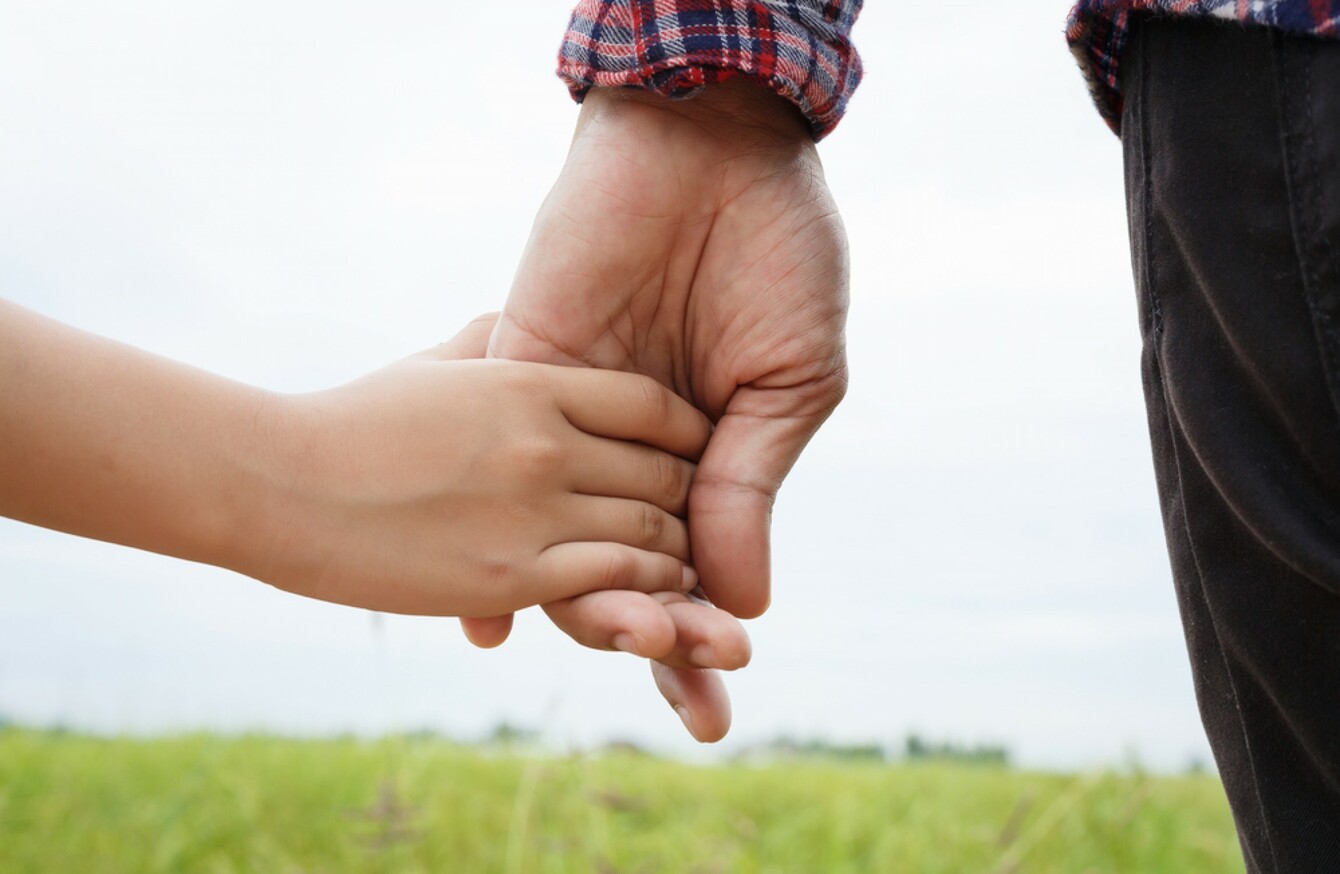 Image: Shutterstock/WEERACHAT
Image: Shutterstock/WEERACHAT
"EVERYONE IS WORKING in the best interests of the child… Sometimes it's important to remember that."
According to the latest figures, there are just under 6,000 children living with foster families in Ireland.
Foster families do a difficult, and extraordinary, job and yet national policies mean that not all areas of the country have a level playing field, according to a group representing the carers.
The State spends over €100 million each year on foster care, with a number of for-profit companies operating alongside the government-run agencies in providing care.
The Minister for Children, Katherine Zappone, this month acknowledged that the "recruitment environment" in the area is "very challenging".
So who is looking after fostered children in Ireland, and why is foster care for 1 in 10 children provided by an outside agency rather than the State?
The numbers
Each week, the basic allowance paid to foster families is €325 for children under 12 and €352 per week over 12, per child. This payment is designed to cover food, clothing, basic travel, household bills, education costs and everyday living.
Previously, foster carers were required to submit receipts for monies spent on children in their care and were subsequently reimbursed. This proved costly to administrate so an allowance is now provided instead.
In practice it means that, each week, the State spends over €2 million a week to provide for children in foster homes.
Tusla is the agency with statutory responsibility for providing for care for vulnerable children. When a court decides that a child should be taken into care, it is Tusla's responsibility to provide arrangements for the safety and wellbeing of the child.
This normally involves placing the child with a foster family. This can take the form of residing with a family member, but most often it is done through a foster family.
Tusla usually arranges this in-house but the agency often outsources this to private foster providers.
It costs more to do it this way but Tusla's use of external agencies is on the rise.
In its Business Plan 2017, Tusla said: "The increase demand on the use of private care placements observed in 2015 continued into 2016 and while recent figures demonstrate the start of a possible downward trend it is too early to predict if this will be sustained."
At the end of September 2016 there were 517 children in a private placement; 62 more than there were in January 2015.
The expected continuation of this use of private services led to Tusla setting aside more funding to facilitate this in its plan: "Continued high levels of private residential and private foster care placements in 2017 would be expected to cost a net additional €2.64 million (€3.64 million additional over 2016 cost less €1 million planned savings)."
There are not yet full financial figures for Tusla from 2016. In the whole of 2015, fostering through Tusla cost the State €100 million. Through private companies, it cost €18.35 million.
However, of the 5,905 children in foster care at the end of September 2016, only 517 were in care provided by a private agency. This is even lower on the latest figures for February, with 389 children in private foster care.
So if €100 million was spent on direct fostering services and €18 million on private services, without numbers fluctuating too much over the course of the year, it appears that for every €1 spent on fostering by Tusla to provide foster care through its own channels, it also spends approximately between €1.80 and €1.90 on private foster carers.
Helping hand
Making the decision to pick up the phone and say you want to become a foster carer is only the first step on a long road to becoming one.
After an enquiry is made, a home visit, an application form, various references and checks and assessment process must all be navigated before becoming a foster carer.
Irish Foster Care Association CEO Catherine Bond explained that once someone passes through this series of vetting and tests, they would usually be assigned a link worker to provide assistance should it be required.
The role of the link worker is to provide supervision and support for the foster carer and the children on a regular basis.
However, as Minister Zappone recently told the Dáil, only 82% of foster carers had this link worker.
"Tusla has been recruiting heavily, but social workers often have high caseloads," Bond said.
Through the IFCA, a range of supports are provided on a voluntary basis for foster carers across the country.
"We support learning and development," she said. "Our helpline is an integral part of what we do. From Monday to Friday, carers can ring up and discuss what problems they're facing in complete confidentiality."
Children who require foster care often have complex needs, and it's vital that foster carers have access to continuing support, according to Bond.
The helpline is run by trained volunteers, and some of the more frequent problems they hear from carers is seeking supports that children need, such as speech and language therapy, and even concerns allegations made against them.
"That can be very distressing," she said. "We have been calling on Tusla to have a national policy on this so, if this situation occurs, there are a clear set of steps that are followed.
That's not happening now. As an organisation, we have developed an information booklet on the steps involved. If the systems were more open and transparent, things would be a lot clearer for foster carers.
Bond added that the IFCA acts as an "independent service" offering "independent information".
"Wrap-around support"
In a relatively small number of cases, Tusla outsources this care and there are a number of agencies providing private fostering services in Ireland.
The fee paid to independent agencies allows them to offer a range of services to foster carers arranged through them.
Essentially, these private agencies recruit and train foster carers and provide them with round-the-clock support.
When Tusla approaches the agency, together they arrange for the child to be placed with the carer. Tusla pays the private agency who, in turn, pay the foster carers the allowance.
Fostering First Ireland received a large portion of the €18 million spent by Tusla on private services in 2015.
It is part of a wider European company, called Core Assets Group, which it says is driven by a "social mission" despite being a for-profit agency.
On the Core Assets Group website, it describes its aim to "recruit local foster carers to look after local children, who use local services and resources, keeping the economic benefit of the investment in the area".
In 2015, it received €6.3 million from Tusla to provide foster care.
According to its financial records, it recorded a profit of €580,000 that year. This was an increase of nearly €220,000 on the previous year.
Oak Lodge Fostering, a smaller agency that has been in operation since 2008, made a profit of €78,496 in 2015. According to the details of its last Hiqa report, it provided nine foster care households.
Fostering First Ireland director, Marie Faughey, told TheJournal.ie that the organisation guarantees a package of "wrap-around support" for foster carers.
"We provide an allocated social worker who will provide [newly-approved foster carers] with contact as often as they need it," she said. "They will be seen every two weeks, as well as having weekly telephone contact.
Every foster carer gets foundation training, but those who foster with us get enhanced training… they have access to therapeutic support if they need it. If a child has difficulties in a placement, then we offer the services of a therapist.
Other services include an out of hours telephone service with a social worker and manager, mentoring support from other foster carers and support to ensure children remain in education.
Tusla, on the other hand, offers regular home visits and telephone contact with social worker, support from a public health nurse if it is a pre-school child, comprehensive training and a dedicated social worker for each child.
So why does Tusla turn to these agencies?
Speaking in the Dáil recently, Minister Katherine Zappone said: "The use of private foster placements… is a necessary part of ensuring that the service is available at all times and that Tusla has access to specialised placements.
All foster care, whether recruited directly by Tusla or sourced through private sector providers, operate using the same model of care.
Faughey says that the reason varies, but is often due a particularly problem case or in instances where there is no other foster carer available in that area.
"Recruiting foster carers is particularly challenging at the moment," she said.
Private vs Public – value for money?
While Zappone says that both operate under the same model of care, the extent to which Tusla and private foster providers perform to these standards of care varies widely.
The Health and Quality Information Authority (Hiqa) has a statutory responsibility to carry out inspections on foster care providers, Tusla and the independents, to ensure they are meeting standards enshrined in legislation.
In each instance, where Hiqa identifies areas for improvement, it agrees an action plan with the agency to make the required changes.
In a recent report from Hiqa, an inspection on the work of the agency found that Fostering First met or exceeded standards in 12 measures, but required improvement across seven.
Hiqa said: "Overall Fostering First Ireland provided high quality foster carer to children and exceeded the standards in relation to the assessment and approval of foster carers, supervision and support of foster carers and education through the provision of a high quality educational support service.
"Children were sometimes placed with carers outside of their approval status and foster carers were not always given the full information about a child when they were first placed which may have impacted on the quality of matching and sustainability of placements."
A 2016 report of an inspection of Oak Lodge Fostering Services, another private provider, found that "overall, [it] provided a highly effective service led by competent directors who ensured that a high quality practice led to improvements and better outcomes for children".
Oak Lodge, while exceeding standards in a number of areas, had a number of aspects that required improvement.
Despite this, recent reports on Tusla fostering services by Hiqa compare unfavourably to inspections of the private agencies.
In late 2016, Tusla's fostering service in Donegal was inspected by Hiqa. It met or exceeded nine of 26 standards. It required improvement across 16 measures, while one serious risk was identified.
Although there were plenty of positive aspects, with "sound practice evident in a number of areas", only 60% of staff members had attended compulsory training:
They were knowledgeable about the needs of children and demonstrated pride in their progress and achievements. However, recruitment practices were not robust as there were significant gaps in staff files including garda vetting of staff.
It was a similar story for Hiqa's October/November 2016 inspection of Tusla's fostering service across Dublin south-west, Kildare and Wicklow.
Tusla met nine standards, exceeded one, required improvements in 14 and two serious risks were identified.
In a May 2016 inspection of the midlands service, Hiqa found Tusla did not meet any standards and serious risks were identified in six measures.
Hiqa said: "Overall, children's rights were respected and promoted, but 8% of children did not have an allocated social worker and there was neither a social worker nor link worker assigned in nine children's placements.
Due to a limited number of placements, matching children to foster carers was not always possible and 41 children were placed outside of the local area at the time of inspection.
Perhaps most noteworthy was the recent inspection of Tusla's foster service at Dublin South Central, where Hiqa found serious risks in relation to "long delays in the commencement and completion of relative foster carer assessments and in achieving a decision from the foster care committee".
In addition, inspectors found that regular reviews of foster carers to assess their continuing capacity to provide high quality care to the children placed with them were not occurring. It was also found that the management of the service was crisis led rather than delivered in a planned manner.
In a statement, Tusla said that it is "committed to improving the care and safeguarding of children in foster care in Dublin South Central", and outlined the agreed action plan to address the concerns.
Although private fostering costs the State more, Faughey says that the extra supports offered to foster carers really makes a difference, pointing to Hiqa reports and to the number of placement breakdowns and the rate of satisfaction among foster carers and the children involved.
Not getting left behind
Bond said that Tusla has "a really tough job to do".
She acknowledged that there could be distinct difference in the services available to private foster carers and those recruited by Tusla, and said that this wasn't acceptable.
"As a national agency, we'd be looking for standardised policies that are not only developed across the board, but implemented as well," she said.
Services you get shouldn't be determined by where you live.
It is essential that Tusla, an agency still only three years old, follows through on its plans while making sure high standards are a prerequisite rather than a goal to attain, she said.
"Consistency in approach is vitally important," Bond said. "That would make our work a lot easier. Unfortunately we can't say that at the moment. Where we can contribute, we will."
Bond says that it's important to recognise the work that foster carers do as, amidst the numbers and the figures, each of the nearly 6,000 children in foster care are their own individual person, with needs, wants and aspirations.
"Foster carers are really dedicated, inspiring people," she said. "They absolutely go the extra mile and more for the children that they foster.
They never say never where a child is concerned.
Faughey, similarly, praised the work that foster carers do:
The work they do is unbelievable. It really is. Foster carers are, at the core of it, altruistic people. They are invested in the community. They have a solid value system… Every single step is a win for them. They go the extra mile for young people. They're always there for them.
Bond added that, with cases involving social workers, foster carers, court-appointed guardians, Tusla and possibly other agencies, it was important to remember why everyone is involved in the first place.
Everyone is working in the best interests of the child. If that's the goal, then all parties need to make sure that they work together.
Tusla has faced numerous criticisms on a range of topics since its formation and, while it has outlined ambitious plans to ensure that it offers high quality care in all aspects of its work, reports show a disparity between the quality of care it provides and the care provided by more expensive private companies.
Tomorrow morning, Tusla CEO Fred McBride and Minister Katherine Zappone will be in attendance, at the launch of Tusla's new Child Protection and Welfare Strategy.
Tusla says it is part of its "on-going programme of transformation and includes a new national approach to practice, the Signs of Safety, which will ensure that all staff will engage with children and families using one consistent approach".
Children, and the foster carers that take care of them, need a range of supports to ensure that they can thrive after coming from often-difficult situations.
With the State spending millions to ensure children in need receive the care of a family, it is clear that more need to be done to ensure that no child gets left behind.