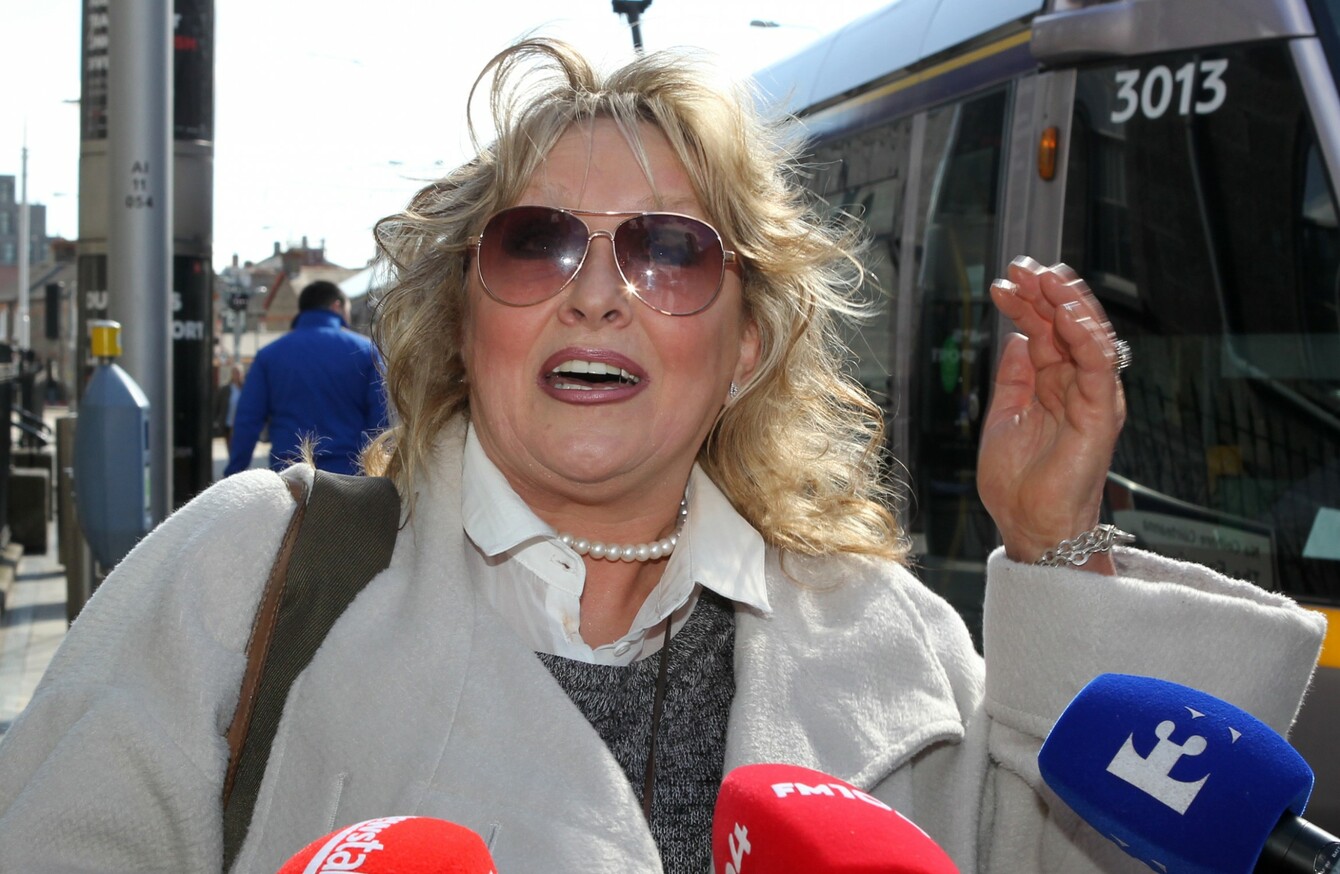 Twink speaking to the media in 2013.
Image: Sam Boal/Photocall Ireland
Twink speaking to the media in 2013.
Image: Sam Boal/Photocall Ireland
ADELE CONDRON-KING, alias Twink, has been given a last chance by a judge to save her home from repossession by a bank.
Judge Jacquelinne Linnane today adjourned possession proceedings by Start Mortgages against Twink and her estranged husband, David Agnew, in relation to their former home, Idrone House, Idrone Avenue, Knocklyon, D16.
Judge Linnane told solicitor Mark Doyle, for Twink, that the matter had been going on since 2010 and his client had made no payment on the mortgage during five years. The judge said other payments had been very small.
"This shows the matter has been ignored," the judge said.
Doyle told the court that he was not on record yet but was acting on behalf of Twink. He said there was an agreement in place with the bank and moneys had been transferred yesterday.
He told the court that Twink was now putting the house on the market and was looking for a six-month adjournment of the proceedings to allow the agreement to be implemented and the sale to progress.
Barrister Shaula Connaughton-Deeny, for the bank, said her client was opposing the application because Twink was in breach of the agreement. She said it stated that if moneys were not paid by the end of September last, the bank would seek possession of the house.
Connaughton-Deeny said the bank was owed about €250,000 including €18,000 arrears.
Following difficulties in serving Agnew with the legal proceedings Judge Linnane last year granted leave for him to be served at his place of work, the DIT Conservatory of Music and Drama, at 163 Rathmines Road, Dublin.
Connaughton-Deeny said it would seem that no solicitor intended to come on record for Mr Agnew, who did not appear in court today.
'The costs are also mounting' 
Last May, Judge Linnane had adjourned the proceedings after being told that Twink had contacted the bank's solicitors with proposals to deal with the outstanding arrears.
Today the judge said she was not granting the bank an order for possession because it would interfere with an eventual sale of the house.
The judge said Twink had to address the arrears and had to decide the seriousness of the proceedings. She said the bank had made numerous efforts to address the matter.
"The costs are also mounting and the matter is now coming to an end. I therefore am allowing Ms Condron-King one final adjournment," Judge Linnane said.
She adjourned the possession proceedings and directed Doyle, who is to come on record, to keep the bank's solicitors fully informed regarding the progress of the sale of the property, which should be "actively pursued."
- Comments have been closed for legal reasons