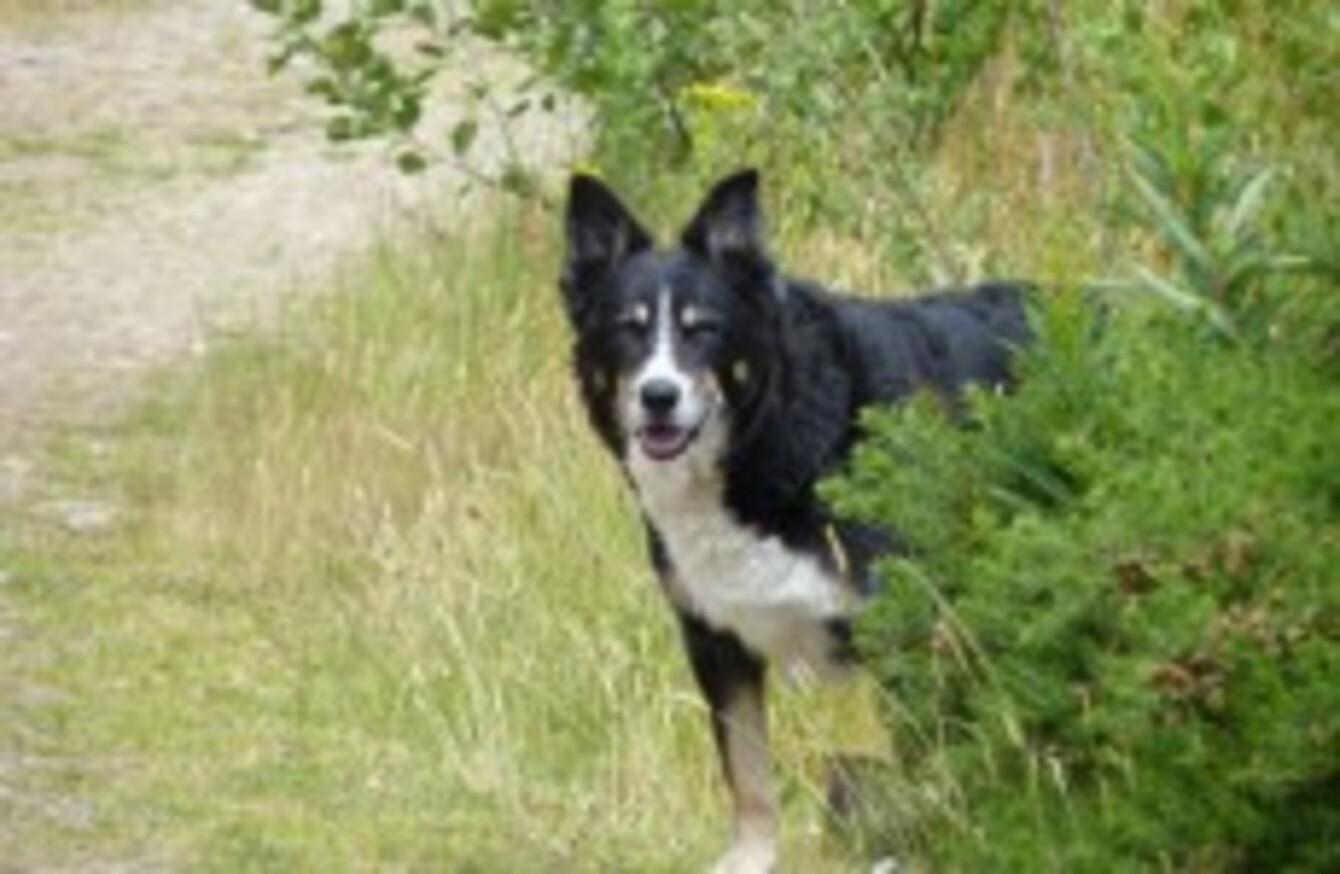 Aran
Image: Albie Roberts
Aran
Image: Albie Roberts
WHEN A LOST dog was found wandering, wet and dishevelled, in the Carrick-on-Shannon area last month, the man who found him knew what to do – bring him to the Leitrim Animal Welfare Centre.
What happened next surprised everyone, as what seemed like a run-of-the-mill lost dog case turned out to be so much more. The dog, who was called Aran, was an older black and white collie who had evidently fallen into the river but managed (despite stiff back legs) to get himself out.
Microchipped
Andrea Sharp, the manager of the centre (there are also two dog wardens on site, two other full time kennel workers and two weekend staff who work there) told TheJournal.ie that the first thing they did when he arrived was check to see if he was micro-chipped.
Normally we go through FIDO, a registration base for microchipped dogs, and normally at that point they give us a phone number, and if that rings dead then the search is no more. But in this case they gave me three numbers and one did ring out.
When the people she rang in the UK said they didn't have a dog, Sharp would normally have declared the search over. But this time was different. "I don't know what it was. I just felt like I just had to write anyway," she said. Sharp wrote a letter to the people who had answered the phone, asking for more information.
"I don't know what made me do it, but I just felt I had to," she said. It turns out new people had just recently bought the house, and they contacted their estate agent, who had a forwarding address for the old owners.
If any little chain in that link had broken, it wouldn't have resulted in them reuniting.
The dog had been found on 20 September, and as his owners Di and Albie Roberts later explained, they had been on holiday in Carrick-On-Shannon and went cruising on the River Shannon, bringing their 15-year-old collie, Aran, with them. One day they were getting aboard the boat and took their eyes off the dog for a few minutes – and he disappeared.
Despite searching for hours, and even calling a diver in to check the river, there was no sign of him. The heartbroken couple cut their holiday short and went home, devastated, without Aran.
Emotional moment
Thanks to the estate agency, Leitrim Animal Welfare Centre were able to get in touch with the Roberts, who immediately got the first ferry to Ireland, drove during the night to Leitrim, and arrived, exhausted, to collect Aran 10 days after he first went missing.
It was an emotional moment, said Sharp. "They were completely and utterly delighted".
But that wasn't the the end of the story. "I rang them after about a fortnight afterwards to see how Aran was," said Sharp. "They said, we're going to give you sad news but don't be sad – Aran passed away with liver failure." The dog had died in his owner Di's arms. But before he passed, the Roberts had rescued a companion for him, another collie, from a Dogs Trust centre in Glasgow.
#Open journalism No news is bad news Support The Journal

Your contributions will help us continue to deliver the stories that are important to you

Support us now
A twist of fate
"They hadn't told me the name of the collie, and I went off on my coffee break. Then I suddenly thought – we sent some dogs to Glasgow five weeks ago," recalled Sharp. She went on the database and discovered that they had sent only one collie, called Ellie.
Just moments later, she went to check her emails, and saw she had received one from the Roberts. They wanted her to see a photo of their new dog – a collie called Ellie. "I rang them back and said 'you are not going to believe this, but Ellie's ours, she came from us'," said an astounded Sharp.
It was such a twist of fate that then it just added to it even more. It felt even more incredible. It's really lifted everybody here.
"It's nice that his memory lives on," said Sharp of Aran. "He was such a sweetheart."