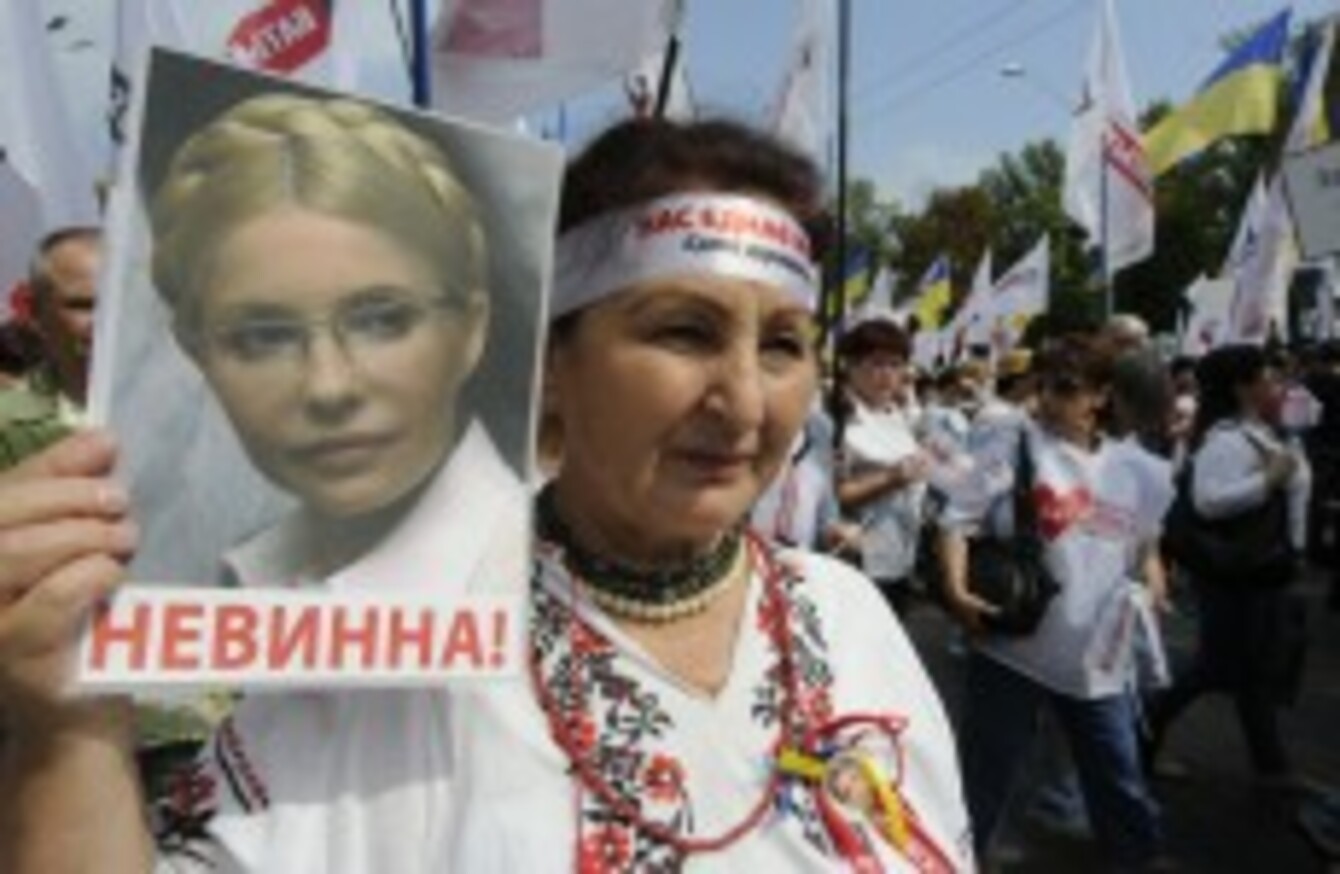 Opposition activists take part in a rally as they mark the 21th anniversary of Ukraine's independence from the Soviet Union and protest the arrest of former Prime Minister Yulia Tymoshenko in Kiev
Image: Sergei Chuzavkov/AP/Press Association Images
Opposition activists take part in a rally as they mark the 21th anniversary of Ukraine's independence from the Soviet Union and protest the arrest of former Prime Minister Yulia Tymoshenko in Kiev
Image: Sergei Chuzavkov/AP/Press Association Images
UKRAINE'S HIGH COURT will rule on Wednesday on the appeal of jailed ex-premier Yulia Tymoshenko against her seven-year jail term for abuse of power, the court said Monday.
The decision is apparently scheduled one day after Tymoshenko's controversial case is to be heard at the European Court of Human Rights on August 28.
The full text of the decision… will be announced on August 29.
Ukraine's 2007-2010 prime minister was jailed for seven years in October on controversial abuse of office charges that were brought shortly after she lost a bitter election contest again President Viktor Yanukovych.
The treatment of Tymoshenko, a co-leader of the 2004 pro-democracy Orange Revolution, has sparked concern in the West and prompted the European Union to tell Kiev that signing a deal on possible future membership for Ukraine would be conditional on Tymoshenko's release.
Tymoshenko is also awaiting trial on new charges of embezzlement and tax evasion, with the first hearing scheduled for early September amid delays caused by her back problems.
The opposition leader claims that both cases are part of a political vendetta against her by Yanukovych following his narrow victory over her in the 2010 election.