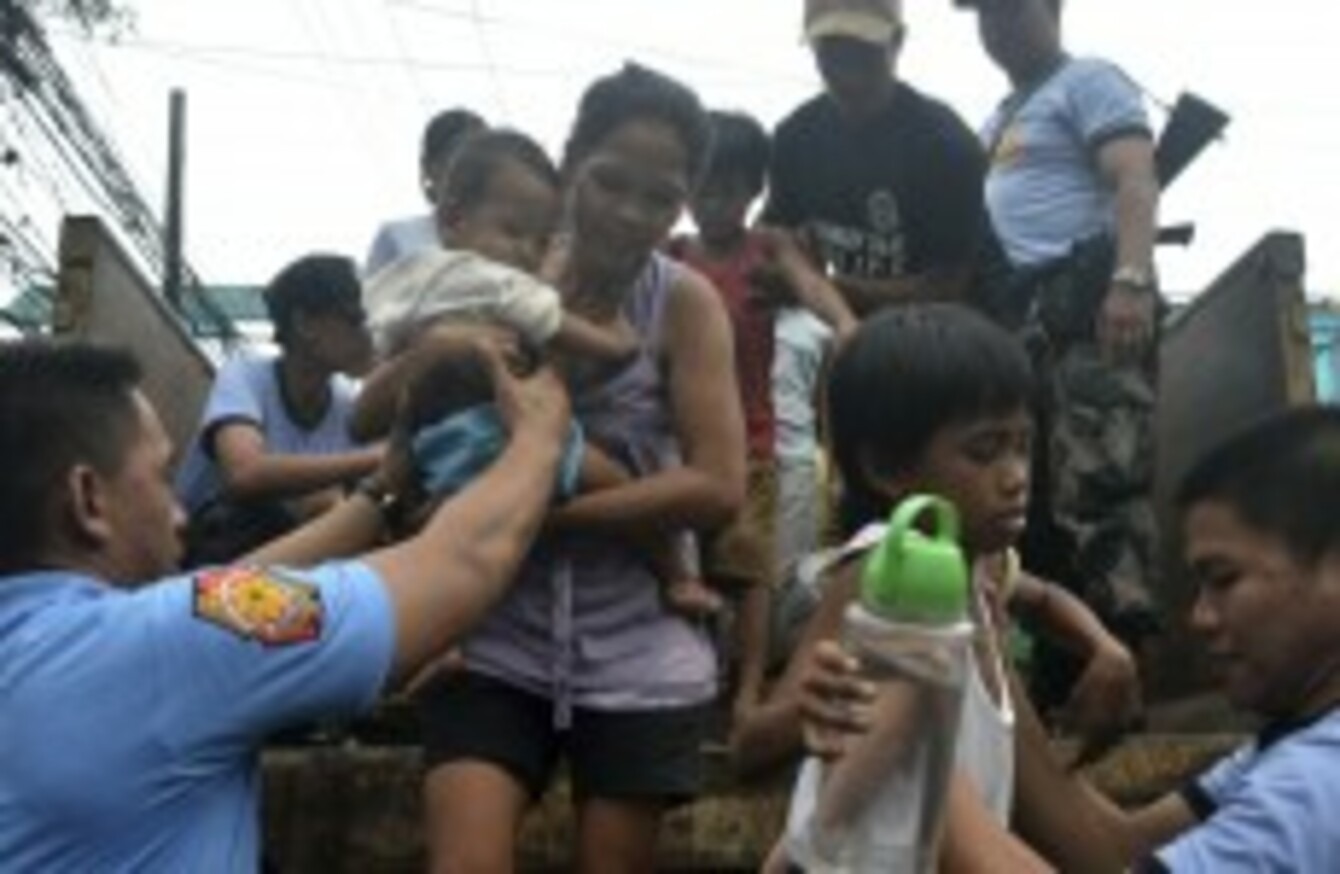 Residents living near the slopes of Mayon volcano are evacuated to public schools by police in anticipation of the powerful typhoon Haiyan
Image: Nelson Salting/AP/Press Association Images
Residents living near the slopes of Mayon volcano are evacuated to public schools by police in anticipation of the powerful typhoon Haiyan
Image: Nelson Salting/AP/Press Association Images
ONE OF THE most intense typhoons ever recorded whipped the Philippines today, terrifying millions of people as monster winds tore roofs off buildings and giant waves washed away flimsy homes.
Super Typhoon Haiyan smashed into coastal communities on the central island of Samar, about 600 kilometres southeast of Manila, before dawn with maximum sustained winds of about 315 kilometres an hour.
"We've had reports of uprooted trees, very strong winds… and houses made of light materials being damaged," Philippine Red Cross chief Gwendolyn Pang told AFP as Haiyan swept across the archipelago's central and southern islands.
The government confirmed one person had been killed but the death toll was expected to rise, with authorities unable to immediately contact the worst affected areas
Haiyan is only expected to leave the Philippines in the evening.
"We have put rescue teams and equipment at different places, but at the moment we can't really do much because of the heavy rain and strong winds. There is no power," Pang said.
Previous disasters
An average of 20 major storms or typhoons, many of them deadly, batter the Philippines each year.
The developing country is particularly vulnerable because it is often the first major landmass for the storms after they build over the Pacific Ocean.
The Philippines suffered the world's strongest storm of 2012, when Typhoon Bopha left about 2,000 people dead or missing on the southern island of Mindanao.
But Haiyan's wind strength made it one of the four most powerful typhoons ever recorded in the world, and the most intense to have made landfall, according to Jeff Masters, the director of meteorology at US-based Weather Underground.
This satellite image provided shows Typhoon Haiyan over the Philippines at 10.30pm (Irish time). (AP Photo/National Oceanic and Atmospheric Administration)
Haiyan generated wind gusts of 379 kilometres an hour on Friday morning, according to the US Navy's Joint Typhoon Warning Center.
Masters said the previous record for the strongest typhoon to make landfall was Hurricane Camille, which hit Mississippi in the United States with sustained winds of 190 miles an hour in 1969.
While the winds moderated slightly after making landfall, Masters told AFP they would remain strong enough for Haiyan to continue being a "super typhoon" until it exited into the South China Sea.
This image provided by the US Naval Research Lab shows Typhoon Haiyan taken by the NEXSAT satellite at 7:30am (Irish time).  (AP Photo/US Naval Research Lab)
Masters said he expected the damage in Guiuan, a fishing town of about 40,000 people that was the first to be hit on Friday, to be "catastrophic".
Communication lines with Guiuan remained cut off in the afternoon, and the civil defence office said it was unable to give an assessment of the damage there.
In Tacloban, a nearby city of more than 200,000 people, corrugated iron sheets were ripped off roofs and floated with the wind before crashing into buildings, according to video footage taken by a resident.
Flash floods also turned Tacloban's streets into rivers, while a photo from an ABS-CBN television reporter showed six bamboo houses washed away along a beach more than 200 kilometres to the south.
Preparing for disaster
#Open journalism No news is bad news Support The Journal

Your contributions will help us continue to deliver the stories that are important to you

Support us now
Filipino workers bring down a giant billboard along a busy highway as they prepare for the possible effects of powerful Typhoon Haiyan in suburban Makati, south of Manila. (AP Photo/Aaron Favila)
President Benigno Aquino on Thursday had warned his compatriots to make all possible preparations for Haiyan.
"To our local officials, your constituents are facing a serious peril. Let us do all we can while (Haiyan) has not yet hit land," he said in a nationally televised address.
More than 125,000 people in the most vulnerable areas had been moved to evacuation centres before Haiyan hit, according to the national disaster management council, and millions of others huddled in their homes.
Authorities said schools in the storm's path were closed, ferry services suspended and flights cancelled.
In the capital Manila, which was on the northern edge of the typhoon's path, many schools were closed amid forecasts of heavy rain.
One particularly vulnerable area in Haiyan's path was the central island of Bohol, the epicentre of a 7.1-magnitude earthquake last month that killed 222 people.
At least 5,000 survivors were still living in tents on Bohol, and they were moved to schools that had been turned into evacuation centres.
The government and some scientists have said climate change may be increasing the ferocity and frequency of the storms.
Masters said warm waters of the Pacific Ocean were an important reason for the strength of Haiyan, but it was premature to blame climate change.
"The historical record of typhoons and hurricanes is too short and of too low quality to say if climate change may have played a role," he said.