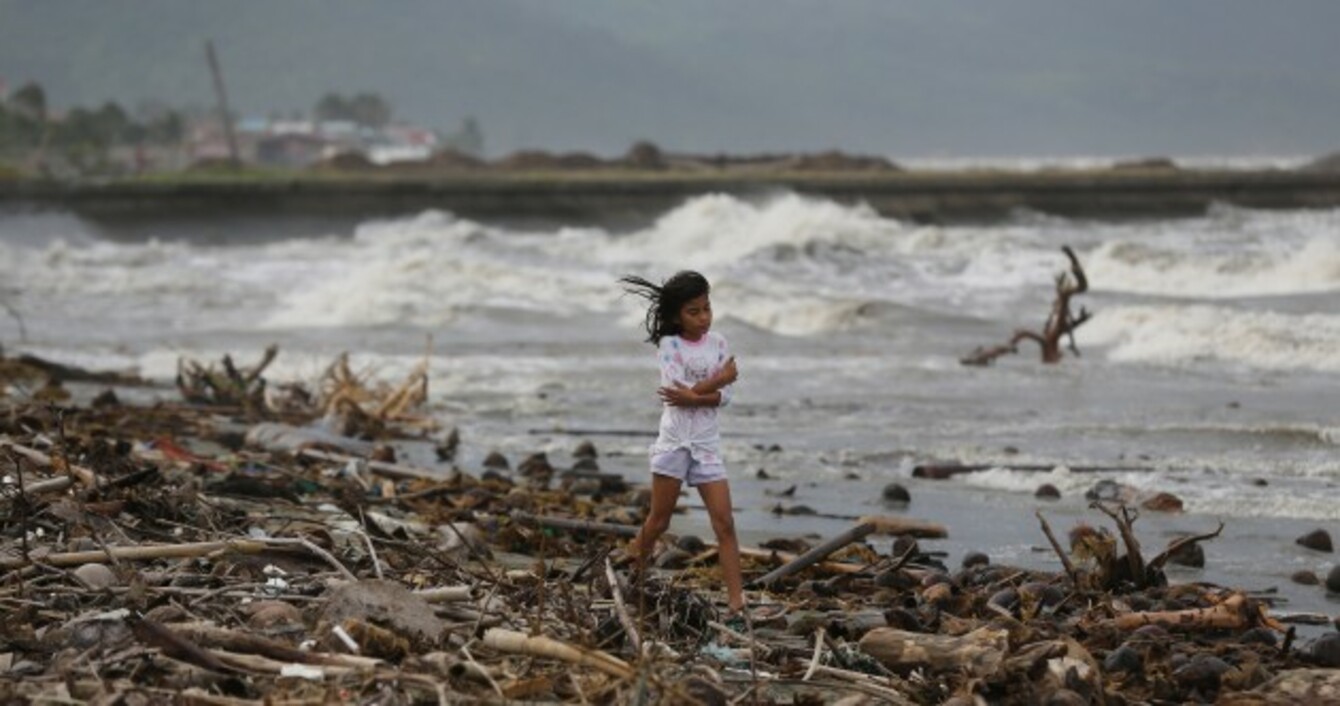 A girl walks along the shore as strong waves hit the shore.
Image: AP/Press Association Images
A girl walks along the shore as strong waves hit the shore.
Image: AP/Press Association Images
TERRIFYING WINDS AND intense rain has made landfall in eastern Philippines today as millions sheltered from a giant storm that threatened more devastation for a nation battling to recover from a catastrophic super typhoon.
Typhoon Hagupit roared in from the Pacific Ocean and crashed into the remote fishing communities of Samar island with wind gusts of 210 kilometres an hour, the local weather agency Pagasa said.
The wind strength made Hagupit the most powerful storm to hit the Philippines this year.
Fearful of a repeat of last year when Super Typhoon Haiyan claimed more than 7,350 lives, the government had undertaken a massive evacuation effort ahead of Hagupit that saw millions seek shelter.
"This is it. I know you are tired, not enough sleep, not enough food, too much coffee," Interior Secretary Mar Roxas said a few hours before the typhoon hit, calling for a final effort to bring more people in vulnerable areas to safe shelters.
"This is our last push. Every person we can save now is one less we have to look for after the typhoon passes."
Roxas was speaking at a nationally televised planning conference from Samar, having based himself in one of the areas expected to be among the first hit to oversee preparations there.
Hagupit was forecast to take three days to cut across the Philippines, passing over mostly poor central regions, while also bringing heavy rain to the densely populated capital of Manila slightly to the north.
Damage assessments from communities initially hit are not likely to be known until after daybreak on Sunday, as power and mobile networks have been lost in those areas.
GOAL teams on the ground in the Philippines say they are preparing to deliver emergency aid supplies to some of the hundreds of thousands of people in the direct path of Typhoon Hagupit.
GOAL's Country Director in the Philippines, Evelyn Moorehead said communities are better prepared than last year after learning lessons from Haiyan, but huge vulnerabilities still exist.
"Many people are taking shelter in evacuation centres, but our main concern at the moment is for those living in tents and other makeshift shelters and those residing in low-lying areas that are prone to flooding," she said.
"GOAL has mobilised an emergency response team to deploy to Samar after the typhoon. We are in the process of rallying volunteers within the community to ensure the most vulnerable and inaccessible communities receive crucial assistance in the aftermath of the typhoon.
"We expect to be dealing with an extremely serious situation when the storm dissipates in the coming hours, with many homes and other buildings destroyed and communities struggling for clean water, food and healthcare. Once the situation becomes clear, we all need to respond fast."
Tens of millions of people live in the typhoon's path, including those in the central Philippines who are still struggling to recover from the devastation of Super Typhoon Haiyan, which hit 13 months ago.
Haiyan was the strongest storm ever recorded on land, with winds of 315 kilometres an hour.
It also generated tsunami-like storm surges that claimed more than 7,350 lives, making it one of the Philippines' deadliest natural disasters.
#Open journalism No news is bad news Support The Journal

Your contributions will help us continue to deliver the stories that are important to you

Support us now
Violent and unpredictable 
"We are afraid. People are panicking," Alma Gaut, 36, who lost her mother and her home during Haiyan, told AFP on Saturday morning as she huddled in the second floor of a university, sheltering with more than 1,000 other people.
"All we have is a tattered, plastic sheet to sleep on. My grandmother is already feeling the cold."
Outside, the town appeared almost deserted as heavy rain fall and trees bent with the wind in what residents feared was an ominous prelude to another disaster.
In Catbalogan, the capital of neighbouring Samar island, authorities were preparing for water surges that the government warned could be up to 4.5 metres high.
More than 10,000 people had been ordered into safe buildings, according to mayor Stephany Uy-Tan.
"We don't want people to panic but I ordered forced evacuations so they would be safe," Uy-Tan told AFP by phone.
Additional reporting Christina Finn