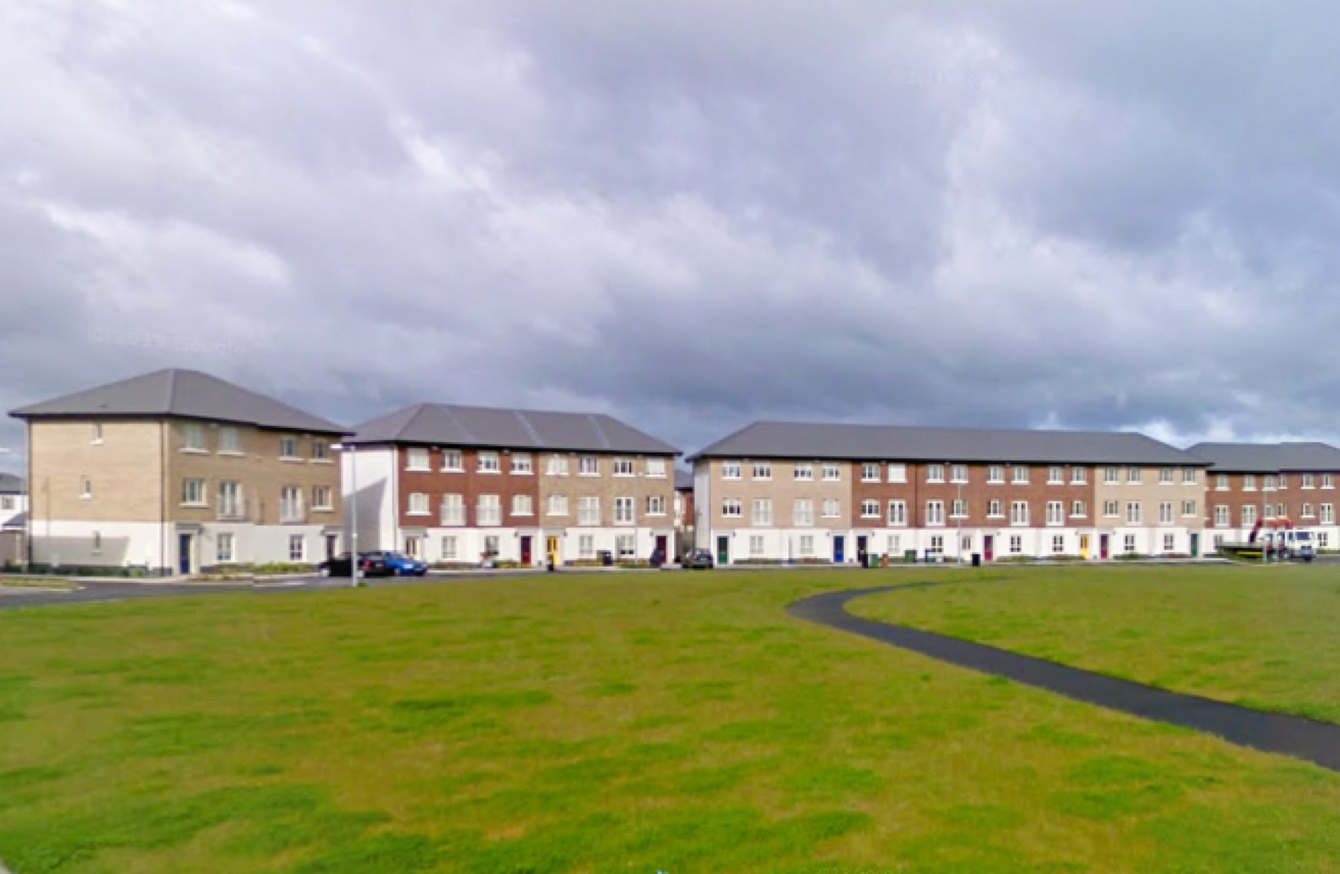 File photo: Cruise Park, Tyrrelstown
Image: Google Maps
File photo: Cruise Park, Tyrrelstown
Image: Google Maps
Updated: 11:50pm
FIANNA FÁIL HAS called for stronger tenant protections from vulture funds following news that dozens of families have been given notice to vacate their Dublin homes in the coming months.
The Sunday Business Post reported today that over 200 families renting in the Cruise Park area of Tyrrelstown could be evicted due to a deal between Goldman Sachs and indebted property developer Twinlite.
The paper said the notices were issued after Goldman Sachs purchased an €89 million loan from Ulster Bank that Twinlite had secured on the development – a sale the Irish company had unsuccessfully challenged in the High Court.
The report said a profit-sharing agreement subsequently signed by the two companies along with Davey Stockbrokers involved the sale of 208 houses in the estate.
However, Twinlite later said in a statement that the company for which it asset manages residential properties holds only 103 houses in the area.
A spokesperson for the company told TheJournal.ie that between 30 and 40 households have been informed that their leases will not be renewed because of plans to sell the property.
"That doesn't mean they will be evicted. They will be allowed to stay if we don't manage to sell the house," the spokesperson said.
This is a process which will be undertaken over four to five years, so this year we expect to obtain sales of around 15 homes.
The spokesperson said the 15 houses will be sold to either families looking to live in the area or to another investor who wants to hold them for rental property, in which case the company expects the tenants to remain in situ.
Legislation
Earlier today, Minister for Transport Paschal Donohoe insisted that vulture funds must comply with the same rules as other landlords when it comes to evictions.
"Crucially, they are also subject in many cases to the jurisdiction of the financial ombudsman," he said in an interview on Newstalk's Sunday Show.
That change came in last summer, precisely in anticipation of a worry like this developing.
However, Fianna Fáil has criticised the regulations for being too soft on such funds.
The party's finance spokesperson, Michael McGrath, said new regulations were needed to protect tenants and SME mortgage holders.
"We have already seen vulture funds use underhand tactics to trigger default on the part of borrowers in an attempt to gain control of very valuable assets," he said.
McGrath said there was a risk that such action would be "stepped up once these funds feel that the political backdrop is more favourable for them".
"Vulture funds who outsource the administration of loans still control key decisions such as initiating action for repossession or raising the interest rate that applies to the loan without actually being subject to regulation," he said.
This leaves a dangerous gap in the legislation.
Local Sinn Féin councillor Paul Donnelly said many of the residents have been in their current accommodation for several years and are "terrified" about their futures.
He urged the companies involved in the deal not to evict anyone who cannot find alternative accommodation.
Fingal County Council and the Department of Social Protection should also set up a working group to assist all Twinlite tenants now at risk of homelessness, he said.
Assets
In a statement, Twinlite disputed reports that it had terminated the leases of 208 properties in Tyrrelstown.
The company said: "Twinlite acts as asset manager on a number of residential properties owned by European Property Fund plc, a company established in 2006.
"EPF plc is an investment vehicle set up to hold residential property.  The company holds 103 houses in Tyrrelstown.
"EPF plc decided in late 2014 to exit the residential rental business, and Twinlite, acting as asset manager, put a plan in place to achieve this exit.
"This involves achieving vacant possession on a number of residential properties, prior to selling them, in order to generate the maximum value.  As a privately owned company, achieving the maximum sale value of its assets is its primary focus.
"Achieving vacant possession is undertaken in a statutory manner and is governed by the residential tenancies act.
"Every element of the act and the regulations governing private residential tenancies was followed by Twinlite in this process and will continue to be.
"Goldman Sachs acts as lender to EPF plc and while it has consented to the sale of these properties, it does not have any control over either EPF plc or Twinlite, which are both private companies."