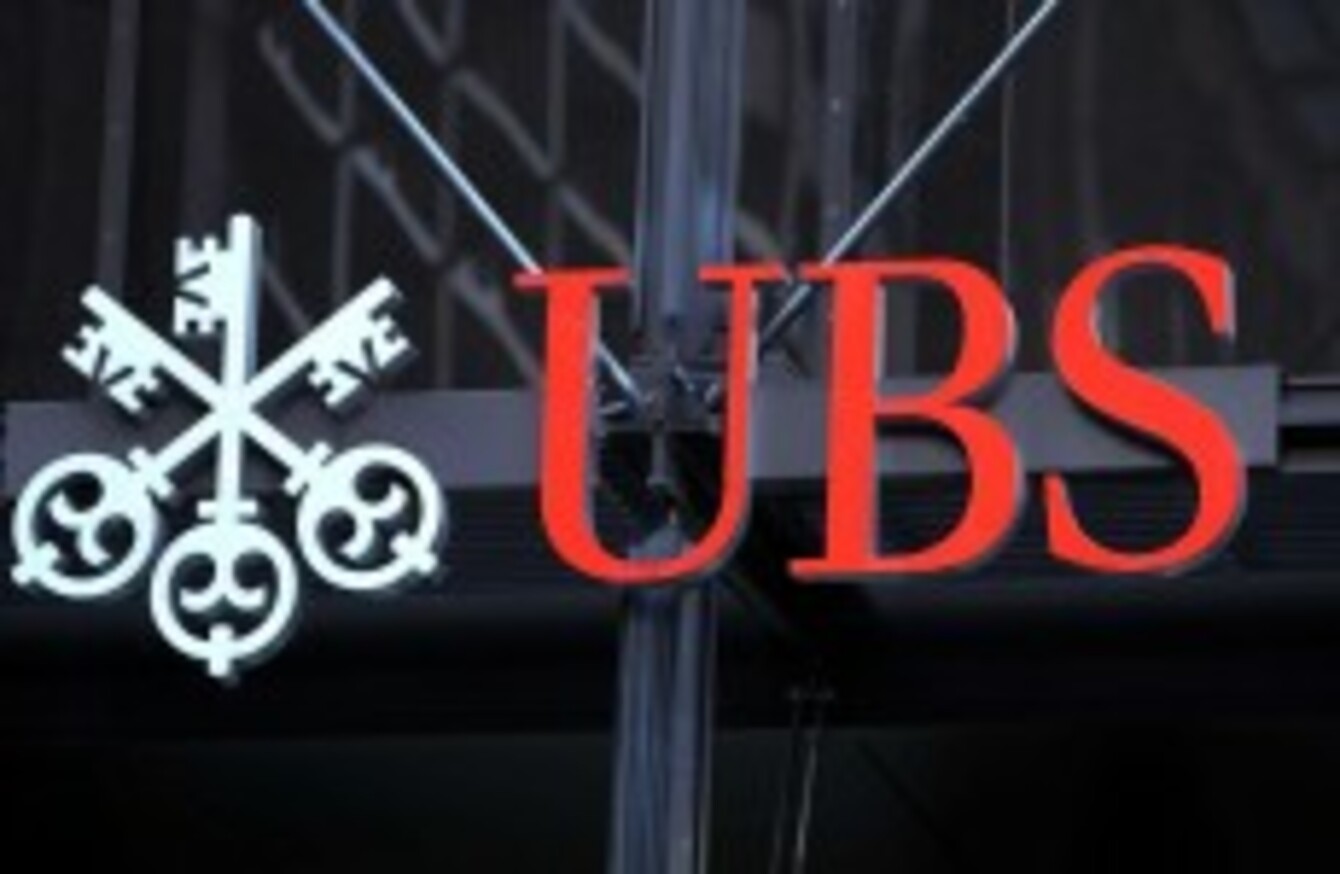 Image: Sean Dempsey/PA Wire
Image: Sean Dempsey/PA Wire
SWISS BANKING GIANT UBS said today it has agreed to pay about $1.5 billion to British, US and Swiss regulators to settle allegations it manipulated LIBOR interest rates.
The bank said the settlement, equivalent to €1.2 billion, would likely push into a net loss of between 2.0 and 2.5 billion Swiss francs (€1.7- €2.1 billion) in the fourth quarter.
The LIBOR rate is a reference point for vast ranges of financial contracts around the world, and revelations that it had been rigged have damaged the reputation of the City of London financial centre.
"UBS agrees to pay approximately CHF 1.4 billion in fines and disgorgement to US, UK and Swiss authorities to resolve LIBOR-related investigations," the statement said.
The bank, the biggest in Switzerland, will pay more three times the amount of the settlement reached in June with Britain's Barclays, another one of the more than dozen banks investigated for trying to rig global interest rates.
As part of the one of the biggest fines ever slapped on a financial institution, the Swiss bank said it had agreed to pay £160 million in fines to the UK Financial Services Authority.
It will pay 59 million Swiss francs as disgorgement, or compensatory penalty, of estimated profits to the Swiss Financial Market Supervisory Authority (FINMA).
It also said it had agreed to payment schedules for a total of $1.2 billion to the US Department of Justice and the Commodity Futures Trading Commission (CFTC).
UBS was the first bank to reveal problems in the rate-setting process of the LIBOR, an acronym for London Interbank Offered Rate, which estimates the rates at which banks lend money to each other and also affects huge numbers of contracts around the world.
Other banks are also reportedly in advanced talks with regulators about settling allegations that they too manipulated their LIBOR information, including Royal Bank of Scotland and Deutsche Bank.
"During the course of these investigations, we discovered behavior of certain employees that is unacceptable," UBS chief executive Sergio Ermotti said in the statement.
"Their misconduct does not reflect the values of UBS nor the high ethical standards to which we hold every employee.
Violations
FINMA said it had found that "UBS severely violated organisational and proper business conduct."
It found that UBS traders made numerous requests to bank employees to make LIBOR submissions to benefit UBS's trading position.
FINMA said most of the requests were made by a trader in Tokyo, who also contacted employees at other banks and independent brokers to try to influence their LIBOR submissions.
UBS said its Japanese subsidiary would plead guilty to a US criminal offence as part of the investigations.
"As part of a proposed agreement with the US Department of Justice, UBS Securities Japan Co. Ltd. (UBSSJ) has agreed to enter a plea to one count of wire fraud relating to the manipulation of certain benchmark interest rates, including Yen LIBOR," it said.
FINMA also found that during the 2007-2008 financial crisis "UBS managers inappropriately gave guidance to those employees charged with submitting interest rates, the purpose being to positively influence the perception of UBS's creditworthiness."
The Swiss regulator said it found no indication that UBS top management was aware of the misconduct, but that "substantial failings" in the bank's internal control processes "prevented the improper interference with interest rates from being discovered and the bank from reacting appropriately."
'Inappropriate and unethical'
UBS said that it had cooperated fully with authorities and had taken action to remedy the shortcomings.
"We deeply regret this inappropriate and unethical behavior," Ermotti said.
"No amount of profit is more important than the reputation of this firm, and we are committed to doing business with integrity."
UBS said it believes its fourth quarter net profit attributable to shareholders will show a loss "primarily as a result of provisions for litigation and regulatory matters."
It estimated the net loss at 2.0 to 2.5 billion Swiss francs, with 2.1 billion in provisions for the LIBOR settlement plus claims related to sales of residential mortgage backed-securities (RMBS) and other matters.
The bank said it also expected to make restructuring charges of approximately 0.5 billion Swiss francs, and a charge of 0.4 billion to reevaluate the fair market value of financial liabilities.